In Trilateral Talks, Japan, South Korea, US Reaffirm Alliance on North Korea
The three countries emphasized the importance of the alliance to cope with North Korea's missile tests while urging Pyongyang to renew dialogue.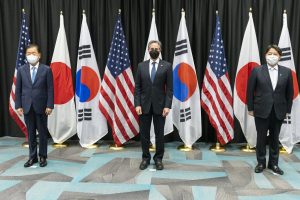 In the wake of North Korea's series of missiles tests in January, South Korean Foreign Minister Chung Eui-yong met his U.S. and Japanese counterparts on Saturday in Honolulu, Hawaii.
The foreign ministers' meeting came two days after the nuclear envoys of the three countries met to discuss North Korea's missile tests.
"We reaffirmed that diplomacy and dialogue with the North is of greater importance than ever, and to bring forward engagement with Pyongyang we exchanged views on a variety of realistic measures," Chung said in a joint press conference after the meeting.
Chung did not specify what measures were discussed in the meeting but urged Pyongyang "to reciprocate and promptly return to dialogue and diplomacy."
In order to entice Pyongyang back to the negotiating table, U.S. Secretary of State Antony Blinken also reiterated that Washington has "no hostile intent" toward North Korea. However, Pyongyang has repeatedly demanded Washington to take concrete action to withdraw the so-called "hostile policy," including halting all joint exercises with South Korea and removing U.S. troops from the South, as a precursor to negotiations. Blinken's remarks proved that the only concession the U.S. is willing to offer is holding a dialogue with "no preconditions."
North Korea tested an intermediate-range ballistic missile (IRBM) on January 30. Since then, it has temporarily halted its missile tests due to the Winter Olympics underway in Beijing. However, as the birth anniversary of Kim Jong Il, the current North Korean leader Kim Jong Un's father, is scheduled on February 16, Pyongyang will likely hold a military parade or test advanced missiles again in the coming weeks.
North Korea announced a five-year plan to develop the country's military capabilities and defense system in January 2021. North Korea's missile tests are part of that effort.
With Washington distracted by a potential Russian invasion of Ukraine, Pyongyang will seize the initiative to show off its nuclear and missile capabilities. As long as North Korea does not cross the red line by conducting nuclear and intercontinental ballistic missile (ICBM) tests, Beijing and Moscow will back up Pyongyang in its confrontation against Washington. China and Russia blocked the U.S. push to impose new sanctions against five North Koreans involved in the North's ballistic missile and weapons of mass destruction (WMD) program in the U.N. Security Council last month.
South Korean President Moon Jae-in's peace process has de facto ended with no substantive results over the denuclearization of the Korean Peninsula. South Korean will elect Moon's successor in March and Moon's term ends in May; any breakthroughs are unlikely before then.
In a recent interview, Moon said that dialogue is the only way to resolve North Korea issues, while expressing his hope for his successor to push forward with his peace process to promote permanent peace and prosperity on the Korean Peninsula.
The presidential campaign is a tight race between the ruling Democratic Party's Lee Jae-myung and the conservative People Power Party's Yoon Suk-yeol. Yoon is slightly leading over Lee in polls in general, but the difference between the two remains within the margin of error.
If Lee wins the election, his administration would largely continue Moon's peace process on North Korea. However, Seoul's overtures toward North Korea will change significantly if Yoon wins the election, as he has harshly criticized Moon's approach to North Korea and raised the necessity of deploying an additional battery of the anti-missile defense system Terminal High Altitude Area Defense (THAAD) on the South's soil to deter North Korea's missile threats.
South Korea would not be able to intercept North Korea's short-range missiles flying toward its soil with THAAD due to the low altitude of the missiles. However, Yoon has dug in his heels on North Korea issues, favoring a defense-oriented approach in a bid to garner support from the conservatives.