Killings and Arbitrary Arrests: Sorting Through Kazakhstan's January Violence
Officially, 227 people were killed in "Bloody January" and nearly 1,000 remain in detention. But what really happened?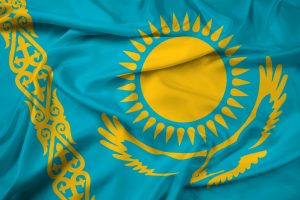 In the first week of 2022 Almaty, Kazakhstan's largest city, was disconnected as it was plunged into violence. In that period terrible things happened, and as elsewhere in the world, people recorded what they witnessed on their cellphones. Given the internet blackout, which lasted six days, the sharing of videos was delayed. But once the internet came back on, the reckoning began.
Human Rights Watch analyzed more than 80 verified videos recorded in Almaty between January 4 and 6, 2022. In an article on January 31, Human Rights Watch described four incidents captured in the videos, which range from security personnel disbursing protesters early on January 5 with rubber bullets, tear gas, and stun grenades to an incident on the evening of January 5 in which security personnel guarding the unoccupied presidential palace fired live rounds into the crowd of protesters outside the residence. On the latter incident, Human Rights Watch wrote:

The people did not appear to be posing an imminent threat to security forces, though one person might have been holding a handgun. From this footage, Human Rights Watch counted at least 10 people who appear to have been killed and 19 injured, most of them apparently by bullets.
Later that evening Human Rights Watch notes, Kazakhstan's President Kassym-Jomart Tokayev said "terrorist gangs […] who have undergone training abroad" were responsible for the violence in Almaty. That prompted protesters to hold up a banner the following day in Republic Square proclaiming: "We are peaceful protesters! We are not the terrorists!"
According to Human Rights Watch's analysis of videos from the scene, security forces fired live rounds into the crowds on January 6. The report is transparent about what is and is not on video. None captured the start of the shooting, but it can be heard in many of the videos and is backed up by witness accounts.
The next day, Tokayev announced he'd given a "shoot to kill without warning" order. 
Following the resumption of internet services in Almaty, social media was filled with desperate people looking for missing relatives, feared dead or arrested. Kazakhstani authorities say that 227 people were killed in the unrest; the circumstances of each death are unclear. Given the internet blackout, people in Almaty did not have access to much information (beyond state-controlled media) about what was going on.
As one Almaty resident told RFE/RL: "There were innocent people that were shot dead — for example, someone going to the pharmacy in the evening, or visiting a relative in an emergency."
Following the unrest, as many as 12,000 people were arrested. Many have been released, though the Kazakhstani authorities have filed thousands of administrative charges (for mass protests, for example) and more than 2,000 criminal cases. Hundreds remain detained.
In a subsequent report, Human Rights Watch said that Kazakhstani authorities "arbitrarily arrested peaceful protesters and others, ill-treated and tortured some detainees, and interfered with detainees' access to lawyers" after the January unrest. Some were arrested before the violence escalated, and others seemingly detained for livestreaming the protests. 
RFE/RL recently reported on the case of Karima Haidarbekova, a 40-year-old single mother of six who joined the protests in Shymkent on January 4. She delivered an impassioned speech at the protest that day, saying "People are a great force. No one can defeat the people."
She livestreamed the protests, which were peaceful initially and later descended into violence as protesters and police clashed. Haidarbekova was arrested on January 8 and charged with "assaulting a government officer, intentionally causing damage to public property, and attacking official buildings," which she denies. Haidarbekova says she witnessed, and filmed, police firing at protesters. According to RFE/RL Haidarbekova is in pre-trial detention and her children with their grandmother, Haidarbekova's mother. The grandmother said the authorities tried to send the children to an orphanage.
Following Human Rights Watch's report, the Kazakhstani government said it was investigating nearly 100 "complaints of the use of illegal methods of investigation and other violations of the rights of citizens."
It's estimated that around 1,000 people are in detention still, making it an overwhelming task to sort out who, where, and why. Meanwhile, government framing of the violence as the result of foreign-trained terrorists complicates any efforts to advocate for those facing charges.
For example, the authorities in Almaty have reportedly rejected a request for permission to hold a rally on February 13 to commemorate those killed during the protests. Activists say they plan to hold the rally anyway.
One of Tokayev's much-promoted reforms early in his presidential tenure was of the country's protest regulations. The reforms were characterized as shifting from a system of seeing permission to protest to one of simply notifying local authorities. But in practice, the system is much the same as it ever was.