North Korea Fires Suspected SLBM
North Korea conducted its 15th missile test this year, believed to be a submarine-launched ballistic missile.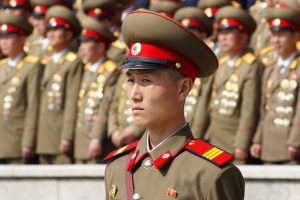 North Korea fired a suspected short-range submarine-launched ballistic missile (SLBM) from waters in the Sinpo area toward its east coast at 2:07 p.m. KST on May 7, South Korea's Joint Chiefs of Staff (JCS) said. The missile flew about 600 km with an altitude of 60 km, according to the JCS.
A few minutes after Seoul's JCS announced the North Korean missile test, National Security Advisor Suh Hoon presided over an emergency meeting of the National Security Council (NSC). The NSC released a statement condemning the North's SLBM test and called it "a violation of U.N. Security Council resolutions."
The U.S. and South Korean special representatives on North Korea also spoke in a phone call and condemned the North's missile tests. While urging Pyongyang to restrain from worsening the situation, they also delivered their consistent call for North Korea to return to the negotiating table.
Saturday's launch was the first SLBM test since North Korea launched its "KN-23" short-range ballistic missile – which Pyongyang described as a "new type submarine-launched ballistic missile" – from its SINPO-class experimental ballistic missile submarine in October 2021. The missile flew around 590 km with a maximum altitude of 60 km. Based on the similar performance of the missile launched on Saturday, North Korea might have tested the KN-23 SLBM once again.
The SLBM missile test came three days after North Korea tested a presumed long-range ballistic missile on May 4. The missile test on Wednesday was conducted from the Sunan area, near Pyongyang, and experts believe that Pyongyang might have tested its ICBM system under an intentionally limited range and trajectory.
Saturday's missile test, which was the North's 15th missile test this year, also came three days before South Korean President-elect Yoon Suk-yeol takes office.
In his speech during North Korea's military parade on April 25, North Korean leader Kim Jong Un ordered his military to beef up the country's nuclear capabilities. As Kim has opened the possibility of using his nuclear weapons in preemptive strikes, more tests of Pyongyang's advanced missile programs – including nuclear weapons – could possibly be conducted this year, South Korean officials have said.
Based on satellite imagery, Pyongyang has been accused of restoring its Punggye-ri nuclear site to test its miniaturized nuclear warheads. Experts believe Pyongyang might conduct a nuclear test in late May or early June, after the U.S. President Joe Biden visits South Korea and Japan later this month.
Jalina Porter, a U.S. State Department spokeswoman, said on Friday that North Korea "is preparing its Punggye-ri test site and could be ready to conduct a test there as early as this month, which would be seventh [nuclear] test." Porter also said that "this statement is also consistent with the DPRK's own recent public statements." (DPRK is an acronym of North Korea's official name, the Democratic People's Republic of Korea.)
As concerns about a North Korean nuclear test loom in Seoul and Washington, Park Jie-won, the director of Seoul's National Intelligence Service, said in an interview with a local newspaper that China has requested North Korea not to conduct ICBM and nuclear tests several times in recent weeks. Park said that Russia has also delivered the same message to North Korea, but their mediation has not worked: "North Korea will keep launching its missiles and will conduct a nuclear test," he predicted.
North Korea reported that it had test-fired its new Hwasong-17 ICBM on March 24, although U.S. and South Korean officials disputed this. The missile North Korea tested on May 4 could also have been an ICBM, based on the site of the missile test and the performance of the missile announced by Seoul's JCS. However, North Korea has not reported its recent missile tests, which is unusual based on the general routine of Pyongyang's propaganda following a test. Pyongyang might have decided not to release its own reports on at least some missile tests after Beijing and Moscow conveyed their opposition to these tests.
Considering China specifically warned North Korea against ICBM and nuclear tests, North Korea might have chosen to test its SLBM, a shorter-range and thus less provocative missile, to confront the incoming Yoon administration in South Korea while showing how the North can beef up its military and defense capabilities with its missile tests. Beijing is likely to have unofficially demanded that Pyongyang not launch any ICBMs in the lead up to Yoon's inauguration on May 10. Yoon's classical conservative approach to North Korea issues is centered on strengthening ties with the United States, leaving China worried about the possibility of Seoul joining anti-China movements led by the U.S. in the region.
On the other side, North Korea might have carried out its missile tests to continue its version of "strategic patience" on the nuclear talks and inter-Korean dialogue. Nuclear talks with the U.S. have been deadlocked since the failed Hanoi summit in 2019. Pyongyang appears to have decided to consolidate its hardline stance to raise the stakes at the negotiating table in a bid to entice Seoul and Washington to make concessions first – which, to North Korea, ultimately means the removal of the so-called "hostile policies." In that case, Pyongyang's decision not to report on its missile tests can be interpreted as a tactical decision to deliver the message to the U.S., South Korea, and Japan that these tests are regular military exercises for North Korean "self-defense." The implication is that these tests are so routine that Pyongyang does not have to report the type and performance of each missile.
U.S. President Joe Biden will meet the new South Korean president on May 21 in Seoul before heading to Japan for bilateral and Quad summit meetings. Experts and officials in Seoul and Washington think North Korea may carry out its seventh nuclear test in the lead up to the South Korea-U.S. summit meeting or shortly after Biden's trip.