North Korea's Strategic Build-Up
After conducting a record number of missile launches in 2022, North Korea will narrow down the scope of its nuclear weapons development.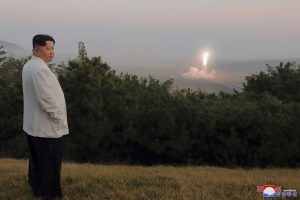 Following the unprecedented spate of ballistic missile launches in 2022, North Korea will likely materialize new nuclear and missile developments this year.
North Korean leader Kim Jong Un vowed to keep developing his country's nuclear and missile programs during the Workers' Party of Korea (WPK) plenary session from December 26 to December 31. That seems to be a prelude for the North test-firing more advanced missile programs in 2023.
In his report on agenda items discussed during the meeting, Kim ordered his military to exponentially increase the country's nuclear arsenal while highlighting the importance of "mass-producing of tactical nuclear weapons."
Tactical nuclear weapons are meant to increase military leverage against South Korea, as Pyongyang already implied that such weapons might be deployed to the front-line units near the inter-Korean border following its codification of a new law to support nuclear forces in September. Extorting the current situation, where the South has no nuclear weapons, North Korea will use its tactical nuclear weapons as a powerful tool of deterrence.
Pyongyang's emphasis on tactical nukes came months after South Korean President Yoon Suk-yeol took office in May 2022. In a bid to confront Yoon's hawkish overtures against the country, Kim activated his "power to power" principle vis-a-vis South Korea by conducting missile tests and military drills in quick succession. Given Yoon's remarks during the presidential campaign involving the potential for a preemptive strike against the North and the redeployment of U.S. nuclear weapons on the South's soil, it was only a matter of time to witness the North taking aggressive corresponding measures.
As Kim Yo Jong, the powerful sister of Kim Jong Un and the main voice on inter-Korean relations, ruled out the possibility of engaging in dialogue with the Yoon administration in August, inter-Korean relations will remain glacial. Pyongyang has already rudely dismissed both Yoon's main policy on North Korea and Yoon personally.
Along with the reinforcement of its tactical nuclear arsenal as a means to increase its leverage against South Korea, North Korea will also focus on developing another intercontinental ballistic missile (ICBM).
Considering the North's Hwasong-17 ICBM tests and its first test of a "high-thrust solid-fuel motor" last year, North Korea is believed to be developing a solid-fuel ICBM that can be considered a direct threat to the security of the United States. It is still unclear whether the North's ICBM can fly toward the mainland of the U.S. due to the intentionally high angle of the tested ICBMs last year. In a response to the South Korean experts' poor assessment of the North's reconnaissance satellite test in December, Kim Yo Jong warned of the potential of North Korea launching an ICBM at a realistic angle to rebut negative evaluations of the North's capabilities.
North Korea has also announced that it will complete preparations to launch its first military reconnaissance satellite by April 2023.
Pyongyang will likely focus on developing a new ICBM not only to maintain the balance of power in the region but also to pressure Washington to recognize it as a counterpart, not a troubling pariah in the international community. As Washington has not actively sought to renew stalled nuclear talks with Pyongyang even after the rapid pace of ballistic missile launches in 2022, this year North Korea will likely focus on strengthening its long-range ballistic missile capabilities in order to draw more reactions from the United States. While conducting more missile tests to develop a new ICBM and submarine-launched ballistic missile (SLBM), North Korea could also actively carry out Kim Jong Un's five-year military modernization by developing other programs such as super-large hydrogen bombs, mid-and long-range cruise missiles, and hypersonic gliding flight warheads as well.
North Korea conducted at least 65 missile launches last year. Considering Seoul and Washington's close coordination to scale up the joint military exercises as a corresponding measure, Pyongyang will unlikely shift its stance to resume dialogue this year. Pyongyang has termed combined military drills between Seoul and Washington a "hostile policy" that must be removed as a precondition to any talks.
The Korean Peninsula will likely be destabilized further due to Seoul, Washington, and Pyongyang's firm willingness to strengthen their respective defense capabilities. As evidence to that point, after North Korean drones came across the inter-Korean border for the first time since 2017 and flew for about five hours in the South's airspace last week, Yoon said that the government would consider suspending the inter-Korean military agreement if the North commits a territorial violation again. This agreement was signed by then-South Korean President Moon Jae-in and Kim Jong Un during their summit in Pyongyang in September 2018.
The agreements made by the leaders of South Korea, North Korea, and the United States for denuclearization of the Korean Peninsula are no longer effective at this point.
Despite the ongoing COVID-19 crisis in China, North Korea will likely show its willingness to reinvigorate trade with China further due to its years-long economic struggles, mainly caused by the pandemic. Amid Kim Jong Un's drastic anti-pandemic measures, including closing borders with China, North Korea's economy has collapsed, and there were reports that North Koreans experienced severe food shortages due to the complete lockdown. As the North resumed trade with China via cargo train starting in September, it will likely seek more room to revive its economy through extensive trade with China in 2023. This implies that critical military events – such as a seventh nuclear test – may not be carried out if Beijing voices strong opposition.
For North Korea, tackling the country's sluggish economy will be the main priority even though Kim Jong Un vowed to increase the nuclear arsenal exponentially. Also, considering the price it paid for missile tests last year, it is unimaginable that Pyongyang would use a similar amount of resources again for missile launches this year. North Korea is unlikely break 2022's record for the number of missile launches in the coming year.
In this context, North Korea's "strategic build-up" will be initiated in 2023 as it will likely prefer to play the long game against South Korea and the United States.