North Korea Launches 3 Ballistic Missiles
Hours after U.S. President Joe Biden wrapped up his trip to South Korea and Japan, North Korea test-fired three ballistic missiles, including a suspected ICBM.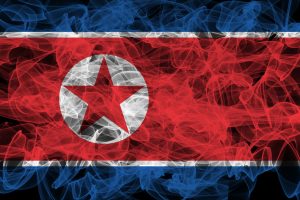 North Korea fired three ballistic missiles toward waters off its east coast, South Korea's Joint Chiefs of Staff (JSC) announced on Wednesday. The missiles were launched at 6:00 a.m., 6:37 a.m. and 6:42 a.m. KST, respectively, from the Sunan area, near Pyongyang.
The South Korean military said that one of the three tested missiles appeared to have been an intercontinental ballistic missile (ICBM) system, while the others seem to be short-range ballistic missiles. The presumed ICBM, which could be North Korea's Hwasong-17, flew 360 km with a max altitude of 560 km. The second ballistic missile exploded at an altitude of 20 km while the third missile flew 760 km with a max altitude of 60 km. The South Korean military believes the two short-range ballistic missiles were North Korea's KN-23 missiles.
In response to the North's missile launch, South Korean and U.S. troops conducted a surface-to-surface missile launch drill – the first joint response to a North Korean missile test since July 2017, when the North tested an ICBM. The South Korean military also conducted an "elephant walk training" involving 30 F-15k fighter jets.
Seoul's JCS said the demonstration by the armed forces showed the military's capability to "precisely strike the origin of the provocation."
South Korean President Yoon Suk-yeol called an emergency National Security Council (NSC) meeting about an hour after he was briefed on North Korea's latest missile test. After the meeting, the presidential office released a statement condemning missile launch, which it called "a grave provocation."
The White House said that U.S. President Joe Biden, fresh off a trip to South Korea and Japan, has been briefed on the event "and will continue to be briefed as information develops." National Security Advisor Jake Sullivan spoke by phone with his South Korean counterpart Kim Sung-han; both sides "condemned the DPRK's destabilizing ballistic missile tests and committed to continue building on their close coordination." (DPRK is the acronym for North Korea's official name: Democratic People's Republic of Korea.)
The U.S. Indo-Pacific Command released a statement on Tuesday, saying "the missile launches highlight the destabilizing impact of the DPRK's illicit weapons program," while adding that the round of tests "does not pose an immediate threat" to the United States and its allies.
North Korean ballistic missile tests and development are banned by the United Nations Security Council resolutions.
Wednesday's launches marked North Korea's 17th round of missile testing this year, and the second since Yoon took office on May 10.
North Korea launched the three missiles hours after Biden wrapped up his four-day trip to South Korea and Japan from May 20 to May 24. Days before Biden arrived in South Korea to kick off his trip, Seoul and Washington warned that North Korea might conduct a ballistic missile test, citing signs they detected in the North's movements, including injecting fuel into its ICBM last week. Once liquid fuel is injected into an ICBM, experts say that the missile needs to be fired in three to four days. In this context, one of the missiles launched today could be the ICBM.
During the North's military parade on April 25, its newest Hwasong-17 ICBM, a giant version of the older Hwasong-15, was shown off with other ballistic missiles. North Korea claimed that it successfully tested its Hwasong-17 on March 24, but Seoul and Washington concluded that the missile tested was actually the Hwasong-15 ICBM, launched to save face after a failed missile test conducted on March 16. North Korea has not responded to their analyses, but as Pyongyang announced its plan to send a reconnaissance satellite into orbit, Seoul and Washington raised the possibility of the North testing its ICBM system in a disguised space rocket launch.
In the first summit meeting between Yoon and Biden on May 21 in Seoul, the two leaders agreed to strengthen their deterrence posture against North Korea. They have not ruled out the possibility of engaging in dialogue with North Korea but their remarks in the joint press conference did not indicate any deep interest in preemptively taking measures to entice Pyongyang back to the table. Biden said "hello … period" when asked if he has a message for North Korean leader Kim Jong Un.
Amid growing tensions on the Korean Peninsula due to the possibility of the North conducting its seventh nuclear test in the coming months, Biden said "We are prepared for anything North Korea does."
Unlike his predecessor's bromance with the North Korean leader, Biden favors engaging North Korea only after low-ranking officials from the two countries have reached a substantive outcome in negotiations – which means a "top-down approach" on the issue will not happen during his term.
Having repeatedly pledged to advance ties with the United States, Yoon also has no interest in activating inter-Korean diplomacy. He seems to be undertaking a similar approach to the one conservative presidents took from 2008 to 2017.
"We, as the leaders of the two countries, reiterated our common goal of the complete denuclearization of the DPRK. There is no compromise for security. Under this shared belief, we concurred that strong deterrence against North Korea is paramount," Yoon said in the joint press conference on Saturday.
Unlike his predecessor, Moon Jae-in, Yoon prioritizes strengthening South Korea's self-defense capabilities as an effective means to deter North Korea's missile threats. Criticizing the Moon administration's dovish overture on North Korea, he has explicitly showed off his willingness to respond to the North's "strength to strength" policy with the stick – strengthening the military alliance with the United States – not with the carrot.
In line with the former conservative presidents' approach to North Korea, however, Yoon also offered an "audacious plan" that can strengthen the North's economy and the quality of life for North Koreans "if North Korea genuinely embarks upon denuclearization." However, as he has not specified the extent of the economic package he can offer to Pyongyang, it will unlikely show any interest in Yoon's plan.
North Korea has normally reported details including the performance and type of the missiles the day after a test. However, North Korean state media have not issued any reports on missile tests since reporting the successful test of "a new-type tactical guided weapon" on April 17.
In addition, experts have warned that North Korea could be preparing to conduct its seventh nuclear test. Satellite images show restoration activities at Punggye-ri nuclear site, which the North had dismantled in May 2018 as a friendly gesture in the lead up to the summit meeting with then-U.S. President Donald Trump in Singapore. The South Korean presidential office said on Wednesday that it had detected North Korea's apparent experiment with a nuclear detonation device, believed to be preparation for a nuclear test.