North Korea Launches Suspected ICBM Off Its East Coast, South Korea's Military Says
Four days after launching artillery pieces, North Korea tested a suspected intercontinental ballistic missile on Thursday.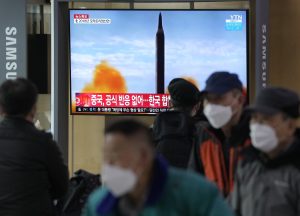 North Korea fired an apparent intercontinental ballistic missile (ICBM) off its east coast on Thursday, South Korea's Joint Chiefs of Staff (JCS) said.
Today's missile was fired at 2:34 p.m. Korea Standard Time (KST) and flew 1,080 km with an altitude of 6,200 km from the Sunan area, near Pyongyang, Seoul's JCS said. The missile appears to have flown for about an hour. This missile is believed to be a new ICBM, known as Hwasong-17, as it was also fired on a lofted trajectory. The North's last ICBM test, involving the Hwasong-15, flew for about 53 minutes and was estimated to have the capability to fly about 13,000 km to target the U.S. mainland.
South Korean officials are currently analyzing whether the missile test involved the Hwasong-17 or the Hwasong-15, possibly a new variant.
To respond to the North's suspected ICBM test, South Korea's military conducted its own missile tests from land vehicles, a ship, and aircraft to demonstrate the capabilities of the country's anti-missile defense system. That response was another significant sign that today's missile launch conducted by the North might have been the largest missile test since Pyongyang tested its Hwasong-15 ICBM in November 2017.
As North Korea normally unveils the performance of missiles a day after the tests, more details on the missile will likely be released on Friday morning KST by the North Korean state media.
Thursday's missile launch came four days after the North fired multiple artillery pieces and eight days after it failed to launch an unidentified projectile, which blew up immediately after liftoff. Considering the North's failed missile test on March 16, North Korea might have retested the same missile type today to redeem the previous failure. As today's missile appears to be North Korea's new ICBM, it lends credence to earlier reports that the North was also testing an ICBM on March 16.
South Korean President Moon Jae-in immediately held an emergency national security council meeting to respond to the North's missile launch. Moon strongly condemned the launch, saying that it violated North Korean leader Kim Jong Un's self-moratorium on nuclear and ICBM tests. However, Kim and North Korean officials have repeatedly stated that they would no longer honor the self-moratorium since the failed Hanoi summit in 2019. Moon's reaction rather shows that Seoul has no attractive bargaining chips at this moment to entice Pyongyang back to the table to deescalate the tensions that have been arising on the Korean Peninsula since the nuclear talks and inter-Korean dialogues stalled.
After North Korea tested two ballistic missiles in reconnaissance satellite tests on February 27 and March 5, the U.S. publicly shared its analysis on those tests, saying the launches involved a new ICBM system that first appeared in the North's military parade in October 2020.
"The purpose of these tests, which did not demonstrate ICBM range, was likely to evaluate this new system before conducting a test at full range in the future, potentially disguised as a space launch," John Kirby, press secretary of the U.S. Department of Defense, said in a statement.
An ICBM, unlike North Korea's short- or intermediate-range ballistic missiles, would be able to directly target the U.S. mainland. Since today's missile test seems to have involved North Korea's largest ICBM, the White House issued a statement hours after the launch.
"This launch is a brazen violation of multiple UN Security Council resolutions and needlessly raises tensions and risks destabilizing the security situation in the region," White House Press Secretary Jen Psaki said in the statement. "The door has not closed on diplomacy, but Pyongyang must immediately cease its destabilizing actions."
North Korea has decided cross the U.S. red line earlier than expected. It seemed Pyongyang might test its new ICBM system around April 15, the 110th birth anniversary of Kim Il Sung, the founder of North Korea and the grandfather of Kim Jong Un.
South Korean President-elect Yoon Suk-yeol, who will assume office on May 10, has shown a hawkish stance on North Korea's missile threats. Given the circumstances, Seoul will start to immediately adopt Yoon's overtures on the issue: posing stronger deterrence against North Korea and requesting to join the U.S.-led security groups such as the Quadrilateral Security Dialogue (Quad) in May.