India Strengthens Its Position in Sri Lanka Vis-à-Vis Rival China
By offering support during Colombo's economic collapse, India has widened its footprint in Sri Lanka after a decade of losing ground to China.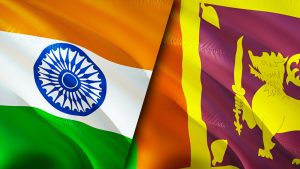 In the 1980s, India was calling the shots in Sri Lanka, cashing in on its mediatory and interventionist role in the ethnic conflict that wracked the island. But New Delhi's relevance receded after the minority Tamils' armed struggle was crushed by the Sri Lankan forces in May 2009. The post-war era in Sri Lanka was marked by a crash program of reconstruction and development. While India failed to seize the opportunity to deploy its economic muscle and retain its foothold on Sri Lanka, an aggressive China filled the vacuum with alacrity.
Given its convoluted decision-making process, the lackluster leadership of the day, and its lumbering bureaucracy, India was no match to Xi Jinping's newly ambitious China, armed with the well-endowed and expansionist Belt and Road Initiative (BRI).
Xi quickly responded to Sri Lankan President Mahinda Rajapaksa's call for massive funds and technical assistance for infrastructural development while India dithered.
According to a Chatham House study headed by Dr. Ganeshan Wignaraja,  the cumulative value of Chinese infrastructure investment in Sri Lanka between 2006 and July 2019 reached $12.1 billion. Economist Umesh Moramudali calculated that, considering both Public and Publicly Guaranteed (PPG) debt, China accounted for 19.9 percent of Sri Lanka's foreign debt in 2021.
However, since the deepening of the economic crisis due to a severe foreign exchange shortage in January 2022, the decade-old roles have been reversed.
India has extended lines of credit totaling $4 billion for food, fuel, fertilizer, and medicines, according to Prime Minister Ranil Wickremesinghe's statement in parliament on June 22. As per a recent press release from the Indian High Commission, India has so far given $5 billion to Sri Lanka as development assistance with more than $600 million as grants.
In contrast, Beijing has been a bystander as Sri Lanka goes down in debt distress. Out of the $26 billion repayment on which Sri Lanka defaulted this year, China is owed $7 billion.
Unlike India, which rushed to help upon obtaining assurances about some economic and security-related projects, China set tough conditions. Beijing wanted Colombo to put its economic house in order first; agree to debt refinancing instead of seeking rescheduling of repayment; finalize the long-pending China-Sri Lanka Free Trade Agreement; and above all, distance itself from India, the West, and the IMF.
China has been repeatedly telling Sri Lanka to encourage foreign direct investment (FDI) instead of borrowing. And more importantly, the Chinese, from President Xi Jinping down to Foreign Ministry spokespeople, have been asking Sri Lanka to be "independent" (of India and the West, presumably).
But given the dire situation and an ingrained fear of FDI, Sri Lanka has not accepted any of these conditions. Instead, it has turned to India, the West and the IMF. Wickremesinghe is still hoping to form an India-China-West consortium to devise a recovery plan for Sri Lanka. But India and China are unlikely to be part of the same team, given their competing interests in Sri Lanka.
Of late, China has been making some feeble efforts to ingratiate itself with Sri Lanka via small aid packages. But its offer of $76 million pales into insignificance compared to India's $4 billion.
Under Prime Minister Narendra Modi's "Neighborhood First" policy and his Security and Growth for All in the Region (SAGAR) project, India is continuing to send ship loads of daily necessities to Sri Lanka. To get the backing of Indian political parties, External Affairs Minister S. Jaishankar met many of them and secured their support. In a follow-up, New Delhi sent a high-level delegation of senior officials led by Foreign Secretary Vinay Kwatra to Colombo on June 23 to discuss recovery plans with President Gotabaya Rajapaksa and Wickremesinghe.
Significantly, the two sides discussed the promotion of "Indo-Lankan investment partnership" in various fields such as infrastructure, connectivity, and renewable energy. India's assistance is thus both philanthropic and transactional.
In March, a MoU was signed on setting up the Trincomalee Power Company in eastern Sri Lanka. The Indian energy and ports tycoon, Gautam Adani, got a $500 million renewable energy project in Sri Lanka's north. Earlier, Adani had bagged the $700 million project to build the West Container Terminal in Colombo port.
In May, MOUs were signed on setting up a Maritime Rescue Coordination Center; implementation of hybrid power projects in three islands off Jaffna; and the development of fisheries harbors in Sri Lanka.
India appears to be making up for lost time. Indians cannot now complain that Sri Lanka favors China in the allocation of projects. However, there is still an undercurrent of hostility in the island to India and fears about Indian hegemony. Influential nationalist leader Wimal Weerawansa has voiced the fears of a "sell out" and opposition MP S.M. Marikkar wondered if the Indian officials had come to acquire Kachhativu Island in return for aid.
The Sri Lankans' attitude to India in the coming months will depend on the IMF's bailout package. This is because India is banking on the IMF bailout to help it manage Sri Lanka. Moreover, the West's financial backing for India's efforts in Sri Lanka depends on the success of the IMF's mission. Wickremesinghe is hoping to get the IMF's bailout in July.
But the question of China's role still lingers. Will China remain a bystander, watching India and the West displacing it in Sri Lanka? Observers think such a scenario is inconceivable given developments in the Indo-Pacific region. But there is as yet no clue as to what China has up its sleeve.