India Mourns Demise of 'Great Friend' Abe Shinzo
Under Abe's government, Japan's ties with India expanded beyond economic relations to include nuclear and security cooperation too.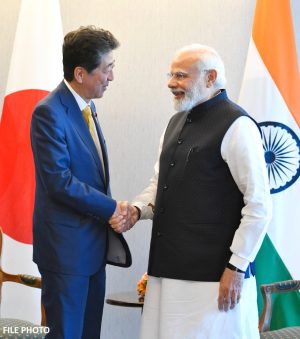 The assassination of former Japanese Prime Minister Abe Shinzo on July 8 has shocked the world. In India, tributes are pouring in for the slain leader. Leaders across the political spectrum as well as captains of industry are recalling the key role Abe played in putting back on track bilateral relations that had been derailed by India's nuclear tests in 1998.
"The loss of a great friend of India has been felt across our nation," the Indian government said in a statement.
In his tribute to his "dear friend" Abe, India's Prime Minister Narendra Modi drew attention to their "personal bond". He recalled how India-Japan relations, which were once restricted to economic ties, transformed during Abe's prime ministerial terms. "Abe san helped turn it into a broad, comprehensive partnership, which not only covered every field of national interest, but became pivotal for our two countries' and the region's security," Modi said.
Indeed, from a predominantly economic relationship, India-Japan ties expanded to include cooperation on nuclear energy, security, and defense issues.
India-Japan relations go back several centuries with the flow of Buddhism paving the way for an intense exchange of culture and ideas between the two countries. In modern times, economic cooperation defined their engagement for several decades. Japan's spectacular recovery from the devastation of World War II and its technological prowess earned it much admiration in India. India has been among the top beneficiaries of Japan's Overseas Development Aid (ODA) loans for decades.
However, India's nuclear policy derailed the relationship. Its nuclear tests in 1974 and 1998 prompted strong Japanese condemnation. An angry Japan recalled its ambassador and imposed economic sanctions and cutbacks on aid.
While the strain in ties eased within a few years, it was during Abe's first prime ministerial tenure (2006-2007) that India-Japan bilateral relations began gathering momentum. According to Sanjaya Baru, who was Prime Minister Manmohan Singh's chief spokesperson from May 2004 until August 2008, Abe "placed India at the heart of his foreign policy for the Indo-Pacific region."
During his visit to India in 2007, Abe addressed the Indian Parliament. In his speech titled "Confluence of the Two Seas," Abe spoke of the Pacific and Indian Oceans "bringing about a dynamic coupling as seas of freedom and of prosperity." A "broader Asia" is "beginning to take on a distinct form," Abe said, and India and Japan "have the ability — and the responsibility — to ensure that… these seas … become seas of clearest transparency."
This speech laid the foundation for not only the India-Japan security partnership that would grow rapidly in the years that followed but also their participation in a grouping of like-minded countries to meet the challenges posed by an increasingly aggressive China in the Indo-Pacific region. The Indo-Pacific framework and the Quad grouping of Australia, India, Japan, and the U.S., which Abe alluded to in his historic speech to the Indian Parliament, would take more concrete shape in subsequent years.
A dramatic change that occurred in India-Japan ties under Abe's leadership was in the nuclear field. From fiercely opposing India's nuclear program, Japan came around to adopting a more pragmatic, even supportive approach. This culminated in Japan signing the Agreement for Cooperation in the Peaceful Uses of Nuclear Energy with India in 2017. This agreement allowed India, despite not being a signatory to the nuclear non-proliferation treaty, access to advanced cutting edge reactor technologies and potentially nuclear reactors.
Shyam Saran, a former Indian foreign secretary, recalled in 2020 "the personal role Abe played in enabling the landmark India-Japan nuclear deal in 2017 overcoming very strong opposition of Japan's powerful non-proliferation lobby." Apparently Abe had also played an important role "in India getting a waiver at the Nuclear Suppliers Group."
Abe's Japan also supported infrastructure building in India with loans and technical expertise. Among the major projects undertaken by the Japanese in India are metro connectivity in Indian cities, a dedicated freight corridor between Delhi and Mumbai, and the construction of a bullet train between Ahmedabad and Mumbai. Besides, Japan has extended India huge loans for water sewerage and construction of smart cities across India.
Abe saw immense potential in building a strong bond with India. He worked well with leaders across Indian political parties. He had deep respect for Prime Minister Singh and a close friendship with Prime Minister Modi.
The Congress government under Singh invited Abe to be the chief guest at India's Republic Day Parade in January 2014. He was bestowed the Padma Vibhushan, India's second-highest civilian award, in 2021. On Abe's death, India declared a day's mourning. The national flag flew at half-mast in his honor.