In India, Kishida Papers Over the Cracks on Ukraine
The Japanese leader did a fine job finding a way to talk about Ukraine without really talking about Ukraine.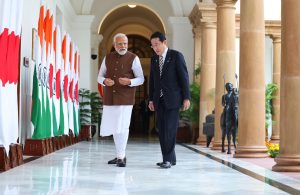 Japan's Prime Minister Kishida Fumio was in India earlier this week to unveil a new initiative for a "Free and Open Indo-Pacific" aimed at countering China's influence. The package included infrastructure assistance to emerging economies, support for maritime security, supplies of critical equipment and more. But the context for that initiative was set a day later when Kishida made a surprise visit to Ukraine.
Arriving in Kyiv just as China's President Xi Jinping left Moscow, Kishida visited the mass grave in Bucha, expressed condolences for the immense losses suffered, and reaffirmed his country's support for the Ukrainian war effort.
The trip to Ukraine was a surprise but it wasn't entirely random. Ahead of his arrival in India days earlier, Kishida wrote for an Indian daily about the driving force behind his new Indo-Pacific initiative. "One year ago, the foundation of order in the international community was shaken by Russia's aggression against Ukraine," he asserted. "Against such backdrop, on March 19, 2022, during my visit to India, Prime Minister Narendra Modi and I affirmed that any attempt to unilaterally change the status quo by force is unacceptable not only in the Indo-Pacific but also in any region… We affirmed that the current situation makes it more relevant to expedite efforts towards the realization of a 'Free and Open Indo-Pacific (FOIP)'."
Drawing a link between China's intimidatory tactics in Asia and Russia's invasion of Ukraine has been a key part of Japan's foreign policy for the past year. Last year, Kishida warned that "Ukraine today may be East Asia tomorrow." By landing in Kyiv right after Xi's visit to Russia, Kishida also drew a sharp contrast between where Japan and China stood on the war.
But such efforts to link the war in Europe with geopolitics in Asia would likely have made New Delhi uncomfortable even before Kishida landed. India has been fiercely neutral on Ukraine. It steadfastly maintains vital ties to Russia, and chaired a fractious Foreign Ministers' meeting at the G-20 just this month, which had been hijacked by differences over the war.
And given that Kishida was now visiting India as the host of the G-7, which has focused heavily on Ukraine, the war loomed even larger. It seemed inevitable that the Ukraine problem would spring up, especially during talks over how the G-7 can work with the G-20 this year.
Yet, once in New Delhi, Kishida smartly changed focus and papered over the cracks – at least in public. He talked about the need to extend economic and security assistance to developing economies, engage with the views of the Global South, and collaborate to tide over rising fuel and food costs – all narratives that would have been music to Modi's ears.
Still, the two leaders' shared apprehensions over China sit uneasily with the fact that India shares common ground with China on Ukraine. The two countries have assiduously voted together on multiple United Nations resolutions, even as the rest of the Global South has increasingly turned on Russia. And in a year in which India plays host to multiple multilateral forums, the global spotlight has shone more brightly on its attitudes towards sensitive global disputes than in the past.
This year, India also hosts the Shanghai Cooperation Organization (SCO) summit, which could potentially bring Modi, Xi and Russia's President Vladimir Putin into the same room. Much of the world's future geopolitical trends could depend on how that meeting handles common interests surrounding the Ukraine war against the India-China border dispute. Locked now in a war of attrition, Russia is increasingly dependent on both India and China. That also means that Putin has a strong incentive to broker a thaw of some sort between Modi and Xi in the interest of issues much larger than the Himalayan border.
It's a tall ask, but if Putin succeeds, he could potentially reshape India's role in world affairs significantly, reorienting the India-China relationship and securing more proactive support from Beijing and New Delhi for his own demands.
Such a breakthrough could also reshape India's role in the Indo-Pacific and its position within Japan's new initiative. But for now, Kishida has done a fine job at walking the tightrope in New Delhi, finding a way to talk about Ukraine without really talking about Ukraine.