Japanese Defense Ministry Requests Largest Ever Budget for Fiscal Year 2023
Japan has broken last year's record for its requested defense budget as security concerns mount in Tokyo.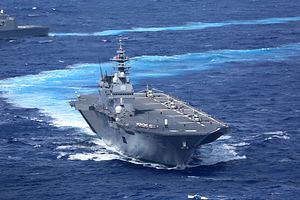 On August 31, the Ministry of Defense in Tokyo asked for 5.59 trillion yen ($40.4 billion) for fiscal year 2023, its largest ever budget request, amid the increasingly severe security situation surrounding Japan.
The request, a 1.1 percent increase from the initial budget in the current fiscal year, is the 11th consecutive rise under a Liberal Democratic Party (LDP)-led government. Prime Minister Kishida Fumio has vowed to "fundamentally reinforce Japan's defense capabilities within the next five years."
The budget request, which will be sent to the finance ministry to consider before a decision in late December, includes funding for 100-plus items – such as the development of domestic stand-off missiles that can be fired from the Japan Self Defense Forces (JSDF) vehicles, vessels, and aircraft, as well as the joint development of a next-generation fighter with the U.K. – without specific price tags.
This is because the Kishida administration is in the process of revising all three of the country's key security policy documents – the National Security Strategy, National Defense Program Guidelines and Medium-Term Defense Program – by the end of 2022. So, the MoD this time only announced a long list of defense-related requests without divulging necessary costs for them specifically. The total budget would reach the mid-6 trillion yen range after the unspecified costs for those items are finalized.
Regarding those 100-plus items, the budget request lists seven key pillars of "necessary efforts to drastically strengthen Japan's defense capabilities within five years."
Those are (1) "stand-off defense capabilities," such as mass production of longer-range missiles; (2) "comprehensive air and missile defense capabilities" to deal with various missiles; (3) "unmanned asset defense capabilities" such as the use of drones; (4) "cross-domain operational capabilities" in space, cyberspace, and electromagnetic domains; (5) "command and control and intelligence-related functions"; (6) "maneuvering and deployment capability" to send troops and supplies to the front line; and (7) "sustainability and resiliency."
The ministry's Acquisition, Technology, and Logistics Agency (ATLA) requested 143.2 billion yen($10.3 billion) to push ahead with its next-generation fighter program in partnership with the U.K. It plans to start a basic design of the future fighter's fuselage from the next fiscal year after finishing the examination of the co-developed jet engine demonstrator as part of their partnership by the end of this year.
The Japan Air Self-Defense Force (JASDF) requested funds to buy six more Lockheed Martin F-35A Lightning II Joint Strike Fighters and six more F-35B Lightning multirole fighter aircraft.
It also requested funds to procure the air-launched, precision-guided Joint Strike Missile developed by Norwegian company Kongsberg, which is set to be outfitted on the service's F-35A Lightning II Joint Strike Fighter aircraft. The JASDF also plans to acquire the AGM-158B Joint Air-to-Surface Standoff Missile-Extended Range manufactured by Lockheed Martin to be integrated with the upgraded F-15Js.
The Japan Maritime Self-Defense Force (JMSDF) asked for 3.6 billion yen to continue modifying its two Izumo-class helicopter carriers – JS Izumo and JS Kaga – into aircraft carriers capable of enabling Lockheed Martin F-35B fighter aircraft operations. Defense officials told The Diplomat that the budget allotment on the conversion of the two helicopter carriers into full-fledged aircraft carriers may increase after the item becomes finalized.
A portion of the funds will be used to equip the Kaga with a landing navigation system for F-35Bs, which according to defense officials is likely be Raytheon's Joint Precision Approach and Landing System (JPALS).
It also requested funds to procure six SH-60L antisubmarine patrol helicopters, which are an upgraded variant of its SH-60K multirole naval helicopter developed by the ATLA and Japanese company Mitsubishi Heavy Industries.
The JMSDF also asked for funds to acquire six 1,920 tonne-class next-generation offshore patrol vessels (OPVs) during the next fiscal year.
The ministry has said those new patrol vessels will specialize in warning and surveillance and can be operated with minimal personnel. In response to a manpower shortage at the JMSDF, Japanese media have reported that the new OPVs will only need a crew of about 30, far fewer personnel than the Mogami-class frigates, which have a crew of 90.
As neighboring China expands the size and capabilities of its naval forces, Japan is enhancing its maritime security, in particular to defend the southwestern Nansei Islands, including the disputed Senkaku/Diaoyu Islands in the East China Sea, by boosting its patrol activities. The Senkaku/Diaoyu islands are controlled by Japan but are also claimed by China.
Meanwhile, the Japan Ground Self-Defense Force (JGSDF) strives to improve the range of Japan's homegrown standoff missiles. It requested funds to begin mass production of an extended-range version of the domestically developed Type 12 Surface-to-Ship Missile in fiscal year 2023 in a bid to bolster its defense against China's increasing military activities in the East China Sea.
It also asked for funds to continue conducting research on both the Hyper-Velocity Gliding Projectile, for defense of remote islands, and hypersonic missiles, which can cruise at hypersonic speeds (five times or more than the speed of sound).
The JGSDF also plans to introduce unmanned vehicles for the first time that can be used directly in combat, rather than just for surveillance and intelligence gathering.
To enhance the nation's cybersecurity, the ministry plans to start offering tax incentives to defense contractors that can help bolster the country's cybersecurity measures. It aims to better protect sensitive industry information against attacks by state-supported hackers.
Kishida has pledged to drastically increase Japan's defense outlays over the next five years by considering "every option" to boost defense, including acquiring the capability to strike enemy bases. But at the same time, he has intentionally avoided specifying exactly how much he would increase the Japanese defense budget.
Regarding the increase in defense spending, he has said target numbers should not be prioritized over figuring out what's really needed in Japan's defense.
"As we prepare to acquire what's necessary, it will become clear how big a [defense] budget we need, and then, depending on the size of the budget, we will need to think about how to finance it," he said at a press conference on June 21.
In contrast, the late Abe Shinzo, a former prime minister who was assassinated on July 8, had strongly advocated increasing the national defense budget to the NATO level of 2 percent of gross domestic product. It remains to be seen whether and how Abe's death will impact Kishida's defense policy by year-end.