Kazakh Leader Calls for Snap Presidential Election
The Kazakh president, whose constitutional referendum this summer aimed to bring about a "New" Kazakhstan, has moved, rhetorically, on to speaking of a "Just" Kazakhstan.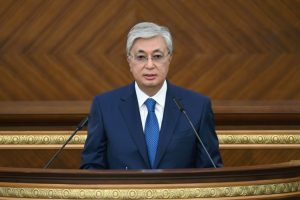 Kazakh President Kassym-Jomart Tokayev ended his annual address on September 1 by announcing snap presidential elections this fall and parliamentary polls in early 2023. Kazakhstan's next presidential election was set for 2024 and parliamentary elections were not until 2025.
"A new mandate of people's trust is required," Tokayev said, to successfully implement the "comprehensive reforms" he proclaimed earlier in the speech to build a "Just Kazakhstan."
Tokayev phrased his calling for a snap election as a sacrifice: "I am ready to go to early presidential elections, even despite the reduction of my own term of office." But that's not necessarily true.
After the new election, Tokayev said he would call for the presidential term to be shorted to a single seven-year term, rather than the current two five-year terms allowed. 
Tokayev is three years into his first five-year term and would have been eligible to run again in 2024 for another five years — for a total of 10 years in office up to 2029 under the current rules. If Tokayev is elected to another five-year term in late 2022 and then after changing the rules, will that term count or would he be eligible for a new single seven-year term? Based on how neighboring Uzbekistan has handled this exact conundrum, the likely answer is that when the rules change the slate would be wiped clean and Tokayev could conceivably be in power past 2029. (If he serves three years, then five years under the current rules and at the end of the five, he wins a new "single" seven-year term — that takes us up to 2034).
"If adopted, a new political era will begin in Kazakhstan," Tokayev proclaimed. 
The Kazakh president also bragged that procedures for registering political parties in the country had been simplified, a detail that is both true and worthless: No new political parties have managed to achieve registration even under the "reformed" system. This past June, Kazakhstan approved a constitutional referendum branded as bringing about a "New Kazakhstan." As Bruce Pannier wrote for The Diplomat Magazine in July 2022: "[F]rom the start there were signs that, buzzwords aside, nothing new was coming."
With a snap presidential election likely before the end of the year, there is little time for new political parties to achieve registration and challengers to generate any kind of electoral momentum. It's hard to imagine that anyone other than Tokayev would be able to win the election this year. 
We've now moved from "New" Kazakhstan to a "Just" Kazakhstan. Tokayev's September 1 speech, before concluding with the headline item of a snap election, proposed a bevy of additional reforms addressing primarily economic issues (including investment and development), public administration, and law and order.
After stating that "[m]any of the instigators got off with suspended or light sentences" and rather bizarrely that human rights defenders had "repeatedly approached me with justifications for the need to toughen punishment for inciting mass riots," Tokayev proposed a one-time amnesty for the "participants" of the January protests — that is civilians and law enforcement facing various charges. Tokayev clarified that those who "organized" the protests and those facing treason charges would not be granted amnesty.
Such an amnesty, if it is realized, may be a populist effort on Tokayev's part to release some of the pressure building regarding the hundreds of Kazakh citizens convicted of various charges related to the January events. In July, Joanna Lillis wrote for Eurasianet that more than 700 had been convicted on charges related to the violence in January. By August, that number stood at 834 with thousands more still facing charges. Relatives of some of those already convicted have demanded their loved ones be released or re-tried, and many have complained of torture. 
The Kazakh government, which at various times has blamed 20,000 terrorists and foreign provocateurs for the January unrest, has yet to present evidence to support that narrative. Instead, a more nuanced view of what happened involves domestic protests dovetailing with an elite power struggle that resulted in a harsh crackdown and violence in numerous Kazakh cities, most visibly and shockingly in Almaty. The treason charges against the former chief of Kazakhstan's Committee of National Security, Karim Masimov, and the arrest of one of his deputies, Samat Abish (who happens to be a nephew of former President Nursultan Nazarbayev) peel back the veil on some of the elite context underneath the unrest, as does the diminishment of the Nazarbayevs (and their allies) in the Kazakh political arena.
It was only in mid-August that Kazakh authorities finally provided a list of those it says were killed during the January unrest, adding six individuals it says were tortured to death by the authorities. Human rights activists say that the list of 238 names is incomplete and as presented — first initials and last names only — is inadequate. Activists have demanded that the authorities publish detailed information including first and patronymic names, ages, causes and exact places and times of death, and the circumstances when the deaths occurred.
It's clear Tokayev wants to move on, but are the Kazakh people ready to sweep "Bloody January" under the rug?