South Korea's Yoon Suk-yeol Finally Meets Japan's Prime Minister
While Yoon failed to hold a formal summit with U.S. President Joe Biden, he succeeded in having an "informal meeting" with Japanese Prime Minister Kishida Fumio.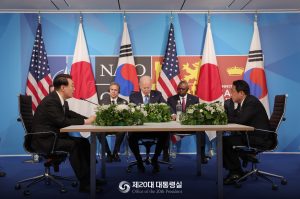 South Korean President Yoon Suk-yeol met Japanese Prime Minister Kishida Fumio on Wednesday and affirmed their mutual interests in thawing the frozen bilateral relationship, South Korean Presidential Office said.
In the written briefing, the Presidential Office also said that the two leaders "shared serious concerns over North Korea's nuclear program involving the nuclear test and the new law on nuclear forces policy." It said that the two leaders held a 30-minute "informal talk" at the building where Kishida was attending the High-level Meeting of the Friends of the Comprehensive Nuclear Test Ban Treaty (CTBT).
The Presidential Office noted that the meeting came 34 months after the summit meeting between then-South Korean President Moon Jae-in and then-Japanese Prime Minister Abe Shinzo in December 2019.
However, unlike the summit meeting between Moon and Abe, Wednesday's "informal meeting" happened with no official announcements by the two parties. Usually, the two sides announce the schedule and agendas for the summit meeting together, but the Presidential Office notified reporters two minutes after the meeting began. According to the reporters covering Yoon's visit to New York, the Presidential Office has consistently refused to share the schedule by saying "no comment." In this context, only Japanese reporters, who were onsite covering Kishida's attendance of the CTBT meeting, could take photos of Yoon walking into the building to meet Kishida.
The extreme delay in notifications came after the South Korean Presidential Office prematurely announced a planned summit between Yoon and Kishida, which Japan repeatedly denied.
Seoul and Tokyo also used different language to describe the exchange. Seoul called the meeting between Yoon and Kishida an "informal talk," but, according to Japanese news outlets, Tokyo defined it as "a short chat." This matches with previous reporting from Japanese media that Kishida did not want to hold a formal summit meeting with Yoon, as his demands for South Korea to resolve Supreme Court rulings have not been met.
Although Yoon and Kishida agreed to activate diplomatic channels for continuous communication, it is still questionable what options Seoul has to bypass the court's rulings over the wartime use of forced labor by Japanese corporations. As no party can overrule the decisions made by the Supreme Court under the sacred principle of separation of powers, the Yoon administration will face overwhelming criticism at home if it tries an illegal move to reverse the ruling.
The Presidential Office had also announced that Yoon would meet U.S. President Joe Biden on the sidelines of the U.N. General Assembly session. While no schedule for the talks was confirmed, Yoon had a 48-second spontaneous chat with Biden at the Global Fund's Seventh Replenishment event. According to reports, Biden unexpectedly invited Yoon to attend the event, thereby forcing the South Korean president to scrap his original schedule.
A "formal" summit meeting with Biden was a crucial goal for Yoon due to South Korean concerns over Washington's "Inflation Reduction Act." Since Yoon took office in May, Seoul and Washington have agreed to deepen economic ties, and many South Korean conglomerates announced significant investment plans in the U.S. this year. But with the IRA and its perks for U.S. manufacturing, Washington suddenly pivoted toward protectionism – interpreted by many as Biden's strategic decision to garner support from the public for the November mid-term elections.
This unacceptable development for South Korean corporations also highlights Yoon's diplomatic inexperience. The U.S. Congress had publicly shared its plan to enact the bill, but Seoul was apparently asleep at the wheel. By the time Seoul's working-level government officials reached out to Washington to complain about the bill, it was too late, as the IRA had already become law.
When making its unilateral announcement on the summit meeting between Yoon and Kishida on August 15, South Korea's Presidential Office also announced that Yoon would have a meeting with Biden. However, it appears the 48-second chat was the only chance Yoon got, as White House has already released a written briefing over Biden's meeting with Yoon on Wednesday.
These diplomatic missteps are taking a political toll for Yoon. According to the latest polls, Yoon's approval rating is still hovering around 30 percent, while more than 50 percent of South Koreans had a negative view of his trips to London and New York this week.
Unlike most leaders who attended the funeral of Britain's Queen Elizabeth II, Yoon failed to pay his respects to the Queen at Westminster Hall due to heavy traffic. A picture of French President Emmanuel Macron walking on the street with his wife to pay his tribute to the Queen on the same day Yoon decided to skip viewing the coffin draw huge criticism among South Koreans, who accused their president of laziness and negligence. Democratic Party lawmaker Kim Eui-kyum pointed out that Yoon was less than a mile away from Westminster Hall, meaning he could have walked to attend the most important event of his London trip.
Yoon further soured perception of his diplomacy by using a swear word (translating to "bastards") to refer the U.S. Congress after his short chat with Biden. The Presidential Office defended the language by saying it was a private talk between Yoon and his staff members, but it is expected to ignite still more criticism over Yoon's seeming inability to act presidential. Yoon has also been accused of calling Lee Jun-seok, the former leader of the ruling People Power Party who was ousted by pro-Yoon lawmakers, a "bastard."