The Paradox of China-Japan Relations
"Hot economics, cold politics" continues to underscore the China-Japan relationship. Even as political relations fray, economic ties have never been stronger.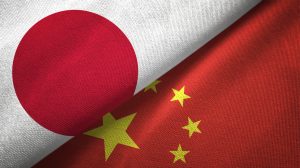 When Japan and the People's Republic of China (China) normalized their diplomatic relationship in September 1972, the Japanese people embraced it wholeheartedly. The scene where thousands of people crowded into Ueno Zoo for the sole purpose of seeing the pandas given as a token of friendship from China exemplified the uplifting feeling that existed then. Japan's generally positive feeling toward China was sustained for almost a decade, reaching its highest point to date in 1980, when 79 percent of the Japanese population had a positive image of China, as described in a government sponsored poll.
September 2022 marks the 5oth anniversary of the normalization. However, in the span of half a century, Japan's optimism regarding China has abated dramatically. In the fall of 2021, Genron NPO and China Net released polling data showing that more than 90 percent of the Japanese population possessed a negative view of China, a level not seen since 2005.
Security concerns have emerged as a significant factor, adding to long lasting historical disputes and China's ironclad stance on civil liberties, leading the Japanese public to be disillusioned by China.
In 1996, when Taiwan – a self-ruling island that China perceives as its rightful territory – held its first democratic election, China responded with a full-scale military exercise, launching missiles near Taiwan. However, due to U.S. President Bill Clinton's decision to counter China's aggressive behavior by sending two aircraft carriers to the Taiwan Strait, China was forced to halt its drills.
Resolved never to repeat the humiliating defeat during what is now dubbed the Third Taiwan Strait Crisis, China has embarked on a massive military build-up. The amount of defense spending increased by double digits each year through the first decade of the 21st century. In March 2022, China pronounced that military spending would see a 7.1 percent hike, the new figure expected to amount to $229.47 billion.
Especially in recent years, as China's military readiness has been reinforced, neighboring countries such as Japan are growing concerned that a potential military conflict might spill out beyond Taiwan. China's recent launch of missiles into Japan's Exclusive Economic Zone (EEZ) as part of military drills in response to U.S. House Speaker Nancy Pelosi's visit to Taiwan has made a lot of Japanese fearful of being dragged into a potential armed conflict, something not experienced since World War II. Nowadays, 81 percent of Japanese perceive China as a security threat, even higher than that similar perceptions of North Korea, which usually has been the rationale for Japan to invest in its defense capability.
Despite the recent developments casting a shadow on the Japan-Sino relations, economic ties remain robust – arguably stronger than ever. In 2020, despite the COVID-19 pandemic, China's share of Japan's trade recorded all-time highs in both total trade and import values, on par with its record high for China's share of Japanese imports (25.8 percent) in 2016. Also in 2020, for the first time in two years, China surpassed the U.S. as the number one importer of Japanese goods. And in the first quarter of 2022, China's imports of Japanese merchandise reached a record high.
Despite facing potential losses and suffering actual damage from the disruption of supply chains, and the strict control of the Chinese government over private enterprises, the Japanese business community seems to be insulated from that reality. While the number of Japanese companies located in China plunged to the lowest level in 10 years, still more than 12,000 companies, mostly manufacturers,  remain. A survey done by Sankei Shimbun found that out of 118 Japanese firms, more than half answered that business with China should remain as it is or continue to develop. In the same survey not even one business answered that a significant distance between China and Japan is needed.
Also, what is fascinating is that in spite of politically sensitive times – with countries becoming alerted to Chinese firms' close relations with the Chinese government and the People's Liberation Army – the Japanese public has been inclined to embrace Chinese brands and merchandise, which is contrary to the direction in which Japan's allies are leaning. To take the example of TikTok, a Chinese social media platform, India has totally banned it and the United States has attempted to do so, both due to security concerns. However, in Japan, a government agency has recently announced that they would cooperate with TikTok in order to spread awareness of the My number card, a government issued document to streamline administrative process, among the youth.
In Kyoto, an electric bus manufactured by Chinese electric vehicle company BYD,  a potential competitor for Japan's vibrant automobile industry, began operations. At a venue in Tokyo this May, Huawei, a multinational telecommunications corporation, which has been scrutinized by the U.S. and Canada for national security reasons, announced the introduction of new devices for Japanese consumers.
Over the last few years major Chinese companies such as Alibaba and TCL technology, the second largest LCD TV manufacturer in the world, have penetrated the Japanese market. Overall, the booming Chinese business activity in Japan is another reminder that Japan's economic interdependence with China remain robust, despite deteriorating political and diplomatic relations.
"Hot economics, cold politics," a phrase frequently used to describe China-Japan bilateral relations in the early 2000s, can still be applied to the current status of affairs. This underlying theme has been constant throughout the diplomatic history of Japan and China even before official ties were established, considering the fact that on the private level there was some level of business exchange even amid the heights of the Cold War.
However, it remains to be seen if this consistent phenomenon will endure through the current intense political climate, which has overshadowed the 50th anniversary of the relationship. Whether the economic aspect of the relationship can transcend or alleviate the political frictions once again will be tested in the near future.