Why China's Xi Is Visiting Kazakhstan First
Before Xi travels to Samarkand, Uzbekistan, for the SCO summit and a bilateral with Russian President Putin, he'll land in Kazakhstan for a state visit.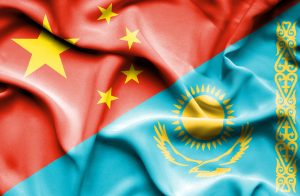 On Monday, China's Foreign Ministry confirmed that Xi Jinping would travel to Central Asia this week, from September 14 to 16, to attend the Shanghai Cooperation Organization summit and "pay state visits to Kazakhstan and Uzbekistan." 
Most international attention has focused on Xi's choice of the SCO summit for the Chinese leader's first foreign trip since the outbreak of the COVID-19 pandemic in 2020. The planned bilateral meeting on the sidelines with Russian President Vladimir Putin — announced by Russia, although not yet confirmed by China — will be closely watched.
But before Xi travels to Samarkand, he'll land in Kazakhstan's capital, Nur-Sultan, for bilateral talks with Kazakh President Kassym-Jomart Tokayev. The two leaders are expected to sign a number of agreements, but the visit has huge symbolic and geopolitical value.
Kazakh Foreign Ministry spokesman Aibek Smadiyarov remarked on the upcoming visit: "The uniqueness of this visit is that Kazakhstan is the first country that the Chinese leader will visit since the start of the pandemic. For us, for Kazakhstan, this is a great honor. We hope that the visit will be held at a very good and high level."
The last time Xi traveled to Kazakhstan was in 2017, when he attended the SCO summit and Expo 2017 in the Kazakh capital, then known as Astana. Xi posed for pictures with a seemingly permanent fixture in Kazakh politics, President Nursultan Nazarbayev.
Nazarbayev's close relationship with Xi stretched back to September 2013, when the Chinese leader arrived in Astana and delivered a monumental speech at Nazarbayev University unveiling Beijing's plans for a "Silk Road Economic Belt" through Central Asia. In conjunction with the "Maritime Silk Road" through Southeast Asia, a proposal unveiled in an October 2013 speech in the Indonesian parliament, the two initiatives came first to be called "One Belt, One Road" (with the unfortunate English-language acronym OBOR) and later the Belt and Road Initiative (BRI) in English, though the Chinese language named stayed the same. 
Nearly a decade after the seeds of the BRI were sown in Kazakhstan, Xi is returning. Much has changed in the world, especially in Kazakhstan, even since his last visit in 2017. First, Nazarbayev is no longer president and, since the violence of January 2022, no longer even a powerful figure. The January events loom large, a scar many in Kazakh public continue to itch at, unsatisfied with the government's explanations and overt pressure to move on. And second, the Russian invasion of Ukraine in February has increased pressure on Kazakhstan in myriad ways, from the economic arena to diplomatic relations as Nur-Sultan seeks to balance Moscow and the West. Even as Nur-Sultan remains diplomatically engaged with Russia, Russia's standing in the region is diminished. Putin's past comments — and more contemporary versions by Russian nationalists more recently — regarding Kazakhstan's sovereignty and statehood echoed painfully in the Russian president's pre-invasion remarks about Ukraine. 
Into this milieu steps Xi.
In an article published by the Kazakhstanskaya Pravda newspaper this week, Xi expressed "high hopes" for the visit. "This golden autumn, at the invitation of President Kassym-Jomart… Tokayev, I will be on a state visit to friendly Kazakhstan. With pleasure, after 5 years, again, for the fourth time, I will come to your country, which is famous for its endless steppe, majestic mountains and rivers, and very hospitable people. I have high hopes for the upcoming visit," he wrote.
Xi characterized Kazakhstan and China, which mark 30 years of diplomatic relations this year, as "good neighbors, true friends and reliable partners."
"From good neighborliness and friendship to strategic partnership, up to eternal all-round strategic partnership, our bilateral relations are making a historic breakthrough," Xi continued.
One particularly critical reference in Xi's article, in light of Russia's war in Ukraine, is mutual support for "state sovereignty, security and territorial integrity":
Our countries always mutually provide firm support on key issues related to state sovereignty, security and territorial integrity, respect each other's development path, independently chosen in accordance with national realities, welcome the new achievements of the other side in state development and national revival.
Xi's aim with the visit, he writes, is to "further advance" the "China-Kazakhstan eternal comprehensive strategic partnership in the new era." He outlines four areas of focus: following the course of good neighborliness and friendship, building mutually beneficial cooperation, firmly defending "our common security," and comprehensively strengthening cooperation in the international arena. It's difficult to read these and not see references to Russia between the lines.
When it comes to common security, for example, Xi writes: "In the context of a difficult international and regional situation, ensuring solidarity and deepening cooperation has been and remains a tool to overcome the crisis and solve security problems." Xi offers an expansion of cooperation regarding law enforcement, intelligence, defense, data security and, of course, in combating the "three evils."
Such a strong message in advance of the visit underscores a sensitivity in Beijing to both Kazakhstan's difficult domestic circumstances and its precarious geopolitical position. What this communicates to Nur-Sultan is that Kazakhstan has friends in Beijing, should it need them. It may communicate the same message to Moscow.
Central Asia is, once again, Xi Jinping's stage. This time around, however, the power dynamics between China and Russia in the Central Asian arena have shifted further in Beijing's favor. Back in 2013, the simplified understanding of the China-Russia relationship in Central Asia was of a division of labor, with China's investments targeting the economic sphere and Russia remaining the region's major security partner. In so much as that "division of labor" theory was ever even true, China's engagement in the region has progressively deepened in many spheres over the years. We cannot dismiss the continued political, economic, and social importance of Russia to the region or the degree of synergy between Russian and Chinese interests and ambitions; but at the same time, China's relationships with the individual states of Central Asia have continued to evolve as well and that may have consequences for Moscow.