China-US Competition Seems to be Working for Africa 
But African leaders will need to keep working to reap the full benefits.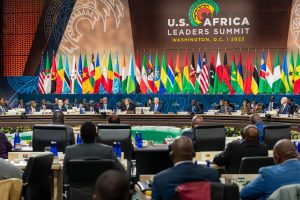 During this week's U.S.-Africa Summit, it was obvious that every official had been briefed not to mention one word: China. In response to journalists' questions about U.S. plans to counter the influence of China in the African continent, officials quickly rebuffed these ideas and – in our view rightly – emphasized Africa's own importance in the world as driving Washington's Africa+1 Summit.
Indeed, after an eight-year hiatus, the Biden administration's U.S.-Africa Summit marked a turning point in the United States' foreign policy regarding Africa.
Three areas stand out: clear and significant financial commitments; the promise to support African diplomatic interests at the United Nations and G-20; and the references and MOUs signed related to African development frameworks and flagship projects such as the African Continental Free Trade Area. These were all major new achievements compared to Barack Obama's 2014 U.S.-Africa Summit.
Furthermore, although stopping short of a clear timetable for future summits, the 2022 Summit included some follow-up plans. President Joe Biden announced that his first multi-country visit to Africa will occur in 2023, and Johnnie Carson – former U.S. assistant secretary of state for African affairs in Obama's administration – will be appointed as a special representative to implement ideas discussed at the Summit.
Hence, if geopolitical competition with China – and to some degree Russia – has pushed the United States to listen to Africa's developmental needs more, this Summit can certainly be categorized as a win for Africa.
That said, given the intricate fragmentation of the U.S. governance system – where presidential pronouncements can often have little sway in actual policymaking and foreign investment decisions – its true impact will not be known for several years.
Furthermore – and as we know from our experience in supporting African engagement with China – there was still a great deal left unsaid, which needs to be unpicked by African leaders and policymakers to ensure a real, positive impact.
The three areas of achievement all suffer from this challenge.
First, the U.S. commitment of $55 billion over the next three years to Africa surpasses China's $40 billion commitment to Africa during the 2021 FOCAC 8 Conference and Russia's $12.5 billion promise in deals in the first Russia-Africa Summit in 2019. However, it is also likely to include different types of finance, and this is where the nuance matters. For example, unlike China and Russia, the United States is likely to have included its contributions to the World Bank and IMF as a major shareholder within this $55 billion – yet many African countries retain concerns about the effectiveness of these institutions, especially their track record of delivering and enabling key African needs such as infrastructure and industrialization.
The U.S. commitment is also likely to be at least 50 percent FDI – China's FDI was just a quarter of its total commitment – with most of the rest (an announced $20 billion) going to health and food programs through so-called "global funds" the U.S. either administers itself or has a major shareholding in, not necessarily African institutions such as the Africa Centres for Disease Control and Prevention. Yet, there is evidence that the global funds need reform, for example, to avoid undercutting local production of medicines.
On the other hand, China included in its $40 billion a commitment to channel $10 billion of Special Drawing Rights (SDRs) to the African continent as well as another $10 billion directly to African financial institutions. It is unclear whether the United States' pledged $55 billion includes a projected SDR reallocation. Without an explicit mention, it seems improbable that most African organizations will benefit from U.S. finance.
Second, diplomatically, the United States agreed to support the African Union's permanent inclusion in the G-20 and to have one permanent seat for Africa at the U.N. Security Council for the first time. The change was welcome but also had shortcomings. In fact, China had already announced its support for a "G-21" in August 2022. As Development Reimagined's CEO has argued, AU membership in the G-20, analogous to EU membership, should not be framed as an act of benevolence. It recognizes Africa's current and future economic sway, and unique perspectives that can help the rest of the G-20 do better. Furthermore, the African Union's Ezulwini Consensus clearly highlights what "full representation" of Africa in the Security Council means: Two permanent seats with veto power, as well as five non-permanent seats. Commitments to half-hearted reform may well create more problems than solutions.
Third, the United States MoU with the African Continental Free Trade Area (AfCFTA) Secretariat – and statements by the U.S. Trade Representative Katherine Tai that her agency will help Africa modify IP waiver regulations at the WTO and assist the continent to produce its own vaccines – were certainly positive examples for other G-7 members to follow. However, in reality, the commitments may be too one-sided.
For instance, the MOU doesn't include any reference to making progress on increasing Africa's access to U.S. markets through alignment with the United States' existing trade program, the Africa Growth and Opportunity Act (AGOA). Only 1.3 percent of the United States' imports in 2021 came from Africa. Indeed, as mentioned in Development Reimagined's U.S.-Africa policy brief, an ideal outcome of the summit would have been a commitment from the U.S. to review AGOA and all bilateral free trade areas (FTAs) between the U.S. and African countries under discussion to be aligned with AfCFTA and Agenda 2063.
Similarly, the MOU does not include references to IP protection for African products in the U.S. – an area that has caused challenges in the past, between large American firms and countries such as Ethiopia. And while the MOU centers on "doing business" and the latest buzzword, "de-risking" reforms, to create enabling environments for American businesses to profit across the African continent, there is no reference to other critical African frameworks such as the Accelerated Industrial Development for Africa (AIDA) plan and the African Mining Vision (AMV).
Why does this matter? A large proportion of U.S. FDI into Africa is still centered on mining – around 30 percent between 2016 and 2020. U.S. FDI in African manufacturing was only 9 percent in 2020. The fact is, as with China and other development partners, the type and quality of U.S. finance needs to improve. It's not just a question of dollars spent.
In sum, despite the groundbreaking announcements and statements that the United States is committed to a "modernized partnership" with Africa, partly as a result of geopolitical competition with China, there are still some major gaps that Africans should be aware of and seek to address.
Indeed, for Africa, China is certainly a partner that has to date deftly used Africa+1 summits to prove itself significantly more willing to listen to Africa's developmental needs compared to the United States and other G-7 countries. Yet the African experience with China also demonstrates that every relationship takes work. Having heard nice words from Washington, African leaders cannot now sit on their hands and hope for magic.
Even if this U.S. summit is categorized as a win for Africa, the actual hard work must begin now, not only to make the commitments a reality but also to make sure what was left unsaid – as we have set out above – meets African interests. Only in this way can African governments really take advantage of the geopolitics. Otherwise, the summit will simply reinforce existing inequities.