How Has the 'Korean Wave' Impacted Japan-South Korea Relations?
The Korean Wave, or hallyu, has seen ups and downs in Japan, but could exert political influence over the long term.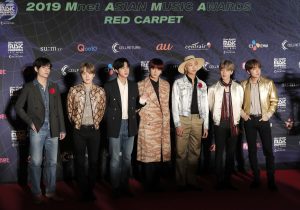 The once-annual China-Japan-Korea trilateral summit was suspended for a third straight year in 2022, in part because Tokyo and Seoul have yet to reach a consensus on the issue of wartime forced labor. Although the Yoon administration in South Korea promised in November to continue talks with Japan on a solution to the controversy, a 2018 ruling by the Korean Supreme Court demanding compensation from two Japanese corporations still casts a shadow over bilateral ties.
While political relations have been rocky, cultural exchanges between the two countries are soaring. This was manifested by the NHK New Year's Eve Special Kohaku Uta Gassen on the last day of 2022, where three Korean girl groups (LE SSERAFIM, IVE, and TWICE) performed. This marked the return of K-pop on the show for the first time since 2019, when TWICE appeared on the program.
In fact, the Korean Wave, or hallyu, has seen ups and downs in Japan, and so has its Japanese counterpart – Cool Japan – in South Korea.
Three Waves of Hallyu in Japan
Although Japan and South Korea normalized diplomatic ties in 1965, bilateral cultural diplomacy and imports and exports of cultural products did not happen until 1998, when Japanese Prime Minister Obuchi Keizo and Korean President Kim Dae-jung decided to build a "future-oriented relationship" aimed "towards the 21st century." In line with the spirit of that joint statement, South Korea lifted its unilateral restrictions on the import of Japanese cultural products in the same year, in what was known as the Open Door Policy (1998-2004). This process coincided with South Korea's "culture-oriented country" policy under Kim and the prevailing Japanese cultural industry.
Since then, cultural exchanges between the two countries have boomed, even while controversies such as the "comfort women" issue, Japanese officials' visits to the Yasukuni Shrine, and territorial disputes continue to loom large. In a word, Japan-Korea relations entered a "honeymoon period" under Kim (1998-2003) and South Korea's cultural diplomacy established a significant footprint in Japan.
There have been three waves of hallyu in Japan since the 21st century began. Hallyu 1.0 mainly focused on K-dramas and was marked by the broadcasting of "Winter Sonata" in 2003. When the series' main actor, Bae Yong-joon, visited Tokyo the next year, the airport was full of female fans, proof of what Japanese called the "Yon-sama phenomenon." From the mid-2010s to 2015, the second wave of hallyu was characterized by K-pop artists, such as BoA, TVXQ, Super Junior, KARA, and Girls' Generation. The third wave has prevailed since 2015 and is led by K-pop groups such as BTS, Seventeen, and TWICE.
Four major transformations took place during this process: increasing de-Koreanization and Japanization (i.e. Korean entertainment companies cooperating with Japanese entertainment conglomerates such as AVEX and absorbing Japanese members); a shift from drama actors to singers; a pivot from South Korea to Japan (where Korean artists debuted in Japan first); and a process of internationalization (the idols evolved from "purely Korean" to "globalized" celebrities).
The Gendered Element of Hallyu in Japan
Gender is a significant factor in Japan's attitude toward hallyu. The main fandoms of the first wave of hallyu were predominantly Japanese women between the ages of 40 and 60. The most prominent representatives are two former first ladies: Abe Shinzo's wife Abe Akie and Hatoyama Yukio's wife Hatoyama Miyuki. Unlike her revisionist husband, Abe Akie makes no secret of her pro-South Korea position and has a good mastery of the Korean language. Both first ladies have advocated the importance of maintaining stable ties with South Korea on public occasions.
Conversely, a series of demonstrations against hallyu – originating from a 2005 controversial manga titled "Hating the Korean Wave" – was said to be tacitly backed by Abe while he was prime minister. The opinion leaders of the online anti-Korea movement are right-wing intellectuals such as Nishio Kanji, Nishimura Koyu and Otsuki Takahiro. The participants of online anti-hallyu activities were almost all male, and are regarded as "masculine, nationalist, patriarchal, xenophobia, and post-colonialist."
Apart from manga, anime is another platform that has been harnessed by anti-Korea male chauvinists. "Nerima Daikon Brothers," a 12-episode musical anime, opposed the Yon-sama phenomenon in Japan at that time by satirizing Zainichi Koreans (the ethnic Korean population in Japan) who become hallyu stars through plastic surgery.
Faced with male dominance in nearly every facet of Japanese society, the Japanese middle-aged female community, known as "hallyu moms," have been trying their best to keep their children neutral and culturally appreciative of South Korea. These women see hallyu as an alternative with which to resist the traditional male-dominated Japanese pop culture of manga and anime.
Gendered melancholia and resentment are at the root of why hallyu has captivated middle-aged Japanese women. They use hallyu fandom to assert their personal preferences and raise their social and economic status, just as they resist male chauvinism by embracing the emphasis on gender equality in Western culture.
On the other hand, according to a 2018 study on the participants in the second and third waves of hallyu, while the younger fans are still predominantly female, there are more males compared with hallyu 1.0. It is surprising that these young hallyu fans distance themselves from the previous middle-aged female group on purpose, even though many of them are children of these "hallyu moms." The youth refrain from using the word hallyu, but instead blatantly express their affinity toward South Korea as a way of distancing themselves from the right-wing anti-Korea political agenda.
Separation of Politics and Culture
Thus, a paradox has arisen between general Japan-South Korea relations and hallyu in Japan. On the one hand, according to an opinion poll carried out by Genron GPO in 2021, 81 percent of Koreans and 52.7 percent of Japanese had a pessimistic outlook on bilateral ties, and 63.2 percent of Koreans and 48.8 percent of Japanese have a negative image of the other country.
However, the same opinion poll indicates the optimistic prospect of Japanese respondents under 40 years old, 64.6 percent of whom admitted that they still enjoyed Korean pop culture even at a time when bilateral relations were deteriorating. More than three-quarters – 77.5 percent – of this group of young Japanese had a good impression of South Korea. Therefore, it remains to be seen if South Korea's cultural diplomacy has failed in Japan, given that hallyu has been gaining more and more popularity, especially among young Japanese, since the late 2010s.
Furthermore, deteriorating relations do not discourage Japanese youth from consuming South Korean cultural products. The separation of politics and culture in Japan-Korea relations is a consistent attitude among young people, whose engagement in politics is the lowest in history. This is because they have adopted an "evasion strategy" toward the anti-Korea ideology: They have begun to increasingly enjoy hallyu on social media, rather than consuming mainstream media, which they believe to be monopolized by right-wing conservatives.
In a word, the impressive spread of hallyu in Japan has split Japanese people's views of South Korea between pro-Korean fans and anti-Korean right-wingers, the latter of which still remain dominant. As the formulation of Japan's foreign policy is still in the hands of right-wing politicians, even if hallyu has achieved great success in Japan, the Japanese government still takes a hostile attitude toward South Korea.
Since hallyu does not touch on the fundamental historical issues of the bilateral relationship, its influence is minimal in shaping Japan's foreign policy toward South Korea and the relationship remains vulnerable to diplomatic conflicts, such as Japan's embargo on semiconductor material exports to South Korea and the Korean navy's fire-control radar locking on a Japanese military aircraft in 2018. But still, hallyu has culturalized and anesthetized South Korea's international image in Japan, especially among the younger generations.
With the incumbent moderate Kishida cabinet in office in Japan and the conservative Yoon administration in power in South Korea, there is a rare window of opportunity for the two countries to further improve bilateral relations by addressing fundamental historical issues, as evidenced by their November meeting in Cambodia.