Japan, South Korea Wonder: How Strong Is the US Nuclear Umbrella?
Concerns over the United States' extended deterrence are growing in Tokyo and Seoul.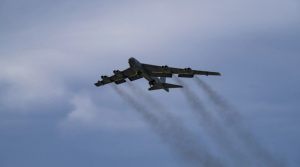 There are growing concerns in both Japan and South Korea over the United States' extended nuclear deterrence, or nuclear umbrella.
For one thing, the ongoing Russia-Ukraine war has given East Asian policymakers and publics a big reason to believe that, in order to avoid a nuclear war, the United States will not take direct military action against nuclear-armed nations such as Russia. It is well remembered that U.S. President Joe Biden ruled out the option of U.S. military intervention in the early stage of the Russian invasion in 2022. He repeatedly vowed not to send U.S. troops to Ukraine. This sharply contrasts with the Gulf War (1990–91), when then-Iraqi President Saddam Hussein invaded neighboring Kuwait and the United States-led coalition directly fought against Iraq.
This reinforces Tokyo's and Seoul's suspicions that the U.S. nuclear umbrella may have some "holes" and fail to provide real protection against other nuclear-weapons states, including China and North Korea, as well.
For another thing, Japan and South Korea need an enhanced nuclear deterrent to be provided by the United States because their neighbors, Russia and North Korea, began to issue direct threats to use tactical nuclear weapons in 2022.
Moreover, China, which does not hide its ambition to unify Taiwan by force, is rapidly expanding its nuclear arsenal. It is likely to have a stockpile of about 1,500 warheads by 2035, according to the Pentagon's annual report on Beijing's military developments, published in November.
In such a severe security environment, non-nuclear weapons states Tokyo and Seoul can no longer remain at peace without the United States' strong nuclear deterrent. For them, the biggest lesson of the Ukraine war is that any country that is not under the nuclear umbrella of the United States can be easily invaded by a rogue state.
In Tokyo, such concerns have been often raised by former high-ranking national security officials. Most notably, in November, retired admiral Kawano Katsutoshi, the longest-serving chief of Japan's Self-Defense Forces' Joint Staff under the Abe Shinzo administration, cast doubt on the effectiveness of the current U.S. nuclear deterrence. He proposed that Tokyo have various options, such as nuclear sharing with the United States.
"Regarding the United States' nuclear umbrella, even if Washington says, 'you don't have to worry about it,' a suspicion crosses my mind. Is it really okay?" Kawano said in a speech in Tokyo on November 20.
"Even if the U.S. government says it will guarantee it 100 percent, a US president changes every four or eight years. It's a democratic country, so its domestic public opinion always sways. The U.S. Congress is greatly influenced by public opinion," Kawano said.
The retired admiral specifically pointed out that former U.S. President Donald Trump used to profess Americans shouldn't sacrifice their lives to fight for other nations under his "America First" policy.
The late Abe Shinzo, Japan's longest-serving prime minister, said in late February 2022 that Tokyo should break a long-standing taboo and hold an open discussion on nuclear weapons – including a possible "nuclear-sharing" program similar to that of NATO – in the wake of Russia's invasion of Ukraine.
In Seoul, there is also an increased sense that a more muscular approach is necessary to secure peace on the Korean Peninsula. Now 71 percent of South Koreans are in favor of developing Seoul's own homegrown nuclear weapons, according to a poll conducted by the Chicago Council on Global Affairs in 2022.
Most recently, different opinions on the issue of the U.S. nuclear arsenal seem to have emerged between the leaders of the United States and South Korea.
South Korean President Yoon Suk-yeol said in a South Korean newspaper interview published on January 2 that Seoul and Washington are discussing possible joint exercises using U.S. nuclear assets.
"The nuclear weapons belong to the United States, but planning, information sharing, exercises, and training should be jointly conducted by South Korea and the United States," Yoon said in the interview with the Chosun Ilbo newspaper.
But when U.S. President Joe Biden was asked at White House on January 2 whether Washington and Seoul are discussing joint nuclear exercises, he replied, "No."
"As the president said, we are not discussing joint nuclear exercises. [South Korea] is a non-nuclear weapons state," a White House National Security Council spokesperson also said on the same day.
But in response to Biden's remarks, South Korea's presidential office again said in a statement that the allies are "in talks over information-sharing, joint planning and the joint implementation plans that follow with regard to the operation of U.S. nuclear assets to respond to North Korea's nuclear weapons."
The different framings represent the competing interest of both governments. While the Biden administration wants to soft-pedal any notion of nuclear-sharing with a non-nuclear weapons state, South Korea's government feels an urgent need to demonstrate to its public that Seoul is an equal partner in the U.S. extended deterrence equation.
To deal with the growing nuclear threats posed by China, North Korea and Russia, an unswerving U.S. commitment to extended nuclear deterrence through the full range of U.S. defense capabilities is becoming increasingly essential. Otherwise, more and more people would argue that both South Korea and Japan should stand on their own without relying entirely on the United States – even if that means developing their own nuclear weapons.