Perception of Corruption Stagnates Across Asia
Governments in Asia are perceived to be as corrupt as ever.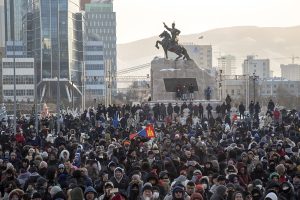 Transparency International has released its 2022 Corruption Perceptions Index, and the results will not surprise regular Diplomat readers. 
In the Asia-Pacific, like most of the world, scores have stagnated over the last decade, Transparency International noted. "The COVID-19 pandemic, the climate crisis and growing security threats across the globe are fuelling a new wave of uncertainty. In an already unstable world, countries failing to address their corruption problems worsen the effects. They also contribute to democratic decline and empower authoritarians," the report warned.
The CPI uses a 0 (highly corrupt) to 100 (very clean) scale and ranks 180 countries on their "perceived levels of public sector corruption." The Asia-Pacific averaged a score of 45 for the fourth year running; that's just slightly above the 2022 global average of 43. In the Eastern Europe and Central Asia region, the average score was 35. But of the five Central Asian states that we cover, only Kazakhstan, with a score of 36, was above that average. North Korea (17) and Turkmenistan (19) scrape the bottom of the ranking among countries The Diplomat follows and New Zealand (87) and Singapore (83) hit the highest marks in Asia.
Transparency International notes that in many parts of the world — including Central Asia — "restrictions and attacks on civic space and basic freedoms continue as multiple crises threaten security and stability, democracy and human rights." Transparency International continued, "Similarly, in various Asia Pacific countries, rising authoritarianism dilutes civil society's function as a watchdog, while many leaders are prioritising economic recovery over anti-corruption efforts."
We can see this in the recent effort by the government of Kyrgyzstan (a score of 27) to shut down RFE/RL's Kyrgyz Service, Radio Azattyk, which in recent years has diligently worked to reveal government corruption. 
Across Asia, governments are perceived to be as corrupt as ever. 
There's Pakistan, which hits a decade low on the index with a score of 27. Last year Prime Minister Imran Khan was ousted from power. Khan had made anti-corruption a core part of his campaigning in 2018, but whatever efforts Khan may have made have had no effect on the perception of corruption in the country.
Then there's Malaysia (47), which was the stage for one of the largest and most dramatic corruption reveals in recent memory — the 2016 1MDB scandal. Although former Prime Minister Najib Razak was jailed last year on corruptio charges, new Prime Minister Anwar Ibrahim included in his cabinet Ahmad Zahid Hamidi, who faces a raft of serious corruption allegations. 
Mongolia in 2022 hit a record low score of 33, after a year in which anti-corruption protests wracked the capital. Transparency International writes, "Last year the country took some promising first steps towards rebuilding [its] anti-corruption framework, but not enough has been done to combat ongoing corruption risks."
Then there's Nepal (34), where rampant corruption in the aviation sector has been tied to recent plane crashes. And Vietnam (42), where recently (and for the first time) the president resigned under the weight of a COVID-19 corruption scandal.
It's difficult to draw out a single narrative as corruption is a multifaceted problem, but across Asia, corruption tends to bloom best in societies with fewer media freedoms and more restricted civic spaces. Democracies generally fare better than autocracies when it comes to combatting corruption, as do advanced economies compared to developing ones.
But as an essay on problems in the top-scoring countries argues, countries perceived as having low levels of public sector corruption are still "vulnerable to undue influence by private interests – both domestic and foreign." More importantly, the Corruption Perceptions Index "does not capture the extent to which countries facilitate cross-border corruption – be it allowing stolen funds to be laundered through their economies or giving a free pass to companies that bribe foreign officials."
"This is precisely where these high-scoring countries' biggest weaknesses lie," Transparency International writes. Financial secrecy, a cornerstone of the international financial system that has traded transparency for investment, is "one of the biggest obstacles to fighting globalised corruption." Shell companies owned by shell companies owned by shell companies with the real beneficial owners obscured by layers of secrecy are a product of the Western financial system, into which corrupt officials across Asia, and the world, launder their ill-gotten gains via, among other things, yachts and real estate. The perception of corruption that lands a country like Kazakhstan in the bottom half of the ranking is very much a product of systems maintained by countries in the top half.