What the China Spy Balloon Saga Means for India
Surveillance balloons are a new threat to reckon with in the grey zone – and a wake-up call for India to enhance its intelligence and counterintelligence proficiency.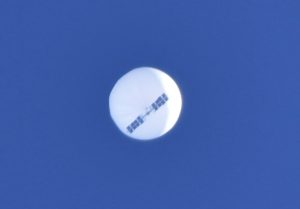 The adventure of a Chinese balloon has recently caught headlines across the world. What looked like the moon during daylight turned out to be a massive white balloon flying over U.S. territory, allegedly carrying surveillance equipment. The Chinese government has confirmed the balloon came from China, but denied it was used for surveillance. The balloon was first spotted crossing over the U.S. state of Alaska on January 28; the U.S. Air Force shot it down over the Atlantic Ocean on February 4.
The episode raises many questions ranging from the timing of the flight to the rationale behind using a balloon for surveillance, despite existing sophisticated options. Experts have offered many reasons for China's choice of spy balloons as the eye in the sky, mainly technical advantages. Balloons can be operated at a very high altitude, making it more difficult for aircraft to reach them. They also are difficult to detect with modern radars. Balloons offer easier maneuverability, allowing the operator to procure more precise data, can function irrespective of the weather, and are cost-effective.
The employment of surveillance blimps for strategic purposes can be traced back to the 18th century, later gaining prominence in the 20th century during World War II. This traditional vehicle can now be fitted with advanced technologies like artificial intelligence, making them highly efficient for intelligence, surveillance, and reconnaissance (ISR) activities. However, the most basic perk of surveillance balloons is that they are balloons – even when caught, the loss incurred may not trouble China due to low building and operation costs. Presumably, the data collected has already been transferred to intelligence centers.
At a time marked by both geopolitical flux and evolving characteristics of warfare, the case of the spy balloon presents added challenges. It hovers in the grey zone, clearly teetering toward the provocative end of the war-peace spectrum. Apart from collecting data, the spy balloon sends a political message from Beijing about its capability and progress in the technological realm. It could also be a low-impact and a less-consequential trial run to test the efficacy of AI-powered balloons in foreign airspace. Either way, there is a new threat to reckon with in the grey zone.
"Balloon-gate" has taken the world back in time, except that the actors are different. The great power rivalry taking shape in terms of competing for technological prowess is also resorting to traditional modes of surveillance. The current hullabaloo over China's spy balloon has both political and security implications – not only for the faltering relations between the United States and China, but also for other states, including India.
According to reports, Chinese surveillance balloons have targeted many other states in China's interest matrix, such as India, Japan, and Taiwan. Though China has denied allegations of espionage, as novelist Paulo Coelho says, repeated mistakes are decisions.
In January 2022, an airship was spotted over the Andaman Nicobar Tri-service Command of the Indian armed forces in Port Blair. Incidents of this nature do not bode well for India, especially given the recent events in the United States. Even if such a balloon is unarmed, it can collect sensitive data about critical infrastructure – like the armed forces' movements along the border, in the islands or anywhere on the mainland – and check India's ability to detect airborne surveillance devices.
It may also help China's military capture electromagnetic emissions that help to understand the ability of a particular weapons system, which is otherwise not possible through sophisticated satellite systems placed at higher altitudes.
The recent event is a wake-up call for India to enhance its intelligence and counterintelligence proficiency. With Sino-India relations already lurking in murky waters, a failure to identify and counter emerging threats, particularly in the grey zone, will prove costly. New Delhi must bolster its technological competence and cooperate with states with converging interests to share the best intelligence and counterintelligence practices.
For China, the balloon technology does not seem to be outdated; rather, with the use of balloons, which are economical and sophisticated for specific purposes, Beijing seeks to strengthen its espionage system. Since China's capabilities in AI-enabled and ISR devices are increasingly gaining attention, it is highly likely that Beijing is further enhancing the potential of balloon technology.
Considering that the relevance of balloons is emerging in surveillance activities, the pundits and top echelons of states on China's radar must ask themselves for what specific purposes China could use them. On top of that, if other states do not invest in balloon technology, will they be able to afford the "balloon gap" with China?