Tsai Ing-wen Must Share the Blame for the Deterioration of Cross-Strait Relations
Back in 2011, the Obama administration caught flak for leaking its fears about then-candidate Tsai's cross-strait policy. In retrospect, it was right to be concerned.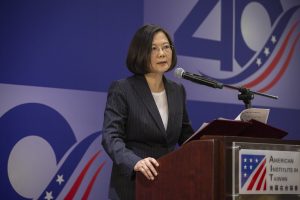 As the United States gears up for yet another visit by Tsai Ing-wen, Taiwan's lame-duck president, I am reminded that someone in Taipei owes the administration of former U.S. President Barack Obama an apology.
In September 2011, Tsai visited Washington during her first presidential campaign. Her position toward mainland China prompted a high-ranking member of Obama's team to take the unusual step of phoning the Financial Times to express the administration's reservations about Tsai's ability to manage ties with Beijing. Tsai's supporters reacted with outrage and accused the U.S. of interference in Taiwan's election. She lost that election in a landslide to incumbent President Ma Ying-jeou, but she won in her next attempt in 2016.
By any objective standard one employs, the Obama administration was proven correct. Yes, Taiwan's economic dependence on China continues unabated (China is Taiwan's largest trading partner). But political and security relations have cratered since Tsai was elected president.
During Ma's tenure as president (2008-2016) relations between the two sides of the Taiwan Strait were the best since China was divided by civil war in 1949. When Ma left office in 2016, a total of 23 landmark agreements had been signed with China. The number of daily direct cross-strait flights had soared from zero to 120 and millions of mainland tourists poured into the island. Beijing also grudgingly acquiesced to Taipei's participation as an observer in the World Health Organization (WHO) and the International Civil Aviation Organization (ICAO) after an absence of 38 years and 42 years, respectively.
Moreover, the two sides agreed to a diplomatic truce whereby they stopped stealing each other's diplomatic allies. No country switched diplomatic relations from Taipei to Beijing from Ma's election in 2008 until March 17, 2016 – all such efforts were rebuffed. Interestingly, Gambia dumped Taipei in 2013, but Beijing refused to establish ties with it.
As the United States is Taiwan's only potential security partner, it is especially noteworthy for Americans to understand that the Taiwan Strait was no longer considered a "flashpoint for conflict" during Ma's administration. In fact, I asked one of Taiwan's diplomats about the chances for conflict on the sidelines of an academic meeting at the time.  He replied, "Zero."
So, how has Tsai's administration handled relations with Beijing? Much ink already has been spilled elsewhere discussing China's belligerent saber rattling and the warplanes and ships that the People's Liberation Army now sends across the median line of the Taiwan Strait, an unofficial boundary once tacitly accepted by both sides. This is the stuff that grabs headlines. Suffice it to say that the Economist was on target when it described the Taiwan Strait as "the most dangerous place on earth" in 2021.
As for Taiwan's participation in international organizations, the Tsai administration's record is dismal. Doors partially opened prior to her election have been slammed shut. This proved to be especially unfortunate for both Taiwan and the global community during the COVID-19 epidemic.
What about the diplomatic truce? For all practical purposes, Tsai killed it during a televised debate on December 27, 2015, when she declared that the government's diplomats had "lost their direction in the past eight years of diplomatic truce and have lost their efficiency and competitiveness." She boasted that she would transform them into "combat ready" diplomats.  Thus far, Tsai's "combat" team has overseen the loss of nine diplomatic partners (only 13 remain).
Why did Ma succeed where Tsai failed? The key to Ma's success was his adherence to the "1992 Consensus," an understanding reached 30 years ago. Under the consensus, both Taipei and Beijing appeared to accept the principle of "one China," but each side holds its own interpretation of what that means.
Ma never agreed that Taiwan falls under Beijing's jurisdiction. Rather, he emphasized that "in this case, our interpretation of 'one China' is the Republic of China." Moreover, he promised to follow a "three noes" approach to relations with Beijing: no unification, no independence, and no war. Beijing could live with this position, so relations warmed.
The Tsai administration's preferred narrative is that Beijing bullies the island because it is a democracy. This resonates well with Taiwan's friends in the U.S. Congress and media. But this is nonsense. Taiwan has been a democracy for decades. The problem is that the Tsai administration unilaterally junked the "1992 Consensus." And some in her administration make noises about no longer being Chinese or a part of China. This move is analogous to South Korea suddenly claiming it's no longer Korean.
Beijing's reaction was predictable. In fact, even members of her own political party warned her about the fallout.
Everyone knows that it takes two to fight. Beijing must share the blame for the current state of cross-strait relations. Still, it is clear that someone in Taipei owes the Obama administration an apology, because the Tsai administration has definitely mismanaged relations with Beijing.