UK Boosts Defense Spending in Response to Russia and China
U.K. intelligence agencies have expressed growing concern about China's military might, covert activities, and economic muscle.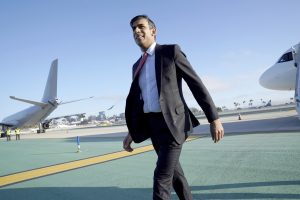 U.K. Prime Minister Rishi Sunak pledged Monday to increase military funding by 5 billion pounds ($6 billion) over the next two years in response to Russia's invasion of Ukraine and the "epoch-defining challenge" posed by China.
The increase, part of a major update to U.K. foreign and defense policy, is less than military officials wanted. Sunak said the U.K. would increase military spending to 2.5 percent of gross domestic product "in the longer term," but didn't set a date. Britain currently spends just over 2 percent of GDP on defense, and military chiefs want it to rise to 3 percent.
The extra money will be used, in part, to replenish Britain's ammunition stocks, depleted from supplying Ukraine in its defense against Russia. Some will also go toward a U.K.-U.S.-Australia deal to build nuclear-powered submarines.
"The world has become more volatile, the threats to our security have increased," Sunak told the BBC during a visit to the United States. "It's important that we protect ourselves against those."
Sunak is meeting U.S. President Joe Biden and Australian Prime Minister Anthony Albanese  in San Diego on Monday to confirm next steps for the military pact, known as AUKUS, struck by the three countries in 2021 amid mounting concern about China's actions in the Pacific.
Under the deal, new nuclear-powered, conventionally armed subs for Australia's forces are to be built in Australia and the United Kingdom, with U.S. technology and support.
Britain last produced a defense, security, and foreign policy framework, known as the Integrated Review, in 2021.
The government ordered an update in response to an increasingly volatile world. The new report, released Monday, said "there is a growing prospect that the international security environment will further deteriorate in the coming years, with state threats increasing and diversifying in Europe and beyond."
Moscow's February 2022 invasion of Ukraine upended European security order, and the review said Russia poses "the most acute threat to the U.K.'s security."
The U.K. is also increasingly concerned about what the government calls "the epoch-defining challenge presented by the Chinese Communist Party's increasingly concerning military, financial and diplomatic activity."
The defense review said that "wherever the Chinese Communist Party's actions and stated intent threaten the U.K.'s interests, we will take swift and robust action to protect them."
U.K. intelligence agencies have expressed growing concern about China's military might, covert activities, and economic muscle. Ken McCallum, head of domestic spy agency MI5, said in November that "the activities of the Chinese Communist Party pose the most game-changing strategic challenge to the U.K." MI5 said in January 2022 that a London-based lawyer had tried to "covertly interfere in U.K. politics" on behalf of the Chinese Communist Party — including by channeling money to an opposition Labor Party lawmaker.
Concern about Beijing's activities has sparked a government-wide catch-up campaign on China, including Mandarin-language training for British officials and a push to secure new sources of critical minerals that are essential to technology.
The review doesn't brand China itself a threat to the U.K., and Sunak has stressed the need for economic ties with China, to the annoyance of more hawkish members of the governing Conservative Party.
"We are sliding towards a new Cold War," said Conservative lawmaker Tobias Ellwood, who chairs the House of Commons Defense Committee. "Threats are increasing, but here we are staying on a peacetime budget."
Speaking as he traveled to the U.S., Sunak said China's Communist government "is increasingly authoritarian at home and assertive abroad, and has a desire to reshape the world order."
But, he added, "you can't ignore China" given the size of its economy.
"It's right to engage with China, on the issues that we can find common ground and make a difference on, for example climate change, global health, macroeconomic stability," he said.
"That's the right approach whilst being very robust in defending our values and our interests."