Foreign Companies in China Face Growing Scrutiny, Pressure
New crackdowns are a jarring backdrop for official efforts to reverse a decline in foreign business interest in China.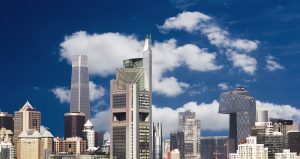 Foreign companies are under growing pressure in China from anti-corruption, security, and other investigations as President Xi Jinping's government tightens control over business, clashing with efforts to lure back investors after the pandemic.
This week, Bain & Co. said police questioned staff in its Shanghai office. The consulting company gave no details of what investigators were looking for. Last month, the corporate due diligence firm Mintz Group said its Beijing office was raided by police who detained five employees. Also last month, an employee of a Japanese drug maker was detained on spying charges and the government announced a security review of memory chip maker Micron Inc.
The ruling Communist Party is trying to reignite investor interest in China despite increased political control over the economy. Business groups have said global companies are shifting investment plans to Southeast Asia, India and other economies.
"At a time when China is proactively trying to restore business confidence to attract foreign investment, the actions taken send a very mixed signal," the European Union Chamber of Commerce in China said Friday in a statement.
A Chinese Foreign Ministry spokesperson said she didn't know about the Bain & Co. case but defended Chinese law enforcement.
"China welcomes foreign companies to invest and do business in China. We are committed to building an internationalized, market-oriented and law-based business environment," said Mao Ning. "All companies in China should operate in compliance with law."
Xi, China's most powerful leader in decades, is in the midst of multiple campaigns to tighten ruling party control over entrepreneurs, root out official corruption and reduce reliance on foreign technology and expertise.
China's relations with the United States, Europe, and Japan are strained by disputes about human rights, Taiwan, security, and technology. But there is no indication whether the investigations were politically motivated. Chinese companies have been targeted for more severe action.
The Beijing office of Deloitte Touche Tohmatsu was fined 211.9 million yuan ($30.8 million) in March on charges that it failed to adequately audit state-owned China Huarong Asset Management Co. That came after Huarong's former boss was sentenced to death in 2021 on charges of taking bribes.
The ruling Chinese Communist Party has tightened legal restrictions on access to information about companies and their employees. That has increased uncertainty for firms including Bain & Co. and Mintz Group that help clients spot fraud or other misconduct by business partners or acquisition targets.
"We can confirm that the Chinese authorities have questioned staff in our Shanghai office. We are cooperating as appropriate with the Chinese authorities," Bain & Co. said in a written statement.
This week, China's legislature expanded the scope of its espionage law to give authorities powers to gain access to electronic information. The law covers all "documents, data, materials and items related to national security," said the official Xinhua News Agency, though it did not say how national security is defined.
Foreign companies have for years advised employees visiting China not to carry computers or mobile phones with confidential information because they might be seized by authorities or stolen by industrial spies.
An employee of Japanese drugmaker Astellas Pharma Inc. was detained in March on what the Foreign Ministry said were suspicions of spying. Japanese Foreign Minister Hayashi Yoshimasa protested during a visit to Beijing this month.
The Chinese ambassador to Tokyo, Wu Jianghao, on Friday defended the handling of the case of the Astellas employee, whom he identified as Kan Nishiyama.
"The core of this incident, it's a spy that involves China's national security. The facts are becoming more and more conclusive," Wu said. He gave no details.
"Tens of millions of Japanese friends have dealt with China. How many over decades have been arrested?" the ambassador said. "We welcome normal, friendly activities and economic activities. But engaging in illegal espionage, we must ban in accordance with law."
Also last month, the Chinese government announced Micron's technology and manufacturing would be scrutinized for possible risks under China's cybersecurity law. The company is a leading supplier to Chinese factories.
The CCP also has tightened control over private sector Chinese success stories including e-commerce giant Alibaba Group and ride-hailing service Didi Global Inc. by launching anti-monopoly and data security investigations.
Didi Global moved trading in its shares from the New York Stock Exchange to Hong Kong last June. The company was fined 8 billion yuan ($1.2 billion) the following month on charges it mishandled customer information.
The crackdowns are a jarring backdrop for official efforts to reverse a decline in foreign business interest in China. The ruling party wants foreign companies in electric cars and other fields to bring in technology and provide competition to force Chinese companies to improve.
Business groups earlier said global companies were shifting investment plans to Southeast Asia, India, and the United States due to the difficulty of visiting China, as well as higher costs and more cumbersome regulations.
At a forum in March with business leaders including Apple Inc. CEO Tim Cook, the country's top economic official, Premier Li Qiang, promised "broad space" for foreign competitors.