How Serious Were China's Latest Military Drills Near Taiwan?
The April drills were shorter and farther away than those of August 2022, but included several new and worrisome features.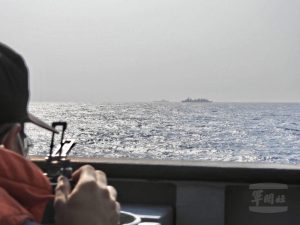 Following the meeting between Taiwanese President Tsai Ing-wen and U.S. Speaker of the House Kevin McCarthy in California on April 5, the People's Liberation Army announced three days of exercises that took place from April 8 to April 10, termed "United Sword."
McCarthy had originally indicated an interest in visiting Taiwan, along the lines of his predecessor Nancy Pelosi, who had visited Taiwan in August of last year. China responded to Pelosi's trip with a series of unprecedented military drills that took place closer to Taiwan than during the Third Taiwan Straits Crisis.
But according to a scoop from the Financial Times, McCarthy was later persuaded to instead meet with Tsai in California after the Taiwanese government shared intelligence with McCarthy about what it expected China's reaction to be. McCarthy has not ruled out visiting Taiwan in the future, however.
Clearly, the shift in location for the Tsai-McCarthy meeting was not enough to prevent China from reacting with military drills. Nevertheless, China might have reacted with military drills even if Tsai had not met the U.S. House speaker.
Tsai's meeting with McCarthy took place during a stopover by Tsai on her way to visit Guatemala and Belize, Taiwan's remaining allies in Central America. Taiwanese presidents frame visits to the United States as "stopovers" or transit stops rather than official diplomatic visits as a way to avoid provoking China. Tsai did not meet with any Biden administration officials during her visit.
China had military reactions to stopovers by Taiwanese presidents in 1995, 2001, 2007, and 2019. So it is possible that the Tsai administration expected China to react anyway. Nonetheless, given the high pitch of international discourse around the Pelosi visit last year, the Tsai administration may have hoped to avoid the perception that it would be willing to carry out risky meetings with high-ranking U.S. politicians even if this meant recklessly inviting reprisals from China.
Verdicts on the live-fire exercises differed among experts. Experts noted that the drills did not take place as close to Taiwan as the August 2022 exercise. Some argued that this was an indication of Chinese restraint. That being said, during the drills, China still set new records in terms of the number of warplanes it deployed to Taiwan's Air Defense Identification Zone, the airspace in which aircraft normally identify themselves for security purposes. The composition of the drills may resist easy classification as to whether they were a step back from August 2022, or an escalation.
The first use by China of the carrier-based J-15 in air incursions, as well as the deployment of China's first domestically-built aircraft carrier, the Shandong, were seen as ways in which China hoped to suggest an increase in seriousness. This was the first time that China simulated attacking Taiwan using an aircraft carrier.
China suggested that it was practicing precision strikes on targets with its drills, perhaps along the lines of missile test firings during last August's drills. This time, however, the Chinese military more explicitly framed a number of its actions as simulating a blockade. This in itself reflects how scenarios in which China seeks to cut off Taiwan from the rest of the world through a naval blockade have been increasingly discussed since August.
Last year there was more discussion of the drills as simulation for an all-out invasion. In the eight months since, there has been increased attention paid to intermediate scenarios for a Chinese attack on Taiwan that do not involve a costly full-out invasion, such as a blockade, grey zone tactics, or attacks on an outlying island of Taiwan.
Fujian province's maritime safety administration claimed that it would be searching and inspecting vessels during the live-fire drills, as might take place during a blockade. As such, China may have explicitly been trying to engender the perception that the drills were a rehearsal of its existing capacity to launch a blockade against Taiwan.
In a related move, during the drills, the Chinese coast guard claimed to escort a ferry between Taiwan's outlying island of Matsu and Fujian. The Taiwanese Ocean Affairs Council denied this and said that the ferry was escorted by Taiwanese vessels.
Taiwan has accused the Chinese government of trying to create the perception that it already substantively controls the Taiwan Strait, probably be with the aim of trying to depict the Taiwanese military as ineffective and already unable to counter China's military capacities.
What is also worth remarking on is that during the drills, the Taiwanese and Chinese militaries released daily videos more or less responding to each other on their social media accounts. When China released videos showing warplanes, navy vessels, missile vehicles, the Taiwanese military would respond in kind by releasing videos showing its own troops observing China's behavior. The videos released by both Taiwan and China during the drills likely were a means of capacity signaling between the two militaries and, in this sense, may offer details worth pondering for military experts. As with the post-Pelosi live-fire exercises, China was accused of staging some images, such as moving ships in place to take photographs of Taiwanese vessels for release on social media.
More seriously, a number of stand-offs took place between Taiwanese and Chinese vessels during the drill. At one point, it was reported in local and international media that 10 vessels on each side were engaged in a stand-off around the median line of the Taiwan Strait.
After the drills ended, the PLA claimed to be "ready to fight." Air incursions and activity by Chinese navy vessels continued on a daily basis in spite of the end of the drills, even if the number of warplanes and ships was not as high during the drills. After the end of United Sword, other Chinese live-fire drills are slated for Fuzhou, Dalian, and Hainan over the weekend.
Causing further confusion, China announced on Tuesday that it would be enforcing a no-fly zone from April 16 to April 18 in an area 85 nautical miles north of Taiwan and announced on Wednesday that it would be investigating over 2,400 Taiwanese products over fair trade standards. At the time, this suggested further attempts by China to militarily and economically pressure Taiwan after the end of the drills.
Following protests from Taiwan's Ministry of Transportation and Communication, the length of the no-fly zone was reduced from 9 a.m. to 2 p.m. between April 16 and April 18 to just 27 minutes from 9:30 a.m. to 9:57 a.m. on April 16. Later reports suggested that this would actually be six hours on April 16, seeing as six hours is standard for navigational warnings.
While some experts stated that China's no-fly zone violated norms, the Taiwanese government later stated that the no-fly zone was not related to military activity but due to plans by China to launch a weather satellite.
It is still open for debate whether the drills constitute a new precedent for how China intends to react whenever a Taiwanese leader meets with high-ranking U.S. politicians. Apart from serving as a means of psychological intimidation directed at Taiwan and force projection directed at the United States, the drills may be intended to give the PLA more opportunities to rehearse scenarios such as a blockade or invasion. In this light, it is to be seen whether such meetings continue to take place if this is how China reacts. Taiwan and the U.S. may choose to avoid meetings in the future to avoid giving China pretext to react with drills – or they may continue to hold similar exchanges, with the view that backing down would make the U.S. and Taiwan seem weak.
Moreover, it remains to be seen how other countries respond to China's actions. The USS Nimitz's carrier group was around China during the drills, while the U.S. and the Philippines will carry out their largest-ever set of joint exercises this week. This will involve more than 17,600 troops, though officials stressed that the previously scheduled drills are not a response to China's exercises.
In addition, a French warship recently transited through the Taiwan Strait, in spite of comments by French President Emmanuel Macron during the drills that stoked controversy for seeming to suggest that Europe should simply keep out of the conflict between the United States and China.