Is There Room in 'New Kazakhstan' For New Political Parties?
The troubles of Zhanbolat Mamai make it clear that Kazakh authorities have little interest in genuine political competition.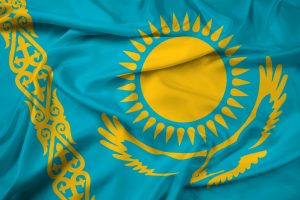 In March, Kazakh President Kassym-Jomart Tokayev laid out his vision for a "New Kazakhstan" and the June 5 constitutional referendum saw many of his proposed reforms confirmed. One initiative mentioned in the March speech, however, hasn't seen much progress: The expansion of "opportunities for the development of the party system."
In his March speech, Tokayev stressed the need to create "a favorable environment for the institutional and organizational development of parties." To that end he proposed the lowering of registration barriers from 20,000 members to 5,000, among other things, including the number of individuals required for regional party offices and for a founding congress. 
As I noted at the time, initiatives in neighboring states — such as Uzbekistan — to lower registration requirements have not actually generated the space necessary for new political parties to emerge. While the required membership to register is one hurdle, the real hurdle is that ruling governments want the façade of political liberalization without the frustrating reality of dealing with opposition parties on an equal footing before the electorate.
Kazakhstan has no shortage of aspirational parties, but as Euasianet's Joanna Lillis explained last week, of the four parties Kazakh officials are reportedly considering approving, "All have leaders who are, or once were, regime insiders."
Regime outsiders, on the other hand, stand little chance of receiving official approval, which is necessary to operate legally in Kazakhstan's political arena, and face risks if they keep trying to join the rat race.
Zhanbolat Mamai is one notable example. Last week, Kazakh authorities filed new charges against the politician, who leads the unregistered Democratic Party. 
Mamai is a former journalist and no stranger to trouble with the authorities. Back in 2020, activists involved with the Democratic Party were arrested on their way to take part in what was supposed to be the party's founding congress. Mamai had previously been arrested and convicted on money laundering charges. At the time, Reporters Without Borders noted in a statement that "the judge himself, in his conclusions, said he had found no evidence of money-laundering." Mamai was barred from working as a journalist and has been trying for years to register his political party.
Mamai has been in detention since February, when he was initially sentenced to 15 days for organizing an unsanctioned vigil in commemoration of those who died in the January violence. 
Kazakh officials have yet to publish a full list of the 232 people the government says died in early January. Human Rights Watch criticized Nur-Sultan last month for failing to properly investigate the deaths of more than 200 people in early January. RFE/RL's Kazakh service, known as Radio Azattyq, has worked to compile a list for those killed in January using reports from families. 
In March, when Mamai was due for release he was instead rearrested on new charges of insulting law enforcement officers and distributing "false information" in September and December 2021, respectively. He was sentenced to pretrial detention and that's where he was when additional charges were issued on June 6. The latest charges are that Mamai organized mass riots and disseminated false information during the January 2022 protests. If convicted, he could be sentenced to 10 years in jail.
Human Rights Watch outlined the new allegations against Mamai:
The indictment against Mamay refers to his participation in a peaceful rally on January 4. During the rally Mamay called for the dissolution of parliament and a more democratic government, open fair elections, political reforms, and registration of political parties. Mamay was detained on the evening of January 4 but released a few hours later. On January 5, unidentified men in civilian clothes attacked Mamay on his way to a second peaceful rally, after which his wife took him home and he stayed there receiving medical treatment.
The protests in early January in Kazakhstan began on January 2 in Zhanaozen, before spreading to other cities. Tokayev declared a state of emergency on January 5 and the worst violence seems to have occurred between January 5 and 6.
In calling for the charges against Mamai to be dropped, Human Rights Watch noted that while there has been a lack of progress on investigating the January deaths or allegations of torture by those arrested (something Eurasianet has reported deeply on), the Kazakh government has opened cases against activists for organizing "mass riots" and the "use of violence against a representative of the authorities."
This is hardly a political environment conducive to the creation of genuine political competition, which will cast a shadow over any new parties that may eventually be registered. We can be certain Mamai's Democratic Party won't be one of them.