The Kazakhstanis Picking Sides in Putin's War in Ukraine
While Kazakhstan's government is balancing, these Kazakhstanis have already picked a side in Putin's war on Ukraine.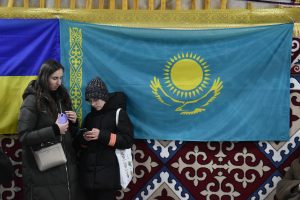 ALMATY – KYIV: As Russia continues to pummel Ukraine's infrastructure, Ukrainians facing the brisk Kyiv winter were turning to a unique way to warm up: a Kazakh yurt. Traditional Turkic tents, yurts began appearing in Ukraine on January 6, when the first was put up in Bucha. 
"People come to charge their phones, drink tea, hang out, sing… it's moral and psychological support," according to Rustem, a 28-year-old Kazakh businessman who sometimes mans the "Yurt of Invincibility," Kyiv's implementation of the Kazakh dwelling. With warm air saturated with the aroma of tea and pastries, the yurt offers an uncommon luxury for the war-torn country. On the Yurt of Invincibility project's website, there are seven yurts listed, all in key locations in Ukraine: Bucha, Kharkiv, Kyiv, Mykolayiv, Dnipro, Odesa, and Lviv. 
The yurts are a joint project organized by a member of the Ukrainian Parliament, Sergiy Nahornyak, and notable Kazakh business community figures, such as Daulet Nurzhanov, a multimillionaire with various assets in Ukraine. According to the initiative, the yurts aim to represent "the multi-century Kazakh-Ukrainian friendship" and demonstrate Kazakh solidarity with Ukraine. 
Nahornyak, a member of the ruling "Servant of the People" party, told The Diplomat that the yurts were his idea. He says the yurts are there "to show the government of Kazakhstan that Kazakhs in Ukraine and in Kazakhstan are standing with Ukraine." At the same time, Nahornyak says he "understands why" Kazakshtan is staying neutral, while he highlights that the Kazakh diaspora has "provided great aid to Ukraine."
Since Russia's annexation of Crimea in 2014, Kazakhstan has taken a balanced position on the conflict, distancing itself as much as possible, abstaining from several U.N. votes to condemn Russia, but also refusing to recognize the breakaway pro-Russian republics. Astana maintains its traditionally close relationship with Moscow, despite ongoing Western courting, such as the recent visit by U.S. Secretary of State Antony Blinken. But while the government of Kazakhstan tries to keep neutral, there are Kazakhs and Kazakhstanis in Kazakhstan, Russia, and Ukraine who have picked sides. 
In Russia, there are ethnically Kazakh regions and towns that became a part of Russia during the Russian imperial expansion over centuries. There are also recent immigrants and the descendants of Kazakhs who moved to Russia during the Soviet years. In Ukraine, there is a Kazakh diaspora as well, tracing its roots mostly to the Soviet era. Over time, many Kazakhs and Kazakhstanis moved to Ukraine for work, family, education, and a multitude of other reasons.
As Russian President Vladimir Putin's invasion of Ukraine has progressed, some Ukrainian Kazakhs took up arms to defend Ukraine. 
One of them is 29-year-old Alan Zhangozha. A Kazakhstani national, Zhangozha spent most of his life in Kyiv and is now a public relations officer with the Ukrainian Land Forces. "Ukraine's victory will also be a victory for my Motherland," he told The Diplomat. Zhangozha's comrades call him "the Kazakh of Kyiv" – a reference to the legendary Ukrainian fighter pilot, the "Ghost of Kyiv." 
An Azov Battalion fighter and Kazakhstani national, 30-year-old Jaisulan Duysembin sports tattoos of Kazakhstan's flag on his back and a Ukrainian trident on his chest. In his past life he was a sales agent, but now he fights "to protect my children and our beloved Ukraine … After the defeat of the Russkies, everyone will start overthrowing their dictators. So I think here we are deciding the fate of all nations."
Duysembin said that he wishes that "the illegitimate, fake and two-faced president of Kazakhstan found some strength to be a real politician." 
The government of Kassym-Jomart Tokayev, Kazakhstan's president, has no love for Kazakhstanis fighting in Ukraine. They might face up to nine years in jail for partaking in a foreign conflict. The corresponding law was adopted in 2014, when the Russian annexation of Crimea kicked off the Donbas conflict. 
Since then, several Kazakhstanis wound up fighting in Donbas. At least 30 criminal sentences for participation in foreign conflicts were issued by Kazakhstani courts between 2015 and 2019, with the most recent conviction of three years being conferred in 2020. At least three "mercenaries" are known to be awaiting trial. Most recently, on April 16, Kazakhstan's security services said they are investigating at least 10 cases of Kazakhstanis who fought in Ukraine. 
However, the threat of prison is not stopping Kazakhs fighting for Ukraine or those fighting for Russia either. While it is unclear how many Kazakhs are fighting, as neither army has released an ethnicity breakdown, some 400,000 Kazakhs lived in Ukraine in 2018, according to the data compiled by Radio Azattyq, the Kazakh-language service of U.S.-funded RFE/RL.
By the 2021 census, there were some 591,970 ethnic Kazakhs in Russia. The Kremlin's "partial mobilization" didn't spare the traditionally Kazakh-populated regions of the Russian southwest, where officials claim to have summoned thousands of people. Anti-war activists argue that Kazakhs and other Russian Asians are being racially targeted for heavier mobilization. 
Since 2014 there have been various interviews, videos, and testimonials of Kazakhstanis and ethnic Kazakhs fighting against Ukraine. Their exact number is unknown, while Russian media claims there are "hundreds on our side." 
One of these fighters, Almaty native Svyatoslav Golikov, was widely profiled in various Russian media. Golikov was an early volunteer in Donbas, where he claimed that he is "tethering together the torn body of the historical Big Motherland." His current whereabouts are unclear and attempts to contact him have yielded no response. 
In August, a Ukrainian open-source intelligence Telegram channel claimed that the Ukrainian army had "liquidated" a 22-year-old Kazakhstani national, Lev Uvarov, who fought alongside Russian forces. The Diplomat verified his death independently. 
Uvarov posted on social media that Northern Kazakhstan was "built by Russians" and that Russia must "take back" these "stolen territories."
Both Uvarov and Golikov were involved in one of Kazakhstan's many "military-patriotic" clubs — boy scouts-esque organizations whose members enjoy military science and camping. Such clubs are sometimes organized by pro-Soviet or even pro-Russian groups: In April 2022 an Almaty councilman was widely criticized for the alleged connection with "Chest Imeyu" ("I Have the Honor") club, infamous for its anti-Ukrainian position. Konstantin Avershin refuted the accusations, claiming that he stopped any connections with the club after learning of their views.
A Kazakhstan Ministry of Internal Affairs' press officer told The Diplomat that she doesn't know whether the Ministry is looking into such clubs and refused to elaborate further on questions related to the clubs or foreign fighters. 
Moscow remains Astana's closest security and economic partner, with imports from Russia staying roughly the same in the last five years — around 36 percent in 2022, according to Kazakhstan's National Statistical Bureau. The country's vital oil pipelines also depend on Russia.
Russian and Soviet cultural legacies are still strong in the country, where less than half of the population uses the Kazakh language over Russian in everyday life. Dimash Alzhanov, an Almaty-based political scientist, believes that "politically, Tokayev cannot turn his back on Putin, particularly after the support he received in suppressing the January [2022] protests." The Bloody January protests were a mass uprising triggered in large part by rising economic inequality. The uprising was put down by Kazakhstan's authorities. After an official request from Astana, the Collective Security Treaty Organization (CSTO), a Russia-dominated military alliance, sent around 2,500 troops, mostly Russian, to support the government.
Besieged by great power interests from all sides, Kazakhstan's official policy since 1991 has been a careful balancing act between world powers. Kazakhstani political scientist and ex-government advisor, Gaziz Abishev, thinks that Аstana worked hard to explain to all war parties "that Kazakhstani assistance won't be crucial to either side." 
Domestically, Tokayev's administration suppresses war-related activism somewhat equally. In the early months of the war, pro-Russian Kazakhstanis put "Z" bumper stickers on their cars in solidarity with Russia. Traffic police then issued fines of roughly $40 to at least four people who adorned their vehicles with pro-Russian symbols, claiming a "violation of car use rules." 
The owners of "Z" bumper stickers were also besieged by pro-Ukraine Kazakhstanis who employed doxxing and harassment tactics, as seen on several bystander videos and reported by reputable local outlets. Oksana Ryzhkova, a 47-year-old professional makeup artist and activist from Almaty, told The Diplomat that such pro-Ukraine activists are "paid provocateurs" and believes that "no one in Ukraine supports the West and those who claim that they do must have been paid off."
Overtly Russophile politicians aren't safe either. Member of Parliament Azamat Abildayev, faced severe backlash after saying "Ukraine is controlled by Nazis" during an interview with Radio Azattyq. He was immediately expelled from his party, Ak Zhol. Since then, Abildayev appears to have exited the public arena, and was unavailable for comment on his social media and email. 
The authorities detained, and released without charges on the same day, 10 pro-Ukrainian demonstrators who protested the Russian consulate in Almaty on February 24, the day Moscow's invasion began. One of them, civil activist Darkhan Sharipov who works as an accountant in Almaty, told The Diplomat that "For many years we faced threats [of annexation and colonization] from Russia… we could've been in Ukraine's place, so Kyiv's victory and the subsequent defeat of the Russian regime are important for Kazakhstan." 
However, activists on either side are a minority. According to a telephone survey conducted in November 2022 by Demoscope — a public opinion monitoring bureau supported by the Konrad Adenauer foundation — almost 60 percent of Kazakhstanis consider themselves to be "neutral" in the conflict, with only 22 percent and 13 percent supporting Ukraine and Russia, respectively. 
Gaziz Abishev believes that the majority of Kazakhstanis avoid picking a side. As he puts it, "both [Russia and the West] possess lethal instruments of influence… We know that Western sanctions would annihilate our economy. However an economic blockade from Russia, not to mention a potential invasion, would too be a grave threat." 
But in the Yurt of Invincibility in Kyiv, a side has been picked for certain. For hours on end, Rustem and his helpers pour tea, give out pastries, and take care of the generator. When asked about Kazakhstanis who choose to stay neutral or support Russia, he is defiant: "Kazakh people support Ukraine and I think the whole world needs to unite against Putin." 
The author would like to thank the following for their contributions to this piece: Anton Streltsov, Benjamin Lotto, Bohdan Raikovsky, Jesse Kireyev, Noah Frank.