China-Latin America Relations Amid the Pink Tide 2.0
The distinct features of the current leftist politics in Latin America may shape relations with China differently than during the first Pink Tide in the early 2000s.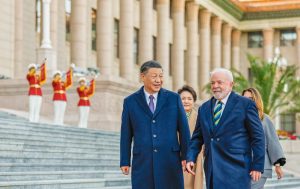 Left-wing political parties have returned to power in Latin America and are currently ruling the  five most populous countries in the region: Argentina, Brazil, Chile, Colombia, and Mexico. Amid the so-called Pink Tide 2.0, there are two unfolding developments in Sino-Latin American relations. On the one hand, diplomatic and economic ties have been largely reinvigorated due to the pronounced political affinity of these governments with Beijing. On the other hand, the relationship still primarily serves each country's specific preferences, and is underlined by a consistent pragmatism from both China and Latin American states.
Notably, the distinct features of the current leftist politics in Latin America may shape the trajectory of the China-Latin America relationship differently than during the first Pink Tide in the early 2000s.
Pink Tide 1.0 vs. Pink Tide 2.0
Several crucial differences can be discerned between the previous wave of Pink Tide and the current one. First, at present, leftist leaders enjoy far less electoral advantage vis-à-vis their domestic opposition than in the past, owing to an increasingly pronounced societal polarization. The riots in Brasilia and the social unrest in Peru earlier this year are extreme examples of this phenomenon. This in turn has reduced the room leftist politicians have to independently pursue a more ideologized or politicized foreign policy. Their strategies and policies, including foreign policy, need to accommodate the different demands or visions from other political parties or even from the increasingly polarized populace. The recent cabinet reshuffle in Chile is a case in point, in which leftist top diplomats were replaced by more traditional centrists.
Second, China is nowadays the largest trading partner of many South American countries. This stands in contrast with the situation during the first Pink Tide. Also, Chinese investments in the subcontinent have been steadily growing, with its foreign direct investment in the region averaging over $4.5 billion annually since 2016. The intense economic activities between the two sides are significant for the inter-regional relations. If, during the Pink Tide 1.0, leftist parties were geared toward Beijing due to both political affinity and commercial complementarity, then nowadays the stabilizing factor is attributed primarily to the latter. Leftist parties face a more polarized domestic audience as well as more powerful and hawkish opposition leaders against Beijing (e.g. in Brazil), thus reducing their ability to translate political affinity with China directly into foreign policy.
Third, the Pink Tide 2.0 occurs against the backdrop of increasingly pronounced China-U.S. competition and the decay of U.S. hegemony in the subcontinent. Amid the intensified great-power rivalry, Latin American countries are adopting an active non-alignment approach by pragmatically hedging between the two powers. This is evidenced, for example, by the region's stance amid the Ukraine War. Brazil's President Lula participated in the G-7 summit in Hiroshima, Japan, during which China's economic coercion and Russia's invasion predominated the agenda. Meanwhile, Brazil, together with other three countries under leftist governments (Argentina, Chile and Colombia), rejected a U.S. offer to replace their arsenals should they donate aging military equipment to Ukraine.
Reinvigorated Economic and Diplomatic Relations
Right-wing populists – particularly in Brazil – constituted a big challenge to their countries' relations with Beijing. This was especially the case during the pandemic. The advent of Pink Tide 2.0. may have upended this trend of antagonism and have given impetus to China-Latin America relations, as leaders started to normalize and revitalize political and diplomatic relations with China as well as reduce dependence on the United States.
Indeed, changes or improvements are discernible in the political realm. Since 2018, four Central American countries – El Salvador, Dominican Republic, Nicaragua, and Honduras – severed diplomatic relations with Taiwan and recognized China despite U.S. backlash. All four countries did so under leftist governments. Of those countries, three (all except Honduras) also signed a Memorandum of Understanding to endorse China's Belt and Road Initiative (BRI). In early 2022, Argentina under President Alberto Fernández also endorsed the BRI, which made it the first big Latin American country to sign such an MoU. The recent visit of Lula to China also saw the deepening of the Brazil-China bilateral strategic partnership, with the celebration of 15 agreements including the creation of an alliance against hunger and poverty.
Ties with China have also been reinvigorated in economic terms. The most important milestone is the signature of currency swap agreements between Brazil and China in March 2023. Less than a month later, Argentina followed suit, with its Economy Minister Sergio Massa confirming that the country would pay in Chinese yuan for $790 million worth of Chinese imports per month from May 2023 onwards. This signifies a further step of de-dollarization or internationalization of China's currency.
Regarding trade agreements, in January this year Lula revealed the possibility of the negotiation of a Mercosur-China free trade agreement, to which Brazil had been opposed for a long time. Also, Chilean President Gabriel Boric has endorsed China's application for joining the Comprehensive and Progressive Agreement for Trans-Pacific Partnership (CPTPP). In terms of investment, China sealed several major deals with Latin American countries: an agreement with Bolivia's Luis Arce government on the exploration of lithium worth $1 billion, China's investment in lithium development in Argentina worth around $960 million, and an investment in Brazil's state-owned semiconductor center CEITEC. Furthermore, Fernandez's and Lula's respective visits to Huawei during their trips to China were seen as another sign of South American countries' interest in deepening cooperation with the Asian giant in the IT front – much to the United States' dismay.
Consistent Foreign Policy
There is no denying that it was the left-wing governments that have catalyzed and implemented all these initiatives. Nevertheless, the role of the newly elected leaders should not be overstated. Over-emphasizing their agency risks neglecting some other important structural factors that are at play, e.g. the growing economic opportunities that Beijing presents to these nations, their need for external trade and foreign direct investments, and, most importantly, the largely consistent, pragmatic foreign policy of these countries. In this sense, the Pink Tide 2.0's influence on bilateral relationships with Beijing needs further putting into perspective.
Ecuador, one of the few states in Latin America that is still under a right-wing government, signed a free trade agreement with Beijing on May 11, which would allow preferential access for 99 percent of its exports to China. As Risa Grais-Targow, an Ecuador expert at Eurasia Group, told the Financial Times, even with a pro-U.S. conservative in power, the lack of U.S. attention to the country has led the Ecuadorian incumbent to "consistently look to play the U.S. and China off of each other… [T]here is a strong desire in Washington to support his government, but trade is an area where there are real limits to how far it can go." By the same token, Uruguay under the current right-wing Luis Lacalle Pou government, is also pushing for an FTA with China due to U.S. inattentiveness to the small nation.
Also, Huawei has hosted not only Latin America's left-wing politicians but also right-wing conservatives. In a defiant move, Chile's former right-wing president Sebastian Pinera held a meeting in Shenzhen with the chairman of Huawei's board of directors and welcomed Huawei's participation in public tenders.
Regardless of the ruling party, some core state preferences remain constant. The return of Lula to power also did not push Brazil to endorse the BRI – a posture that remains highly consistent through former Presidents Dilma Rousseff, Michel Temer, and Jair Bolsonaro. Meanwhile, the former far-left members of Chile's incumbent Boric government were much against FTAs, because free trade was thought to have suppressed the industrialization process of the country. The reinstatement of center-left politicians has brought the country back to its foreign policy tradition of economic pragmatism.
Greener Ties Ahead
One of the marked differences between the two pink tides is that the current one seems to lay more emphasis on issues such as climate change, sustainability, as well as Indigenous people's rights. The incumbents in Brazil, Chile, and Colombia appear to be more environmentally friendly than their predecessors. As China sets to turn its outward foreign direct investments greener, both sides may actually find synergy in jointly promoting sustainable development, low-carbon transition, and climate actions. At the time of writing, Brasilia and Beijing are negotiating a green investment fund to help finance renewable energy projects in the two countries.
However, the decarbonization effort may generate unintended consequences or even pushback from China, especially in the case of Chile's nationalization of its lithium industry. While President Boric wants to regulate the extractivist industry within the country and protect the environment, the plan might negatively affect the volumes of lithium exported to China – the world's largest producer of new-energy vehicles – whose company Tianqi Lithium Corporation holds a 22.16 percent stake in Chilean miner SQM.
In sum, the Pink Tide 2.0. has injected impetus into the Sino-Latin America relations, particularly in economic and diplomatic terms. However, their influence should be viewed soberly, due to the broader underlying structural conditions (i.e. economic complementarity and the China-U.S. rivalry), the consistency of foreign policies in each country, as well as the unique features of the leftist governments in the current Pink Tide.