Gulf States' Growing Aid Diplomacy in Indonesia
As the world's most populous Muslim-majority nation, Indonesia is receiving increased attention from the wealthy states of the Middle East.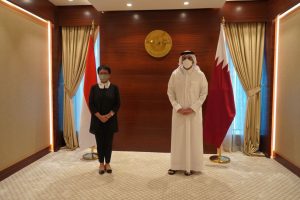 Recent years have seen a significant expansion of ties between Indonesia and the nations of the Gulf Cooperation Council (GCC), which includes Bahrain, Kuwait, Oman, Qatar, Saudi Arabia, and the United Arab Emirates. While economic and political ties have been widely reported, less attention has been focused on the aid diplomacy carried out by the GCC countries to accompany their growing relations with Indonesia.
In developing countries, GCC countries are known for their generosity thanks to their region's energy and mineral wealth. In Indonesia, the provision of social assistance is a major element of GCC nations' public diplomacy. This assistance includes support for healthcare, disaster relief, education, clean water supply, infrastructure, housing, and transportation.
This takes place in a context in which GCC countries are aggressively increasing aid and development abroad, especially in countries in which they have a strong economic interest. Accordingly, Indonesia, the world's most populous Muslim-majority state, has become the target for humanitarian assistance of the majority of GCC countries.
Perhaps the chief provider of development aid has been Saudi Arabia. In 2015, for instance, Prince Alwaleed bin Talal announced that Indonesia was among the beneficiaries of his $32 billion charitable bequest that was designed to eradicate disease, improve healthcare systems, provide electricity to remote villages, set up orphanages, and empower women. In addition, in 2015 and 2019, the Saudi government, through the King Salman Center for Humanitarian Aid and Assistance, also donated around $82 million to the country. This assistance targeted 27 humanitarian projects in the fields of housing construction, health, clean water, transportation, and education. Assistance for the construction of 850 mosques and the support of 20,000 orphans has also been provided by the Makkah Al-Mukarramah Foundation from Saudi Arabia over the past 12 years. Saudi Arabia also often sends dates and copies of the Quran to Indonesia ahead of the holy month of Ramadan.
Apart from Saudi Arabia, Indonesia has also recently received a significant amount of humanitarian aid from Qatar, Bahrain, Kuwait, and the UAE, especially during the COVID-19 pandemic. The UAE in particular has sent considerable amounts of aid such as medical equipment, which is estimated to have helped around 20,000 health workers treat infected victims.
Kuwait has similarly been active in this field. Abdul Wahab Abdullah Al-Sager, the country's former ambassador to Indonesia, claims that the country has sent more than $250 million of state aid to Indonesia, much of it for the support of the education sector. For example, Kuwaiti money funded the construction of the Islamic college Al Wafa in Cileungsi, Bogor, West Java.
In addition, Kuwaiti aid has gone towards scholarships, health, the media, and the development of public infrastructure in various parts of Indonesia. For example, Kuwaiti health assistance was budgeted for Surabaya, where as many as 400 people received cataract surgery for free. Kuwaiti money also funded the construction of several villages, which were later named after several Emirs of Kuwait, such as Sheikh Jabir Al-Ahmad Al-Jabir Al-Sabah Village in Aceh and Sheikh Sabah Al-Ahmad Al-Jabir Al-Ahmad Village in Bandung.
Kuwait often cooperates with many Indonesian charitable organizations to fund humanitarian projects such as orphanages and schools. Kuwaiti assistance in the education sector, for example, includes donations to the Al-Markaz Al-Islami Sinjai Islamic Boarding School and the construction of the Aisyah Mosque in East Sinjai District in South Sulawesi, which was inaugurated in 2021.
Another notable provider of assistance is Qatar, another country with fantastic wealth, which has provided significant amounts of aid following natural disasters. For example, in 2012 and 2016, Qatar sent aid to flood victims in Indonesia. In 2015, due to the overflow of Muslim Rohingya asylum seekers from Myanmar due to the prolonged conflict in the country, the Qatari government offered financial assistance worth $50 million for Rohingya refugees in Aceh and North Sumatra. It also donated $5 million in relief funds for earthquake victims in Palu, Donggala, and Lombok in 2018.
In 2020, Indonesia's Ministry of Religion and Qatar Charity (QC) signed an agreement providing assistance in various sectors, as well as the provision of aid for underprivileged Indonesians. The year 2021 also saw an agreement between the Qatar Fund for Development and Indonesia Credit Impact Solutions Pte Ltd to provide rapid response impact seed funding to SMEs in the health and food distribution sectors affected by the COVID-19 pandemic.
And then last year, when an earthquake occurred in the province of West Java, Qatar Charity was quick to respond by sending emergency aid such as food, drinking water, cleaning equipment, and other items.
This surge in support has come with concerns. In particular, some worry that aid from GCC countries, particularly Saudi Arabia, has been directed towards radical groups in Indonesia. For example, Saudi money reportedly contributed to the establishment of Al Mukmin boarding school in Ngruki, Central Java, from which some of those who were involved in the 2002 Bali bombings graduated. It has been reported that groups such as Jemaah Islamiyah have received support from Gulf countries. Saudi money has also been linked to the growing popularity of an austere and exclusive form of Salafi Islam in Indonesia over the past couple of decades, and the associated intolerance toward religious minorities.
Despite this, Indonesian religious authorities appear to be pragmatic in receiving Gulf aid. For example, Indonesia's largest Muslim organization, Nahdlatul Ulama (NU), which is a proponent of a moderate, syncretic form of Islam, does not mind cooperating with Saudi Arabia. This is despite the fact that many NU members have denounced the Saudi Kingdom's Salafi version of Islam.
Despite these areas of concern, the various kinds of assistance mobilized by the GCC countries demonstrate Indonesia's importance, as the world's most populous Muslim population, to their political and economic agenda. In the next few years, the GCC-Indonesia relationship is expected to continue to grow, as these nations seek to expand and deepen their influence in Indonesia, especially with the country's population.