Biden is Feting the Indian PM Despite His Dismal Human Rights Record
The U.S. President sees ties with India as vital to tackling challenges emanating from climate change, disruptions related to AI, and a rising China.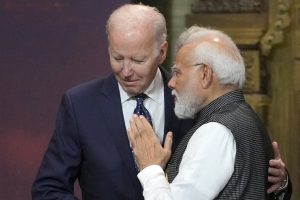 Indian Prime Minister Narendra Modi is, on many counts, a curious choice for President Joe Biden to honor with a state visit.
Since Russia's Vladimir Putin ordered the invasion of Ukraine 16 months ago, India has boosted its economy by purchasing increasing quantities of cheap Russian oil.
Human rights groups and political opponents have accused Modi of stifling dissent and introducing divisive policies that discriminate against Muslims and other minorities. And India's foreign minister, Subrahmanyam Jaishankar, has espoused a worldview in which there are no allies or friends, only "frenemies."
But Biden, who will welcome Modi to the White House on Thursday for a state visit, has made clear he sees U.S. ties to India — the world's biggest democracy and one of its fastest-growing economies — as a defining relationship. New Delhi, as Biden sees it, will be essential to addressing some of the most difficult global challenges in coming years, including climate change, disruptions related to artificial intelligence, and China's growing power in the Indo-Pacific.
"Now, we know that India and the United States are big, complicated countries," Secretary of State Antony Blinken told the U.S.-India Business Council in Washington ahead of Modi's visit. "We certainly have work to do to advance transparency, to promote market access, to strengthen our democracies, to unleash the full potential of our people. But the trajectory of this partnership is unmistakable, and it is filled with promise."
Much is at stake for both sides in the Indian leader's three-day visit to the U.S., which begins Wednesday with a stop in New York, where Modi will lead an international yoga day event at the United Nations.
Biden wants to bring India closer to the United States as the administration tilts its foreign policy toward Asia and looks to build partnerships in the region in the face of an ascendant China.
Modi, for his part, is trying to usher in a more prosperous era for his nation of 1.4 billion, delivering on a promise he made when he swept into office more than nine years ago.
The Indian prime minister hopes to strengthen U.S.-India economic and military ties. He also has his own worries about Chinese military activities, along the Himalayan border and in the Indian Ocean. India has been locked in a long-running standoff with China in the rugged mountainous area of Ladakh, where each side has stationed tens of thousands of military personnel backed by artillery, tanks and fighter jets.
"As China has risen, India and the U.S. both need one another and the U.S. needs more partners in the Indo-Pacific," said Jitendra Nath Misra, a professor of diplomatic practice at the O.P. Jindal Global University and a former Indian ambassador. "They can't do it alone anymore because China is catching up with the U.S., and the Chinese economy is significantly larger than India's. So, there is a congruence of geopolitical interests here."
There are plenty of signs that the relationship already has taken a leap forward.
Trade between the U.S. and India in 2022 climbed to a record $191 billion. The Indian diaspora in the U.S. stands at nearly 5 million and has become an economic, cultural and political powerhouse. Biden has sought to reinvigorate the Quad, an international partnership of the U.S., Australia, India and Japan. And U.S. defense sales to India have risen from near zero in 2008 to over $20 billion in 2020.
Still, the state visit comes with some problematic aspects for Biden, who as a presidential candidate pledged that human rights would be a driving force in his foreign policy.
Elaine Pearson, Asia director for the group Human Rights Watch, urged Biden in a letter not to shy away from confronting Modi on India's "worsening human rights situation." Her organization plans a Tuesday screening in Washington of a BBC documentary critical of Modi that was banned by the Indian government.
The documentary delves into Modi's oversight as chief minister of Gujrat during the deadly 2002 anti-Muslim riots that left more than 1,000 dead. In 2005, the U.S. revoked Modi's visa to the U.S., citing concerns that he did not act to stop the communal violence. An investigation approved by the Indian Supreme Court later absolved Modi, but the stain of the dark moment has lingered.
More recently, Modi has faced criticism over legislation amending the country's citizenship law that fast-tracks naturalization for some migrants but excludes Muslims, a rise in violence against Muslims and other religious minorities by Hindu nationalists, and the recent conviction of India's top opposition leader, Rahul Gandhi, for mocking Modi's surname.
"Modi's government has also demonstrated blatant bias in protecting BJP supporters and affiliates accused in a range of crimes, including murder, assault, corruption, and sexual violence," Pearson wrote, using the initials for Modi's Bharatiya Janata Party. "At the international level, Modi's government has often proven unwilling to stand with other governments on key human rights crises, abstaining or refraining from condemning grave human rights violations elsewhere."
The Indian government has continually defended its human rights record and insisted that India's democratic principles remain robust.
Modi has offered only limited criticism of the Russian invasion of Ukraine, urging Putin during a meeting last September to "move onto a path of peace." The New Delhi-Moscow relationship dates back decades, with Moscow offering key cooperation on defense, nuclear energy and other issues.
The Biden White House has privately pressed India to cut its reliance on Russian oil, but has largely avoided publicly criticizing New Delhi's stance. In 2021, Russian oil accounted for just 2 percent of India's annual crude imports. That figure now stands at more than 19 percent.
Biden is expected to again raise India's reliance on Russian oil as well as human rights in his private talks with Modi, according to a senior Biden administration official who spoke on condition of anonymity to discuss preparations for the visit.
The White House sees indications that Modi's government has been moving away from Russia since the start of the war, noting a subtle shift in tone in Modi's public comments about Ukraine, a growing desire by India to diversify its sources of military hardware, and an increasing awareness by the Indian government about China and Russia's tightening relationship and what it could mean for India.
Richard Rossow, chair of U.S.-India Policy Studies at the Center for Strategic and International Studies in Washington, said the Biden White House has made the calculation to keep its "powder dry" despite its disappointment with India's ballooning oil purchases.
"We don't want to risk severing the relationship with India," Rossow said of the administration's careful approach. "Find small and modest ways to nudge, but don't make that a deciding factor."
The official state visit portion of Modi's trip starts Thursday and includes an Oval Office meeting with Biden, an address to a joint meeting of Congress and a lavish White House dinner hosted by Biden and first lady Jill Biden.
Modi also is to be honored at a State Department luncheon on Friday hosted by Vice President Kamala Harris and Blinken, and he is scheduled to address members of the Indian diaspora before departing Washington.
Biden and Modi are expected to make announcements on cooperation in higher education, space and more. High on the agenda is deepening defense cooperation. India has sought to reduce its reliance on Russian military hardware by buying from the U.S., France, Germany and other countries.
But it will likely take decades or more for India to completely wean itself off Russian military hardware, said Rudra Chaudhuri, director of Carnegie India, the New Delhi arm of the international think tank.
"Keep in mind that 65 percent of India's defense kit is still Russian," Chaudhuri said. "Let's say India reduces purchases from Russia to one-third over 25 years, that's still a big part of your defense ecosystem."