India and the US are Grappling with Uncomfortable Truths
When Modi goes to Washington, the two sides are likely to sweep their problems under the carpet.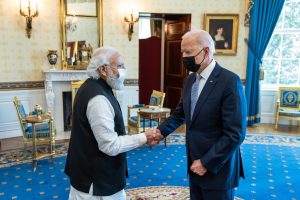 When India's Prime Minister Narendra Modi goes to Washington this month, he is expected to be given a rapturous welcome. Modi's itinerary will include a state dinner with U.S. President Joe Biden, a historic second address to the U.S. Congress, and a now customary sold-out audience with the Indian diaspora.
Given India's vociferously neutral stance on the Ukraine war, it's safe to say that Washington is going out of its way to make Modi feel comfortable. The U.S. hopes that in doing so, it would eventually be able to pull India away from Russia and also convince it to provide support to American troops during a potential conflict over Taiwan.
Perhaps just as importantly, India's defense sector is a singularly lucrative market for American manufacturers. In the run-up to Modi's visit, both U.S. Defense Secretary Lloyd Austin and National Security Adviser Jake Sullivan went on separate trips to India to underline that priority. And more recently, India was reported to have signed a deal to buy more than two dozen American drones.
To be sure, this is a largely transactional interaction. India needs U.S. support to shore up its thinly stretched military assets and build capacity. Early this year, the Indian Air Force told Parliament that its air squadrons are operating at about three-fourths of the sanctioned capacity. Last year, India commissioned its first indigenously built aircraft carrier, but owing to painful bureaucratic delays, it entered service almost obsolete.
In that context, India hopes that joint development with the U.S. will help drag its defense industry to more contemporary times. Days before Modi's trip, reports said that a deal was expected to allow the joint production of engines for Indian fighter aircraft. Deeper cooperation and capacity building are also desperately needed on the intelligence front, especially as India grapples with sudden changes on the border with China.
Yet, between all of this common ground is a huge moat.
For one, as much as India wants access to advanced defense technology from the U.S., it also jealously guards its strategic autonomy, and New Delhi is as wary of dependence on the U.S. as it is on anybody else.
In the wake of the Ukraine invasion, many analysts argued that India's sustained defense ties with Russia were necessitated by the fact that a large part of its existing arsenal depended on Russian spare parts and supplies. But sustained defense ties with Russia are also a way to preempt dependence on the U.S.
Over the last several years, India has tried to diversify its military supplies by inducting weaponry from partners such as France and Israel rather than pivoting to the U.S. And ironically, the scope of ties with Russia has only expanded after the Ukraine invasion — trade having skyrocketed thanks to massive increases in imports of oil and coal from Russia.
Meanwhile, as much as China might prove to be a common problem for India and the U.S., it is also a sign of several differences. If you were to ask Modi and Biden why China is a threat, they are likely to agree on almost nothing. India is more worried about the land-based threat posed by the Chinese army in the Himalayas. But for the U.S., that's a marginal challenge as opposed to China's maritime activities in the South China Sea, the Indian Ocean and the Taiwan Strait.
Washington also sees China as a strategic threat to a U.S.-led world order. But while India might prefer American hegemony to Chinese hegemony, it also sees China's rise as an opportunity to establish a more multipolar order, given the wide disparity in power between Beijing and Washington. Under Modi, India has also taken stances similar to China's on a number of global governance debates, including norms of democracy, freedom of religion, human rights, data privacy and localization, cybersecurity and so on.
America's ties to India have long been subjected to great expectations — waxing and waning based on India's policy responses to various global events. When Modi goes to Washington this month, he will reckon with decidedly the greatest expectations yet, on the back of multiple epoch-shaping challenges in Ukraine and Taiwan. But for now, it looks like both India and the U.S. want to sweep those problems under the carpet.