China Kicks Off Construction of Pakistan's Third, Fourth Type 054A Missile Frigates
A Chinese shipbuilding company cut steel for the third and fourth Type 054A frigates on order for the Pakistan Navy.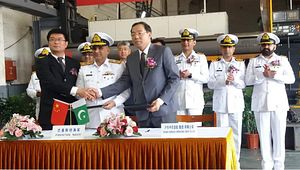 China's Hudong-Zhonghua Shipbuilding held a steel cutting ceremony for the Pakistan Navy's third and fourth Type 054A/P multi-role frigates on November 1, according to the service's director general for public relations.
"Chief Naval Overseer (CNO) China, Commodore Azfar Humayun of Pakistan Navy and President China Shipbuilding Trading Company (CSTC) jointly performed the steel cutting of the frigates," said a statement by the director general for public relations posted on social media on November 1.
The Type 054A/P is an improved export version of the Type 054 frigate that is in service with the Chinese People's Liberation Army Navy (PLAN). Once deployed, the two new warships will be some of the most technologically advanced surface combatants of the Pakistan Navy.
The service has ordered a total of four new frigates from China. A contract for the third and fourth Type 054A/P multirole frigates was signed in June 2018 at the Ministry of Defense Production in Rawalpindi.
"With the conclusion of this contract, Pakistan Navy will have a total of four Type 054A ships in its fleet by 2021," the service said in an announcement at the time. "The induction of these ships will substantially enhance Pakistan Navy's war fighting capabilities while effectively contributing towards maritime security operations in the region."
A previous contract for the first and second Type 054A/P frigate was signed in 2017.
Type 054A/P guided-missile frigates are multipurpose surface combatants capable of conducting a wide range of missions including anti-surface and anti-air warfare. In January 2018, I described the technical characteristics and armament of the 4,000-ton warships:
The stealth frigate is armed with HQ-16 medium range air defense missiles and boosts a 32-cell vertical launching system (VLS) in the forward section, capable of firing anti-ship and air defense missiles as well as anti-submarine torpedoes.
Its air defense systems allows the warship to engage aerial targets at a distance of up to 40 kilometers. Additionally, I noted:
It also features a Russian-made AK-630 fully automatic naval close in weapon system and a Chinese variant of the AK-176 76-millimeter naval gun.

(…) In addition, the ship is equipped with a Type 382 phased-array radar system and Type 344 and Type 345 multifunctional fire control radar systems, capable of over the horizon targeting.

Type 054A frigates also feature a hangar capable of accommodation Kamov K-27 and Harbin Z-9 helicopters or unmanned aerial vehicles (UAVs).  (…)
The Type 054A is powered by four SEMT Pielstick engines and can achieve top speeds of 27 knots. "The ship has a standard range of about 3,800 nautical miles – 7,037 kilometers – at a speed of 18 knots, and a maximum un-refueled radius is 12,000 kilometers or 8,000 miles," I explained.
According to a cost estimate published in The Diplomat, the price for each Type 054A/P guided-missile frigate is around $348 million.