India's Foreign Policy Progress in Sri Lanka is a Strategic Setback for China
Since an economic crisis hit the country last year, New Delhi has reminded Colombo who its real friends are.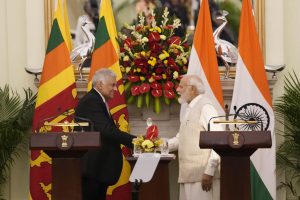 It was only a year ago that Sri Lanka dominated international headlines, as its worst economic crisis in more than 70 years contributed to severe domestic strife, including deadly riots, and severe shortages of fuel, food and critical medicine. The crisis was created by a confluence of domestic policy blunders under the Rajapaksa clan, on whose watch Sri Lanka's burden of foreign debt had grown to nearly insurmountable levels, a significant proportion of it owed to Chinese creditors.
Sri Lanka's economic troubles had been known for some time, but the Rajapaksas were unwilling to seek assistance from the International Monetary Fund (IMF). The source of the trouble came not only the inability to service debt due to limited foreign reserves, but economic mismanagement from legitimacy challenges that compelled the government to implement tax cuts to curry favor with the public. The result is that everything that could go wrong with the economy has: Sri Lanka faces budget and current account deficits, hyperinflation, a devalued currency and massive sovereign debt.
For neighboring India, Sri Lanka's crisis prompted severe strategic anxiety. Over the past decade, Chinese influence on the island has increased, as after the long civil war drew to a close – in part due to China's weaponry – Mahinda Rajapaksa began borrowing heavily to pay for the war. The relationship between New Delhi strained by an Indian peacekeeping mission in the late 1980s and a number of votes by India at the U.N. Human Rights Council after the war put pressure on Sri Lanka to be held accountable for its actions and to promote reconciliation with the island's Tamil minority population. China seized the opportunity to undermine India's sphere of influence over Sri Lanka, partially through satisfying Mahinda Rajapaksa's penchant for vanity and pet projects.
A prime example of the Rajapaksa-era obsession with infrastructure projects was the 99-year lease of the strategically-located Hambantota Port in 2017 to the Chinese state-owned China Merchants Port Holding Company for $1.1 billion. Sri Lanka secured loans from Chinese banks to develop the port in hopes of relieving some of the shipping burden on the country's main port in Colombo. Only the new port failed to generate the much-needed revenue. The Rajapaksa government eventually collapsed under the weight of its debt burden to both Beijing and another $25 billion in debt to private bondholders.
With the country descending into economic turmoil, Indian policymakers feared that Colombo would find itself at the mercy of aggressive Chinese creditors. These fears were only underlined by the docking in August of a Chinese surveillance vessel at the port Sri Lanka had added to China's "string of pearls" a few years earlier. Beijing, it seemed, had successfully penetrated India's natural sphere of influence in Sri Lanka. But one year on, what looked like a strategic victory for Xi Jinping and his attempt to expand Chinese influence in the Indian Ocean ended up being a win for New Delhi.
Timing was everything. Instead of worrying about problems it could not control on its own during a period of confusion and policy chaos, India chose to focus on what it could – the level of investment in Sri Lanka – and to demonstrate to a beleaguered government that it had always been a "friend" and a reliable development partner, despite strains in the relationship while Mahinda Rajapaksa ruled the island. India has taken advantage of the view among the Sri Lankan public that China has been maneuvering for strategic advantage, evidenced by Beijing's unresponsiveness to Sri Lankan requests for support during the crisis. Some have accused China of taking advantage of Sri Lanka's economic troubles by waiting for the right time to enter into more debt-to-equity swaps, thereby controlling even more prime real estate.
As further evidence of New Delhi's impeccable timing, in July 2022, just two weeks before Gotabaya Rajapaksa was forced to flee Sri Lanka, Foreign Secretary Vinay Kwatra made a surprise visit to Colombo for a series of meetings with government officials. While China's strategic position was a point of contention, India focused its energy on Sri Lanka's economy, which threatened to cause not just an economic catastrophe but a humanitarian crisis. India backed up its visit with additional financial assistance, including discussions of expanding its credit facility to procure essential food, fuel, and medicine.
India's humanitarian and foreign policy decisions over the past year have transformed bilateral ties. India was quick early on to make a flurry of economic investments and pledges of rapid assistance. Between January and July of 2022, it disbursed $4 billion in aid, and deployed a warship that carried medicine to support Sri Lanka's 20 million people.
Economic support to Colombo this year has also been fast and furious. In March, India explored the possibility of using the Indian rupee for economic transactions that would help build a stronger trade relationship, and the countries' central banks have backed up the idea, suggesting that settlements in rupees would lower exchange rates and transaction costs, and make the provision of trade credits much easier. In May, India extended its $1 billion credit line for another year, which allows Sri Lanka the flexibility to pay for essential imports while its cash flow and currency reserves are limited. Through an official creditor committee that is co-chaired by India, composed of countries that have provided aid, including France and Japan, requests for debt treatment are being discussed and processed.
Additionally, when Sri Lanka applied for relief from the IMF, India was the first country to send a letter of support for debt restructuring. Finally, Indian Prime Minister Narendra Modi and Sri Lankan President Ranil Wickremesinghe recently signed a series of agreements on energy, trade, and connectivity projects, including the possibility of a "land bridge" that would provide land access to Sri Lanka's critical Trincomalee and Colombo ports. A potential gas pipeline connecting southern India and northern Sri Lanka was also floated.
India's economic diplomacy with Sri Lanka has put China on the back foot. While it too has made concessions in terms of debt restructuring and the delaying of interest payments to Chinese banks, some of those adjustments were due to international pressure from the United States and Japan. India's reputation and status in Sri Lanka have increased, while the flurry of economic arrangements has at a minimum, given India a public relations victory over its rival.
As India wins greater confidence from Colombo by improving its standing as a reliable development partner, it will likely be able to secure longer-term strategic investments that further erode China's influence. As Modi noted after his meeting with Wickremesinghe following their meeting earlier this month, security interests and development of the two countries are "intertwined." The enhanced development relationship should later help alleviate India's lingering security concerns.