Japan, France to Conduct First Joint Fighter Jet Drill
The drill continues a trend of Japan's expanding security links with European powers, while France looks to the Indo-Pacific.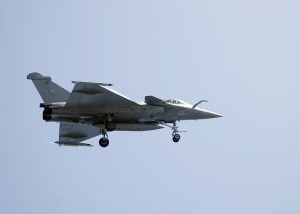 Japan's Air Self-Defense Force (JASDF) announced on July 18 that Japan and France will hold their first-ever joint fighter jet drill in Japan next week. That marks a historic milestone in the two nation's defense and security ties amid China's military buildup and regional assertiveness.
With the French Air and Space Force (FASF)'s mainstay fighter jet, the Rafale, flying to Japan for the first time later this month, their first-ever joint air combat training will also demonstrate France's strong commitment to expand deployments in the Indo-Pacific in a bid to bolster regional security.
The exercise will run from July 26 to 29 at Nyutabaru Air Base in Miyazaki Prefecture of Kyushu Island as well as in the airspace of the Kanto region of eastern Japan, according to the JASDF.
The JASDF is participating with three F-15 and two F-2 fighters, one KC-767 fuel transport, and one C-2 transport aircraft, while the FASF is fielding two Dassault Rafale fighter jets, one Airbus A330 Multi-Role Tanker Transport aircraft, and one Airbus A400M transport aircraft, along with a contingent of around 120 personnel.
"We believe that the joint exercise will deepen mutual understanding between Japan and France, promote France's involvement in the regions surrounding Japan, and become a significant initiative toward the realization of the Free and Open Indo-Pacific," Japanese Defense Minister Hamada Yasukazu said at a regular press conference on July 18.
The chief of staff of the JASDF and the chief of staff of the FASF and will hold a joint press conference on July 27 at Nyutabaru Air Base, where the Rafale will arrive. In addition, on July 28, a France-Japan joint exhibition flight, including the Rafale, is scheduled to take place over Iruma Air Base and the area around Tokorozawa Aviation Memorial Park in Saitama Prefecture, according to the Embassy of France in Japan.
The exercise is part of the Pégase 2023 mission, a long-range, transcontinental power-projection exercise that French military is conducting from June 25 to August 3. This mission involves tens of aircraft deploying from France to the Indo-Pacific region, including Japan, South Korea, Indonesia, Malaysia, Singapore, Qatar, and Djibouti, as well as French New Caledonia, and Polynesia, and others, according to France's Defense Ministry and the Embassy of France in Japan.
France has long considered itself to be an important stakeholder in Indo-Pacific security, given its overseas territories in the region. It is the only European country with a permanent naval presence in this part of the world. More than 90 percent of France's exclusive economic zone is in the Indo-Pacific – including territories such as French Polynesia and New Caledonia – and about 1.6 million French nationals live in the region.
Adm. Pierre Vandier, chief of staff of the French Navy, said in an interview in Tokyo in November 2022 that it is important for countries operating in the Indo-Pacific to maintain dialogue with China and that the French Navy's deployments in the region – including those in the Taiwan Strait – are not aimed at any specific countries.
"France values freedom of navigation but we also don't want to provoke a specific country. I think the route we take [in the Taiwan Strait] will change each time," giving consideration to both the United States and China, he said at that time.
That is in line with the philosophy of the Emmanuel Macron administration in France. Macron has refused to see the Indo-Pacific region divided into two blocs by the China-U.S. conflict; instead, France is aiming for its own "third way" to ease tensions.
Meanwhile, the JASDF also recently held its first joint drills with both the German and Indian air forces in Japan. The exercise with German forces took place in September 2022, and the drill with India this January.
Japan apparently aims to enhance defense ties with a number of countries, with China's increasing assertive military activities in mind.