The Taliban's New Canal Threatens Water Security in Uzbekistan and Turkmenistan
As the Taliban rush to complete the Qosh Tepa canal, Central Asia's water security is at risk.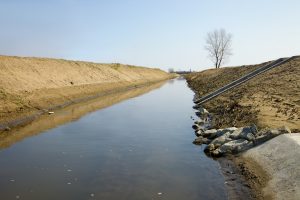 On March 30, 2022, Taliban Deputy Prime Minister Mulla Abdul Ghani Baradar launched the construction of the Qosh Tepa canal, which will divert significant amount of water from the Amu Darya – a transboundary river that Tajikistan, Uzbekistan, and Turkmenistan heavily depend on. One third of the 285-kilometer project is already completed. With over 6,000 workers deployed, the Qosh Tepa canal is to be finished in five years. It will reportedly use up to a third of the Amu Darya's water, creating an imminent challenge to downstream countries, especially Uzbekistan and Turkmenistan.
"The conversation around constructing a canal is decades long. For more than 50 years Afghanistan has been contemplating building a dam and diverting the water of Amu Darya basin in order to irrigate the country's very dry northern planes," explained Jahan Taganova,  a New York-based expert on water security, governance, and diplomacy with a focus on Central Asia, in an interview with The Diplomat. However, decades of unrest and war interrupted the canal's construction. 
As Taganova noted, the idea got another boost during the U.S. occupation of Afghanistan. "The U.S. Agency for International Development announced a feasibility study for the construction of the canal. … The U.S., as a country, lacks water diplomats. There are plenty of hydrologists, but there aren't many water diplomats, and these two specializations are quite distinct. So, it's not clear whether these feasibility studies conducted by the U.S. government took under consideration the entire region and impact of such infrastructure construction on the downstream countries." 
Today, the Taliban's rush to complete the canal can be explained by several factors. The northern plains of Afghanistan are becoming ever drier due to climate change and the canal will bring water to those areas. Food insecurity is high in Afghanistan, making the country heavily reliant on foreign aid for basic necessities. Irrigating more land and developing agriculture will provide at least a partial degree of food security. Apart from that, the canal is expected to create jobs for a quarter million people.
Although Afghanistan and Iran have a treaty pertaining to the Helmand River, Kabul is not part of any transboundary water agreements with its northern neighbors. Until now, the Amu Darya's water has been divided among Central Asian countries based on the Almaty agreement of 1992. The five states of Central Asia also have other water management and water protection agreements and organizations; none include Afghanistan. 
It "makes sense from one side because those post-Soviet Central Asian countries are united by common language, common understanding of the problem," argued Bota Sharipova, a doctoral candidate in water cooperation, conflict, and diplomacy at the IHE Delft Institute for Water Education in The Netherlands in an interview with The Diplomat. Being occupied by the Soviet Union for over seven decades created common "patterns, practices, traditions of water management and water governance, while Afghanistan was completely separated with different politics and certain challenges on their own."
The latest agreement, reached last year in Ashgabat, set water withdrawal limits from the Amu Darya and Syr Darya basins for the October 2022-October 2023 period. Of 55.4 billion cubic meters of intake from the Amu Darya basin, 23.6 billion cubic meters will go to Uzbekistan, 22 billion to Turkmenistan, and 9.8 billion to Tajikistan. With Uzbekistan's population being 35 million and Turkmenistan's well under 5 million, the two countries taking similar amounts of water from the basin might seem unfair. Some even blame Turkmenistan for being wasteful with water. 
However, "Turkmenistan actually relies solely on the Amu Darya river basin and does not get water from the Syr Darya basin (unlike Uzbekistan, which does)," explained Taganova. "The groundwater resources are quite depleted. What remains is a high level of salinity. … There are other political and economic relations between Turkmenistan and upstream countries where Turkmenistan does provide subsidy energy resources to upstream countries in exchange for getting a little bit more water allocation."
When the Qosh Tepa canal is completed, it is expected to take 17 billion cubic meters of water from the basin. This might not have much of an impact on Tajikistan, but for Turkmenistan and Uzbekistan the prospective challenges may be overwhelming. The Central Asian countries are already notorious for inefficient water use. 
"Most water-related infrastructure was built during Soviet times when the economy was strongly prioritized over nature and therefore water was used fully with the aim to maximize benefits and profit from agriculture," said Sharipova. "Because of that there was no consideration of water saving techniques, and unfortunately, Uzbekistan and Turkmenistan are the countries who have to deal with the consequences of water use policies during Soviet times."  
Farmers and the general population alike neglect the importance of water saving as water prices remain relatively cheap. For example, "furrow irrigation is still the main [irrigation method used] in our country," Tashkent-based climatologist Erkin Abdulahatov told The Diplomat. "We've been talking about drip irrigation or sprinkler irrigation or other methods for years, but it's not really seen in practice for now."
Taganova also noted the problem of leaky pipes, which lead to the loss of significant amounts of water before it ever reaches crops. 
"So, a lot of attention needs to be paid on not only repairing infrastructure, but also investing in water efficient infrastructure technologies in order to safeguard the water and use it more efficiently," Taganova concluded. 
Apart from that, certain agricultural areas of Turkmenistan and Uzbekistan are far away from rivers. Man-made canals that deliver water to those areas are not always concreted. That means water not only evaporates into the air but also sinks into ground, leading to additional significant water loss, explains Sharipova.
The news about Qosh Tepa's construction has caused noticeable anxiety in downstream Uzbekistan, while Turkmenistan has remained silent. "80 percent of Uzbekistan's water comes from transborder rivers – Zarafshan, Amu Darya, and Syr Darya. Annually, we consume about 50 cubic kilometers of water, of which about 20 cubic kilometers comes from the Amu Darya. In 2022, we used 18 cubic kilometers of Amu Darya water," explained Abdulahatov. "In recent years water flow from rivers  has decreased and is approaching 40-42 cubic kilometers."
Population growth has increased demand for water to grow food. The population of Uzbekistan soared from 20 million in 1991 to 36 million as of 2023. The country's annual birth count increased from half a million in 2000 to almost a million last year.
In addition, increased water absorption and water evaporation due to climate change have exacerbated the water shortage in the country. "At the end of the last century or at the beginning of this century, on average, up to 3 percent of water evaporated in natural reservoirs. Now this indicator has exceeded 10 percent," Abdulhatov said.
The biggest problem, however, goes beyond water depletion for agriculture. Inefficient use of the Amu Darya and Syr Darya's water for cotton production under the Soviet regime and its continuance after Central Asian states gained independence caused the Aral Sea, once the fourth largest lake in the world, to essentially vanish. "The desiccation of the Aral Sea led to salinization of the soil within the irrigated areas of the basin and a higher level of salinity of the groundwater, coupled with the salinization of belonged rivers and channels," explained Taganova. "Due to increasing water salinity, the Aral region's local population (in Kazakhstan, Uzbekistan, and Turkmenistan) face different respiratory problems and accumulation of kidney stones.
"An increased frequency of storms carries 43 million tons of dust and sand from the dried-out sea floor through the air yearly. Accordingly, the rate of dust deposition is among the highest in the world and contains large amounts of salts and pesticides." 
With 15-20 percent of the Amu Darya's volume to decrease due to the Qosh Tepa canal's construction, salination and the volume and frequency of dust storms are expected to increase across the region. 
On a positive note, when green areas emerge in northern Afghanistan as water starts flowing through the Qosh Tepa canal, it will at least reduce dust storms that are brought by the Afghan wind to the southern parts of Surkhandarya region in Uzbekistan. 
The Lower Amu Darya State Biosphere Reserve (listed by UNESCO), which is at the northern part of the lower reaches of the Amu Darya, will be one of the most ecologically affected places if Qosh Tepa canal is completed. Locals there mostly survive on farming and livestock, meaning with less water there will be fewer jobs and more out-migration. The reserve is also a natural habitat for Bukhara deer (also known as Bactrian deer), included by UNESCO in the International Union for Conservation of Nature Red List of Threatened Species. 
In late March 2023 an Uzbek delegation visited Afghanistan to hold  talks with the Taliban, but the following official statement made by the Ministry of Foreign Affairs did not directly refer to any negotiations on the Qosh Tepa project. Later, in June, Minister of Agriculture and Water Resources Shavkat Hamroyev answered local journalists' inquiries about the Kabul visit only to say that historically and based on today's water formation, Afghanistan has a right to withdraw water from the Amu Darya. Hamroyev also said that a working group will soon visit Kabul again and work on the canal's construction together. 
As the construction of the Qosh Tepa canal progresses, negotiation between Afghanistan and downstream Uzbekistan and Turkmenistan on the Amu Darya's water allocation is becoming more and more important. Neither Uzbekistan nor Turkmenistan has recognized the Taliban regime, officially, and Afghanistan is not signatory of any transboundary water treaties with Central Asia. Not only does Kabul claim hydro hegemony in future water allocation negotiations, but Taliban's "assurances on security" also weigh heavily, given the fear of transnational extremism . 
"Afghanistan could have a more say in regards to how it utilizes the water of Amu Darya and how much it decides to release to downstream countries, but Turkmenistan and Uzbekistan also have quite a big leverage to negotiate with Taliban regime and have pressure points on Taliban," said Taganova. "Specifically, both countries supply electricity to Afghanistan, which I believe accounts for roughly around 80 percent of the entire country's energy supply, and many trade routes [travel] past Uzbekistan and Turkmenistan. Some of the exports of Afghanistan go through these routes, so most [Central Asian] countries will have quite some power to negotiate back with the Taliban in the future."