Former Malaysian Prime Minister Muhyiddin Yassin Acquitted of 4 Graft Charges
Muhyiddin's legal victory came just days after his Malay nationalist Perikatan Nasional (PN) bloc further expanded its influence during fiercely contested state elections.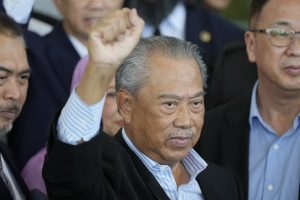 Former Malaysian Prime Minister Muhyiddin Yassin was acquitted by the high court of four corruption charges on Tuesday, just days after his opposition bloc expanded its influence in local elections.
Muhyiddin, 76, said the high court ruled in favor of his application to overturn four charges of abusing his power to obtain 232.5 million ringgit ($50 million) in bribes for his Bersatu party. He was charged in March and still faces three charges of money laundering involving 200 million ringgit ($43 million).
"From the start, I have said that these are politically motivated charges. I have not done anything wrong … and today it has been proven that these were false allegations," he told reporters outside the courthouse.
His lawyer, Hisyam Teh Poh Teik, said the court agreed with the defense contention that the charges were defective legally and lacked details on how the offenses were committed. With the collapse of the four main charges, Teh said they were confident the other three money-laundering charges would not stand.
The graft charges revolved around the award of contracts to selected ethnic Malay contractors allegedly in return for bribes, and approving an appeal by a business tycoon over the cancellation of his tax exemption.
Prosecutors said they would appeal the court's decision.
Muhyiddin is the second former leader charged with crimes after ex-Prime Minister Najib Razak, who received multiple charges after losing a 2018 general election. Najib began a 12-year prison term last year after losing his final appeal in the first of several graft trials.
Muhyiddin's legal victory came just days after fiercely contested state elections returned the status quo. But his Malay nationalist Perikatan Nasional (PN) bloc, which includes a conservative Islamic party, further expanded its influence among the country's majority Malays in an outcome that deepened Malaysia's ethnic polarization.
Prime Minister Anwar Ibrahim has rejected accusations that the charges against Muhyiddin were politically motivated and noted the investigations were carried out independently by the anti-graft agency. After taking power in November, Anwar ordered a review of government projects approved by past administrations including Muhyiddin's government from March 2020 until August 2021. Anwar has said many of the projects were overpriced and awarded without tenders.
Two senior members of Muhyiddin's Bersatu party were also charged with graft. The anti-graft agency also froze Bersatu's party accounts.
Anwar and Muhyiddin fought for the premiership after November's general election produced a hung parliament. Muhyiddin's PN bloc received stronger-than-expected support from Malays, who account for two-thirds of Malaysia's 33 million people. The king later appointed Anwar as prime minister after he formed a unity government with former rivals.