Malaysia Threatens Prison for Possession of LGBTQ-Themed Swatch Watches
The ban comes in the midst of a conservative culture war that has targeted the country's gay, lesbian, bisexual, and transgender community.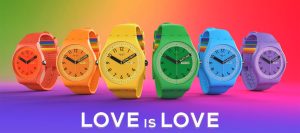 Anyone buying or selling LGBTQ-themed Swatch watches could face arrest and up to three years in prison, Malaysia's government said yesterday, the latest sign of growing official intolerance toward the country's LGBTQ community.
In a post on its official Facebook page, the Malaysian Ministry of Interior said that the Swiss watchmaker's limited series of rainbow-colored watches had been prohibited  for "promoting, supporting, and normalizing the LGBTQ+ movement that is not accepted by the general public in Malaysia."
Anyone who "prints, imports, produces… or has in his possession" such items now faces a jail term of up to three years, the ministry said in its statement. Wearing or distributing the watches also carries a fine of up to 20,000 Malaysian ringgit (around $4,363).
In May, Malaysian authorities raided 11 Swatch outlets and confiscated 164 watches from its Pride Collection, which features watches in a choice of six colors, matching those on the gay pride flag, which have two rainbow loops on their straps. The collection was reportedly brought to the attention of authorities via a social media post that associated the collection with the British band Coldplay and its support for the LGBTQ rights.
Swatch later filed a lawsuit in response to the raids in July, claiming that the Malaysian government had damaged the company's reputation.
"Without a doubt, the seized watches did not and are not in any way capable of causing any disruption to public order or morality or any violations of the law," Swatch said in the lawsuit.
In Malaysia, same-sex sexual activity remains prohibited under Section 377 of the country's colonial-era Penal Code, which criminalizes acts of "carnal knowledge against the order of nature" and "gross indecency." These provisions carry a maximum penalty of 20 years' imprisonment and whipping.
While open celebration and advocacy of LGBTQ rights has become more open and visible in Malaysia in recent years, they have become an important front in a culture war that conservative forces have waged on Prime Minister Anwar Ibrahim.
This culture war has grown especially heated in the run-up to tomorrow's crucial state elections, which will see voters go to the polls in Kedah, Kelantan, Negeri Sembilan, Penang, Selangor, and Terengganu.
During the campaign, the opposition Perikatan Nasional (PN) coalition, and particularly its main component, the Islamic party PAS, has attempted to undermine Anwar's government by positioning itself as the true guardian of Islam and ethnic Malay rights. In so doing, it has depicted LGBTQ rights as a Western import that is undermining traditional Malay and Islamic values, with some PN lawmakers even going so far as to suggest that homosexuality, bisexuality, and transgenderism be classified as mental disorders.
This has made it difficult for Anwar's administration to take a "soft" line on LGBTQ-related culture war issues, lest it attract the toxic taint of being "against Islam." This explains the recent series of ginned-up outrages involving LGBTQ issues that threaten a vulnerable minority. Most recently, the Malaysian authorities canceled the Good Vibes music festival after the lead singer of rock band The 1975  publicly criticized Malaysia's laws on stage and then kissed a male bandmate during a performance.
In a statement, the festival's organizers said that the decision came after an "immediate cancellation directive" from Malaysia's Ministry of Communications and Digital, as part of its "unwavering stance against any parties that challenge, ridicule, or contravene Malaysian laws."