Typhoon Khanun Forecast to Turn Back to Southern Japanese Islands
The typhoon already injured 41 people and knocked out power for nearly a third of homes on Okinawa. Now it's expected to return.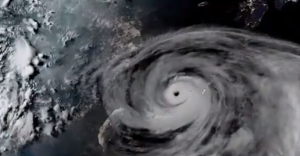 The typhoon that damaged homes and knocked out power on Okinawa and other southern Japanese islands this week was slowly moving west Thursday but is forecast to make a U-turn and dump even more rain on the archipelago.
Typhoon Khanun, now in the waters between China and Japan's southwestern islands, is expected to slow to nearly stationary movement before a weakening high-pressure system nearby pushes it to turn east Friday, the Japan Meteorological Agency said.
That forecast would largely spare China, where rain from an earlier typhoon caused deadly flooding and damage this week around the capital, Beijing.
Khanun, which means jackfruit in Thai, had sustained surface winds of 162 kph (100 mph) with higher gusts Thursday evening. Up to 20 centimeters (7.8 inches) of rainfall were expected in the Okinawa region by midday Friday, JMA said.
In Okinawa, the typhoon injured 41 people, three of them seriously, according to the prefectural government. A 90-year-old man was found under a collapsed garage in Ogimi village, and his death is being investigated as possibly caused by the typhoon's high winds.
The storm at one point left nearly 220,000 homes, or about 30 percent, of those in Okinawa, without power, according to the Okinawa Electric Power Company. Also, some 7,000 homes on Amami, an island northeast of the Okinawan islands, were without power, according to the Economy and Industry Ministry.
Most remained without power Thursday as the storm hampered recovery work. Hospitals that lost power were only receiving emergency cases.
Wind warnings for the main Okinawa Island were lifted Thursday, though moderate winds and rain were continuing to affect the island. Public transit systems that closed during the storm resumed operations, and some flights in and out of Naha Airport resumed later Thursday.
The airport was packed with passengers who had been stranded since earlier this week. About 80 Hong Kong travelers had been stuck in a hotel where they suffered a power outage for about half a day on Wednesday, said Steve Huen, executive director of Hong Kong-based travel agency EGL Tours.
Twenty-six were able to fly back on Thursday, while the rest, whose original flights over the past two days were canceled due to the typhoon, will fly home Friday, Huen said.
China and Taiwan were also making preparations for the storm. Though the eye is forecast to stay offshore as the typhoon turns east, winds exceeding 90 kph (56 mph) extended an average radius of 100 kilometers (60 miles), Taiwan's Central Weather Bureau said Thursday afternoon.
China's National Meteorological Center said the typhoon was in the East China Sea about 335 kilometers (208 miles) southeast of Yuhuan City on Thursday afternoon and was expected to bring strong wind and rain to the region's coast within hours. The typhoon's intensity would gradually weaken as it is expected to turn east toward Japan overnight, the meteorological center said.
China's weather authorities earlier issued rainstorm alerts for the eastern coast, from Jilin province, near the border with North Korea, to Zhejiang province, south of Shanghai. Ships were called into port and passenger ferry services halted in Zhejiang province.
Light rain was falling in the Taiwanese port city of Keelung, near Taipei, and coast guard personnel were warning people to stay off the beaches. The island shut its financial markets Thursday, some of its northern cities shut offices and schools, and offices closed in anticipation of worsening weather on the northeastern coast.