What the 'Korean Wave' Can Teach Thailand About Soft Power
The country should draw inspiration from South Korea's resounding orchestration of cultural ascendancy over the past two decades.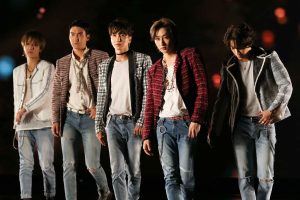 In the intricate landscape of Southeast Asia's evolving geopolitical dynamics, Thailand finds itself at a crossroads, seeking to maintain its neutrality amid the escalating great power rivalry between China and the United States. To achieve this goal, the cultivation of soft power will play a pivotal role in allowing the nation to deftly navigate the currents of international diplomacy while preserving its autonomy.
Examining the 2022 Global Soft Power Index, a striking revelation emerges: Thailand, though securing second spot within the Association of Southeast Asian Nations (ASEAN), finds itself absent from the global top 30, trailing notably behind regional frontrunner Singapore. This discrepancy prompts the question of how Thailand has approached the question of soft power, and suggests some potential ways that it can enhance its soft power appeal. In particular, Thailand stands to glean valuable lessons from South Korea's remarkable cultural ascent.
Over the past few decades, South Korea's pop culture has emerged as a formidable wellspring of soft power. While audiences may be familiar with luminaries like BTS or standout cinematic creations like "Parasite," the ascendancy of Korea's cultural influence and its consequential soft power surge is far from serendipitous; instead, it has been underpinned by meticulous political forethought.
Dubbed the "Korean wave" or "Hallyu," this phenomenon commenced in the late 1990s, when Korean TV, cinema, and music gained acclaim in other Asian countries such as China and Japan. As trailblazing companies like Samsung significantly expanded their consumer electronics presence beyond East Asia after 2008, they unwittingly brought forth a surge of Korean pop culture, a tide further propelled by the sweep of the internet. YouTube emerged as the bridge between K-Pop and global audiences, while the proliferation of streaming services provided fertile ground for the dissemination of Korean television and film.
From Kim Young-sam to Yoon Seok-yeol, successive Korean administrations have orchestrated strategic policies to amplify the cultural industry and globalize Korean culture, encompassing strategies from boosting exports to addressing anti-Korean sentiment. Unified by a shared understanding of the culture industry's potential for economic growth, each administration tailored policies to contemporaneous needs, mirroring Korea's economic development blueprint of the 1970s. These efforts, initially led by the Ministry of Culture and expanded through collaboration with diverse government ministries, specialized institutions, corporations, and academia, have propelled Korea's cultural ascendancy on the world stage while fostering reciprocal growth through cross-border cultural exchanges.
The proactive promotion of Korean culture by the government has not only bolstered the country's national image and influence; it has also fostered a positive global perspective of Korean identity. In addition to the promotion of Korean pop culture and traditional art styles, this endeavor encompasses initiatives like "Kimchi Diplomacy" as cuisine promotion and the propagation of Korean language learning abroad. By strategically cultivating these aspects of Korean culture, South Korea has created a robust toolkit for shaping international perceptions, and has the potential to wield this constructive image for diplomatic purposes. In this sense, Korea's cultural ascendancy neatly exemplifies the concept of soft power.
Much like South Korea's successful navigation of its complex geopolitical position, Thailand should consider harnessing its cultural policy to bolster its soft power in the face of looming diplomatic challenges. Just as South Korea embraced "Kimchi Diplomacy," Thailand has pioneered gastro-diplomacy through its Global Thai campaign since 2002. This initiative, focused on expanding the presence of Thai restaurants worldwide, not only showcases Thailand as a culinary destination but also stimulates economic opportunities in the food and beverage industry. As exemplified by Global Thai, Thailand possesses the potential to strategically promote its culture abroad, thereby enhancing its soft power.
Another avenue for leveraging Thailand's cultural industry for soft power lies in its Boys' Love (BL) dramas, colloquially known as Y shows, which depict male-male relationships. These dramas have gained significant traction as a cultural export, particularly for their unique portrayal of same-sex love. Despite being initially niche, BL dramas have garnered substantial popularity in Thailand and abroad, especially in China and Japan, and are gaining traction in other Asian countries like South Korea, the Philippines, and Vietnam.
Although the genre conflicts with traditional norms in Thailand and across many Asian societies, BL dramas possess substantial cultural and political potential. The Thai government has recognized this potential and has initiated policy measures, such as tourism campaigns based on BL dramas. Considering Thailand's relatively high levels of acceptance of LGBTQ individuals, this avenue could be harnessed for soft power capital, particularly in Western societies where advancing LGBTQ rights is currently a prominent political cause.
Furthermore, Thailand possesses significant untapped potential for expanding policies centered on cultural exports, which could draw upon assets like Muay Thai (Thai kickboxing) or harness the already robust tourism and service industries to project a friendly and progressive international image. Nonetheless, surmounting considerable internal challenges is imperative to achieve this objective. Recent political instability and illiberal trends have considerably tarnished Thailand's global standing. To progress, a more comprehensive and well-coordinated approach to cultural policy will be necessary.
In addition to creating a national strategy for cultural exports, fostering collaboration among a diverse range of participants and stakeholders, akin to South Korea's model, will be of paramount importance. Only through concerted efforts among the government, institutions, civil society, and the private sector can Thailand's cultural industry be propelled to the ranks of Asian champions like South Korea. As illustrated by the cases of Thai cuisine and BL dramas, the potential undoubtedly exists; it is now up to Thailand's new government to capitalize on this potential.