South Korea's Constitutional Court Strikes Down Law Banning Anti-Pyongyang Leafleting
The law was crafted by the previous liberal government in Seoul, which desperately pushed for inter-Korean engagement.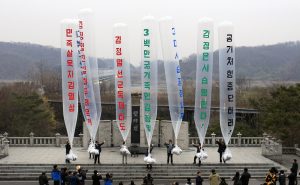 South Korea's Constitutional Court on Tuesday struck down a 2020 law that criminalized the sending of anti-Pyongyang propaganda leaflets to North Korea, calling it an excessive restriction on free speech.
The ruling came in response to a complaint filed by North Korean defector-activists in the South. They included Park Sang-hak, who has been a frequent target of North Korean government anger for his years-long campaign of flying leaflets across the border with balloons.
Park did not immediately comment on the court's decision, which immediately invalidated the law. He and other activists could still be blocked by police in situations where their leafleting activities are seen as risking the safety of South Koreans living in border areas, the court said.
The law was crafted by the previous liberal government in Seoul, which desperately pushed for inter-Korean engagement. It made leafleting a crime punishable by up to three years in prison or a fine of 30 million won ($22,000).
The law passed in December 2020, six months after the North expressed its displeasure over the leaflets by blowing up an inter-Korean liaison office in the North Korean border town of Kaesong.
Critics in South Korea accused then-President Moon Jae-in of appeasing North Korea by cracking down on the leaflet launches. The Moon administration countered by saying that the balloons used to carry the propaganda materials were a violation of no-fly zones agreed to in a 2018 pact with North Korea.
South Korea's Unification Ministry promoted the law when the liberals were in power but reversed its stance to align with the views of the current conservative government that took office last year, saying that outlawing leafleting went too far. But the ministry, which handles inter-Korean affairs, still would prefer for Park and other activists to stop flying pamphlets into North Korea.
"For the safety of residents in border areas and for stably managing inter-Korean relations, it would be ideal to refrain from sending leaflets to North Korea," a ministry official who spoke on condition of anonymity told reporters during a background briefing Tuesday.
The court's justices voted 7-2 in favor of nullifying the law, concluding that it excessively restricts freedom of expression in a broad range of activities and "mobilizes the state power of punishment when that should be a last resort."
Citing the tensions between the rival Koreas, the court acknowledged that the law was based on legitimate concerns about the safety of South Korean residents in border areas. The majority opinion said the government still would have the ability to keep the activists in check, including police monitoring and intervention, but that it would be wrong to hold the activists responsible for damage and danger directly caused by North Korean provocations.
Park and other defectors from the North for years have used huge helium-filled balloons to launch leaflets criticizing the leadership of North Korea's authoritarian ruler, Kim Jong Un, his nuclear weapons ambitions, and the country's dismal human rights record. The leaflets are often packaged with U.S. dollar bills and USB sticks containing information about world news.
In his latest launch, Park said he flew 20 balloons carrying 200,000 leaflets and 1,000 USB sticks from a South Korean border island last Wednesday.
North Korea is extremely sensitive about any outside attempt to undermine Kim's leadership as he maintains tight control over the country's 26 million people while severely restricting their access to foreign news.
In 2022, North Korea claimed that the COVID-19 outbreak in the country had been caused by leaflets sent from South Korea. "If the enemy persists in such dangerous deeds as fomenting the inroads of virus into our Republic, we will respond to it by not only exterminating the virus but also wiping out the south Korean authorities," Kim Yo Jong, the powerful sister of the North Korean leader Kim Jong Un, threatened at the time.
Aside from detonating the liaison office in 2020, North Korea also in 2014 fired at propaganda balloons flying toward its territory. South Korea then returned fire, but there were no casualties.