China to Increase Nuclear Arsenal
Plus, an update on the Yunnan quake, Gao Zhiseng's release, and the WeChat crackdown. Friday China links.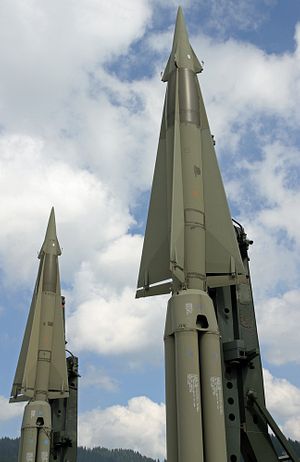 Your end of the week China links…
The PLA plans to "appropriately increase the number of nuclear warheads" in its arsenal as a bid to increase China's nuclear deterrent, South China Morning Post reports. The report cites official military documents that serve as teaching materials for all branches of the PLA. In addition to promising an increase in China's nuclear weapons, the document also says that China's "strategic missile command will strengthen its conventional missile force by increasing the number of conventional warheads and developing more powerful non-nuclear warheads." China's current nuclear arsenal is still quite small compared to those of Russia and the U.S. — China has about 250 deployed nuclear warheads, compare to Russia's 4,500 and the United States' 2,100. However, Russia and the U.S. have been scaling their stockpiles down in recent years, while China continues to expand its arsenal.
In other news, the death toll from the August 3 earthquake in Yunnan continued to rise this week. As of Friday, Xinhua reported that 617 people had died in the quake, with another 112 still missing. Over 3,000 were injured. Aftereffects of the quake — landslides and flooding — continue to threaten lives and homes. Of particular concern, a lake that formed when landslides from the quake blocked a local river has been rising rapidly, at a rate of about 3.8 meters per day. The lake has already flooded almost 400 homes and forced the evacuation of over 4,000 people.
Reuters reports that human rights lawyer Gao Zhisheng has been released from prison after three years. Gao was held on charges of subverting state power, but human rights advocates said he was being unjustly detained (and even tortured) for his efforts to defend religious freedom in China. Gao's wife and children, who currently reside in the U.S., have actively lobbied for the Obama administration to push for Gao release. Due to their efforts, Gao's case attracted widespread attention in the U.S., becoming the subject of several congressional hearings. U.S. officials, including former Secretary of State Hillary Clinton, had called for his release by name. In response to the news of Gao's release, a State Department spokesperson "welcomed the news" and also called for "Chinese authorities to allow him to leave China to be reunited with his family in the United States if he so chooses."
Finally, a long-dreaded crackdown on China's instant messaging (IM) services, including the popular WeChat, has come to pass. Xinhua announced Thursday that China would require all users of IM platforms to register their accounts using their real names. Similar rules have been in effect for years for other social media platforms, including China's Twitter-like microblog services. A government spokesperson said that the crackdown was necessary because "a few people are using the platforms to disseminate information on terrorism, violence and pornography as well as slander and rumors."
Back in March, David Wertime of Tea Leaf Nation and Foreign Policy noted the beginning stages of the crackdown on WeChat — the deletion of popular accounts used to share news or opinion articles. Wertime sees the campaign against WeChat as part of a cycle in Chinese social media: a site is targeting by censors once it becomes too popular, and then it begins to deflate as users move to a newer, and less regulated, alternative. Once the alternative site becomes large enough, it too becomes a target for censors, and the cycle repeats. A few years ago, WeChat was the hot new alternative to Sina Weibo and other microblogs; now WeChat will likely lose some of its followers to the social media platform of the future.