China-Japan-South Korea Relations Inching Forward
A trilateral foreign ministers' meeting, the first in nearly three years, is scheduled for this March.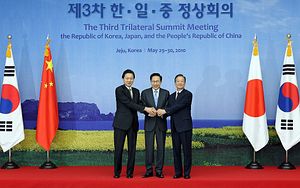 Yesterday, China, Japan, and South Korea held discussions at the deputy foreign minister-level in Seoul, setting the stage for a full-fledged ministerial meeting later. The talks apparently went well — afterward, a Chinese Foreign Ministry spokesperson confirmed that a trilateral foreign ministers' meeting is scheduled for "late March." Japanese media gave a more exact date: March 20-21.
China, Japan, and South Korea used to hold regular trilateral discussions, including an annual summit between their top leaders. The trilateral platforms were effectively abandoned beginning in 2012, when China-Japan relations took a sharp nosedive after the Japanese government nationalized the disputed Senkaku/Diaoyu Islands. Trilateral discussions at the deputy-minister level resumed in September 2014, when Chinese Vice Foreign Minister Liu Zhenmin met in Seoul with South Korean Deputy Foreign Minister for Political Affairs Lee Kyung-soo and Japanese Deputy Foreign Minister Shinsuke Sugiyama.
Those three gathered again in Seoul on Wednesday for the grandly named "10th Trilateral Senior Foreign Affairs Officials Consultation among China, Japan and the ROK." The major purpose of the talk was to pave the way for a meeting among foreign ministers, the first since May 2012. "If the trilateral foreign ministers' meeting is held soon, it will undoubtedly give us the opportunity to re-establish the groundwork for trust-building and common prosperity," Deputy Foreign Minister Lee said after Wednesday's talks.
According to Foreign Ministry spokesperson Hong Lei, Vice Foreign Minister Liu said the upcoming ministerial meeting is "a hard-won result that should be cherished by all." China "sets great store by this foreign ministers' meeting," Hong said, "and hopes that the three countries can hold this meeting in the spirit of actively pushing forward cooperation and not shying away from problems."
However, Hong declined to comment on the possibility of a summit between Chinese President Xi Jinping, Japanese Prime Minister Shinzo Abe, and South Korean President Park Geun-hye. Abe met briefly with both Xi and Park on the sidelines of last year's APEC summit in Beijing, but has not had a formal bilateral summit with either.
In a foreign policy speech delivered to Japan's Diet in February by Foreign Minister Fumio Kishida, he made clear that the ultimate goal is a leaders' summit. We "will endeavor to hold a trilateral meeting of foreign ministers at an early date with the hope that this will lead to a trilateral summit meeting," Kishida said.
The upcoming foreign ministers' meeting is another welcome sign of a easing tensions in Northeast Asia. Despite wide-spread angst over what wording Abe will use in his statement on the 70th anniversary of the end of World War II, there has been positive progress recently in both China-Japan ties and Japan-South Korea ties.  China and Japan in particular have made good headway on a maritime and aerial communication mechanism and the two countries plan to hold their first security dialogue in four years later this month.