Suspended Sri Lankan Port Project Complicates Sirisena's Trip to China
President Sirisena's first state visit to China risks being overshadowed by the debate over Colombo Port City.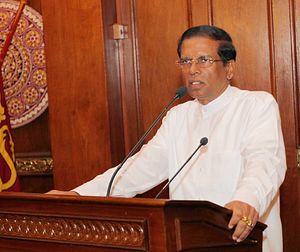 Sri Lankan President Maithripala Sirisena is headed to China this week, both to pay a state visit to Beijing and to attend the annual Boao Forum in Hainan. It will be Sirisena's first chance to interact directly with China's top leaders since he came into office in January, after running in part on a promise to scrutinize foreign (including Chinese) investment in Sri Lanka.
That promise has played out in the strange saga of Colombo Port City, a $1.4 billion project funded by a Chinese company. Sirisena's government said it would "reassess" the deal back in January, citing concerns over the environmental impact as well as the original agreement to cede or lease 108 hectares of land to the Chinese construction firm involved, China Communications Co. Ltd. (CCCC). On February 5, Colombo then announced that the project would move forward after all – saying its own environmental study cleared the construction. It's no coincidence that the resumption of the project came as a high-ranking Chinese official was visiting Sri Lanka.
But a few weeks later Sirisena's government flip-flopped again. Colombo has since asked CCCC to halt construction until the Sri Lankan government completes a probe into alleged wrong-doing in the awarding of the contract. Sirisena's government says the previous administration ignored environmental rules and did not follow proper procedures in approving the project. Former President Mahinda Rajapaksa rejected that claim in an interview with South China Morning Post, telling the paper that "it's a very viable project and all relevant studies were done."
The suspension represents a major blow for the project, which China was holding up as a shining example of its bid to build a Maritime Silk Road. Xi Jinping himself oversaw the inauguration of the Port City project during his September 2014 visit to Sri Lanka. Beijing has staunchly defended the project, saying it received all necessary government approvals. "All the cooperation agreements [with Sri Lanka] were signed based on consensus through consultation," Chinese Foreign Ministry spokesperson Hua Chunying told reporters on Wednesday.
She added, "We believe that the government of Sri Lanka will act in its long-term interests, advance the practical cooperation with China, properly handle relevant issues, keep Chinese companies interested in investing in Sri Lanka and protect their lawful rights and interests." Chinese media played up that final point earlier this month, reporting on the financial losses of CCCC due to the work stoppage (an estimated $380,000 per day).
Assistant Foreign Minister Liu Jianchao, who visited Sri Lanka in February, also defended the investment project. It will "meet the international and domestic demand of Sri Lanka and can bring tangible benefits to the Sri Lankan people," Liu said. He also emphasized China's belief that "the new government of Sri Lanka will stay firmly committed to its friendly policy towards China."
Sri Lanka's hesitation over the Colombo Port City project does not mean an end to Sri Lanka-China cooperation. China is too important a partner, especially economically, for Colombo to completely turn away from. The waffling over the project's fate makes it clear that Sirisena's government does not want to alienate China, but neither is it willing to back down from key concerns over the structure of the deal.
One official told Reuters that the main sticking point was the deal to cede ownership of the land to China, a question Sirisena will discuss with leaders during his visit. Sri Lanka has identified that issue as an infringement on national sovereignty. Other analysts have suggested that Sri Lanka might agree to move forward with this flagship project in exchange for relief from previous loans issued by China.
Both sides will be looking to resolve the issue during Sirisena's visit so that they can move China-Sri Lanka relations beyond the increasingly complicated Port City dispute.