Japan Punishes North Korea For Reporting Delay on Abductees
Japan has heard nothing from Pyongyang about its internal investigation into the fates of Japanese abductees.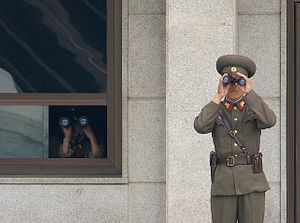 Unsatisfied with North Korea's cooperation on the sensitive issue of investigating the fates of abducted Japanese nationals, Japan announced on Tuesday that it would extend unilateral sanctions against North Korea for another two years.
Specifically, Japan has determined that Pyongyang's delay in reporting on its internal investigation regarding the fates of Japanese citizens abducted decades ago is unacceptable.
According to Reuters, Japan's Chief Cabinet Secretary Yoshihide Suga noted that Japan would continue to press North Korea to continue to pursue its internal probe and eventually return the abducted Japanese citizens.
Last year, Japanese Prime Minister Shinzo Abe's government generated diplomatic momentum with North Korea over the abduction issue.
North Korean and Japanese representatives met to discuss the issue in Stockholm, Sweden. That meeting resulted in the announcement that North Korea would investigate the issue internally exchange for limited sanctions relief from Japan.
The sanctions relief was specifically focused on issues like North Korea remittances and travel restrictions. The sanctions were not lifted immediately but were scheduled to begin rolling back on April 13, 2015 — a date roughly two weeks from Tuesday's announcement.
As Markus Bell, a researcher working on the abduction issue noted in a piece for The Diplomat last year, broaching the abduction issue with North Korea was a politically risky move for the Abe administration, which opened itself up for scrutiny at home.
The government's decision this week to extend sanctions is an attempt for the Abe government to remind North Korea that while Japan can offer incentives for good faith cooperation, it can also apply pressure when necessary.
According to the BBC, comments by Japanese Foreign Minister Fumio Kishida suggest that Japan remains unaware of any progress made by North Korea's internal investigative body.
"We still have not received a report from North Korea. I have not heard any specific movements about the issue up to today," Kishida said.
"We will urge North Korea to conduct its investigation swiftly and report its findings promptly and honestly," he added.
The North Korean government is alleged to have abducted several Japanese citizens in the late 1970s and early 1980s. The Japanese government officially alleges that 17 of its citizens were abducted over that period while North Korea acknowledges the abduction of 13 Japanese citizens.
North Korea and Japan do not maintain official diplomatic ties.