China's Stake in the Saudi Arabia-Iran Clash
China sends an envoy to Riyadh and Tehran to discuss the latest flare-up in tensions.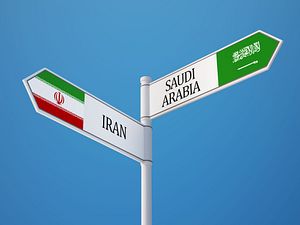 China is watching the growing tensions between Saudi Arabia and Iran nervously, hoping not to jeopardize relations with either of the two major oil exporters. Beijing is even taking tentative steps to try and ease the situation by sending a diplomatic envoy to both Riyadh and Tehran, though China's preference is to steer far clear of the sectarian tensions in the Middle East.
On January 2, Saudi Arabia executed a prominent Shia cleric, Nimr al-Nimr; angry protestors in Iran then attacked the Saudi embassy, setting it ablaze. After that, Saudi Arabia severed diplomatic relations with Iran, and Somalia, Bahrain, Djibouti, Qatar, and Sudan followed suit (the UAE also downgraded its relations with Iran). On Thursday, the stakes increased again, as Iran accused a Saudi-led coalition of hitting its embassy in Yemen during an air strike.
Amid the tensions, China sent Vice Foreign Minister Zhang Ming to Saudi Arabia and Iran for an exchange of views on the regional situation, according to Chinese Foreign Ministry spokesperson Hua Chunying. Hua said Beijing was also communicating with other relevant countries. "We hope that the situation in the Middle East will ease up," Hua added.
China has repeatedly expressed its concern that the current situation "may sharpen regional disputes," as Hua put it in a press conference on Monday. "We hope that relevant parties would enhance communication and act as one on the issue of counter-terrorism," she said.
China enjoys solid ties with both Iran and Saudi Arabia, a difficult feat given the two states' antipathy toward each other. Both, for example, signed on to join the Chinese-led Asian Infrastructure Investment Bank as founding members. Saudi Arabia and Iran both see increased ties with China as a useful counterweight to relations with the United States, though for very different reasons – Riyadh wants to avoid over-reliance on its major ally, while Tehran needs to find diplomatic support elsewhere given the enmity between it and Washington.
Saudi Arabia has traditionally been China's top source for oil imports, although it was briefly replaced by Russia for part of 2015. While energy underpins the China-Saudi relationship, Beijing wants to expand cooperation to other fields as well, including having Saudi Arabia join China's Silk Road Economic Belt and Maritime Silk Road.
Meanwhile, China has always been friendly to Iran, though Beijing acquiesced in UN sanctions designed to cripple Iran's nuclear program. With the successful negotiations of the Joint Comprehensive Plan of Action to end Iran's pursuit of nuclear weapons and roll back sanctions, China foresees a bright future for the relationship. China has also bumped up the amount of oil it imports from Iran, foreseeing the end of sanctions. Before 2012, Iran was China's third-largest source of crude; when sanctions took effect, it dropped to sixth place.
Ultimately, China's approach to the current tensions was neatly summed up by Hua: "Both Iran and Saudi Arabia are important and influential countries in the Middle East. The Chinese side would like to develop friendly and cooperative relations with the two." What that means in practice is that China cannot be seen to take sides in the current dispute, and indeed the Foreign Ministry has been careful not to address the cause of the tensions (lest it be seen to lay blame on either party), instead calling for both sides to show restraint.
Meanwhile, China, like other states who signed on to the UN Security Council's roadmap for Syrian peace talks, is concerned that the downgrade in the already-frosty Saudi-Iran relationship will derail fragile attempts to at long last resolve the Syrian civil war. Iran and Saudi Arabia have often refused to even sit down together for talks on Syria; it seems unlikely they will be willing to do so again, at least in the short term.
By coincidence, Beijing is currently hosting President Khaled Khoja (also known as Alptekin Hocaoglu) of the National Coalition for Syrian Revolutionary and Opposition Forces, fulfilling a promise to host both the Syrian government and opposition for talks as part of China's commitment to moving forward the peace process. Syrian Deputy Prime Minister and Foreign Minister Walid al-Moallem was in Beijing in late December. Khoja and Moallem both met with Chinese Foreign Minister Wang Yi. The outreach to  Khoja connects back to Zhang's trip to the Middle East, where he will doubtless try to convince Saudi Arabia and Iran to continue with the current blueprint for Syrian peace talks.