Back From the Dead: India and Russia Revive Talks Over Fifth Generation Fighter Jet
New Delhi and Moscow have restarted cost negotiations over the Sukhol/HAL Fifth Generation Fighter Aircraft.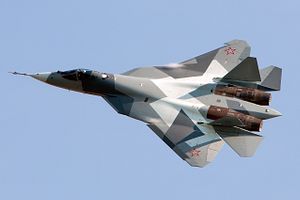 A high level Russian delegation arrived in New Delhi this week to recommence negotiations over the much-delayed Sukhol/HAL Fifth Generation Fighter Aircraft (FGFA) project, or as it known in India, the Perspective Multi-role Fighter (PMF), the Times of India reports.
"We have got the clearance to restart the talks. Accordingly, a Russian team is here and cost negotiations began yesterday," said a source within India's Ministry of Defense.
The Russian delegation is also negotiating with state-run Hindustan Aeronautics Limited (HAL) over joint production of 200 Kamov 226T light transport helicopters under the "Make in India" initiative and estimated to be worth $1 billion.
During the annual India-Russia summit, which took place in late December 2015 in Moscow, Russian President Vladimir Putin and Indian Prime Minister Narendra Modi failed to resolve the impasse over the PMF project.
I reported earlier:
While a preliminary $295 million design contract was signed in 2010, the final design contract under which both sides agreed to contribute each $6 billion for design and production and which also included a fixed order of 154 aircraft, a compromise on work share, a firm commitment to the number of single- versus double-seat aircraft still has not been signed to date. (Even though the head of Russia's United Aircraft Corporation (UAC) announced last June that a full R&D collaboration contract would be signed in 2015.)
After another round of negotiations, the PMF was supposed to be inducted into the Indian Air Force (IAF) by 2022, with India receiving 144 aircraft  for an estimated $30 billion. Russia was supposed to purchase 250 planes, however in late 2015, the Russian Air Force announced that it would only purchase one squadron of the new fifth generation fighter jet.
As I noted previously (See: "India and Russia Fail to Resolve Dispute Over Fifth Generation Fighter Jet"):
The announcement apparently finally made India lose faith in the program. Last month, Russia tried to salvage the joint project by making India an offer to cut down its financial contribution from 6 to $ 3.7 billion for three PAK FA T-50 prototypes and technology transfers.
This offer was also not received well by the Indian side, although a Russian media report claims that the financial details of the FGFA deal have been approved by the Indian Defense Acquisitions Council this January. Difficulties in finalizing a deal with French aircraft maker Dassault Aviation for the purchase of 36 fourth generation multirole fighter jets for the IAF may have made Indian officials reconsider the Russian proposition.
Whether the ongoing negotiations in New Delhi will lead to the signing of a full R&D collaboration contract remains to be seen. The prototype of this new aircraft, the Sukhoi PAK FA (Prospective Airborne Complex of Frontline Aviation) T-50 prototype, is currently undergoing flight tests in Russia. Russia's Defense Ministry announced in early 2016 that the new aircraft will be inducted in the Russian Air Force in 2017.