India and Russia Reach Agreement Over 5th Generation Fighter Aircraft
New Delhi and Moscow purportedly have finally agreed to a work-share agreement for the co-production of a new warplane.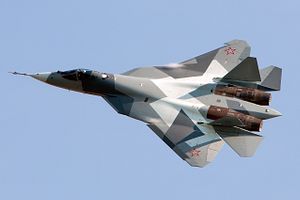 After repeated delays, India and Russia have agreed to a detailed work-sharing agreement for the joint production of design and production of a new fighter jet under the so-called joint Sukhoi/HAL Fifth Generation Fighter Aircraft (FGFA) project, known in India as the Perspective Multi-role Fighter (PMF), according to Indian media reports.
"From a preliminary document that was barely two dozen pages, we have agreed on a 650 page detailed plan that specifies exactly what all will be shared," an unidentified Indian defense official told The Economic Times. A final contract is expected to be signed in early 2017.
The talks between Indian and Russian defense officials were allegedly accelerated ahead of an Indian-Russian summit to be held in Goa on October 15. As I reported in January, Russian President Vladimir Putin and Indian Prime Minister Narendra Modi failed to reach an agreement during a bilateral meeting in Moscow in December 2015.
The FGFA/PMF project has been hampered by repeated delays since the start of the project in 2007 and the signing of a preliminary $295 million design contract in 2010. In 2015, Indian Defense Minister Manohar Parrikar decided to make one last push toward reaching an agreement with Russia. I explained:
Delays were caused by New Delhi and Moscow disagreeing over many fundamental aspects of the joint development project including work and cost share, aircraft technology, as well as the number of aircraft to be ordered. After evaluating the first PAK FA T-50 prototype (the Russian prototype of the PMF), the Indian Air Force (IAF) wanted more than 40 changes addressing, among other things, perceived weaknesses in the plane's engine, stealth, and weapon-carrying capabilities.
Russia announced in late 2015 that it would only induct a squadron (18-24 aircraft) of PAK FA fighter aircraft, and procure additional Sukhoi Su-35 aircraft instead. The original deal involved Russia procuring 250 and India 144 aircraft at a cost of around $30 billion by 2022. As a result, India threatened to abandon the project in its entirety. Russia in turn made a number of concessions including an offer to cut down its financial contribution from $6 to $ 3.7 billion for three PAK FA T-50 prototypes and substantial technology transfers.
Despite the agreeing on a work-share plan, problems with the FGFA/PMF project nevertheless will remain (See: "Russia Tests Components of New 6th Generation Fighter Jet on 5th Generation War Plane"):
Russia's defense industry is still facing technical (as well as financial) hurdles including designing a new engine for the aircraft, given that PAK FA prototypes are currently using engines also installed on Sukhoi Su-35S 4++ generation multi-role fighter jets, calling into question whether the PAK FA can genuinely be classified as an 5th generation aircraft
As part of the effort to salvage the defense deal, Moscow has also agreed to let Indian test pilots fly the PAK FA T-50 prototype currently undergoing flight trials in Russia. Hundreds of flight tests have taken place over the last months and the Russian Air Force expects the first aircraft to be inducted into its ranks in 2017. Nevertheless, many senior officers in the IAF remain skeptical about the aircraft's affordability and capabilities.