India and Russia to Ink Final Contract for Fifth Generation Fighter Jet
India is purportedly pushing to sign the main R&D design contract this year.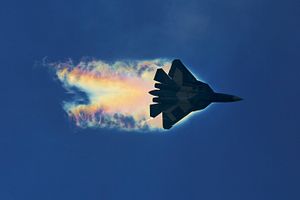 India has launched another attempt to ink an agreement with Russia over the design and production of a new fighter jet under the so-called joint Sukhoi/HAL Fifth Generation Fighter Aircraft (FGFA) project, or as it is known in India, the Perspective Multi-role Fighter (PMF), The Times of India reports.
Next to accelerating design and production of the PMF aircraft, India also wants to upgrade its future fleet of 272 Sukhoi-30 MKI to 'Super Sukhois' with Russia's help by 2017, fitting the aircraft with new weapons systems and more advanced avionics.
"The technical requirements should be finalized this year, with the contract being inked next year," according to an unnamed official. The Sukhoi-30 MKI are set to be equipped with advanced active electronically scanned array radars and long-range stand-off missiles.
Some progress in bilateral talks on the issue has been made, according to unnamed Indian defense officials. "Apart from resolving technical and cost issues, Russia has also agreed to allow IAF test pilots to fly its prototypes now," one source said.
As I reported in February, India and Russia agreed to restart discussions over the PMF. A preliminary $295 million design contract was inked in 2010. The original deal involved Russia procuring 250 and India 144 aircraft at a cost of around $30 billion by 2022. However, in 2015, the Russian Air Force notified India that it would only induct a squadron (12-16 aircraft).
As I explained previously (See: "India and Russia Fail to Resolve Dispute Over Fifth Generation Fighter Jet"):
The announcement apparently finally made India lose faith in the program. [In December 2015] Russia tried to salvage the joint project by making India an offer to cut down its financial contribution from 6 to $ 3.7 billion for three PAK FA T-50 prototypes and technology transfers.
The Sukhoi PAK FA (Prospective Airborne Complex of Frontline Aviation) T-50 is the Russian-made prototype of the PMF. The revival of the Indo-Russian talks on the PMF is part of a larger push of the Indian Defense Ministry to increase the number of fighter squadrons in the Indian Air Force.
As of now, the IAF can field 33 squadrons. That number is supposed to go up to 42 in the years ahead. This will be partially accomplished by increasing the serviceability rate of current combat aircraft, which for the Sukhoi-30 MKI has increased from 46 to 60 percent, according to the defense ministry.
"The aim is to achieve 75 percent serviceability. This has been done with an active tripartite dialogue among Russia, Hindustan Aeronautics (HAL) and IAF to ensure better availability of spares and maintenance for the Sukhois," a source told The Times of India.