Report: Chinese Coast Guard Vessels Take Over Spratly Island Feature From Philippines
Chinese coast guard vessels have expelled Filipino fishermen from Jackson Shoal in the South China Sea.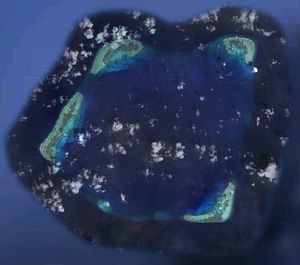 Five China Coast Guard vessels have taken over Jackson Shoal, a disputed feature in the Spratly Islands in the South China Sea some 140 nautical miles west of the Philippines' Palawan Island, according to a report by the Philippines Star.
Jackson Atoll is a popular fishing ground for Filipino fishermen, and is 33 nautical miles from Mischief Reef, a Spratly Island feature where China has carried out extensive land reclamation work and built an artificial island for possible military use.
The Philippines Star, citing sources, said that the Chinese vessels "chased" fishermen away as early as last week.
"These gray and white Chinese ships, around four of them inside the lagoon, prevented us from entering our traditional fishing ground," one of the fisherman told the Star. If confirmed, this incident would represent an increase in Chinese assertiveness in the South China Sea.
Recent reports that China had positioned surface-to-air missile systems in the Paracel Islands and is constructing over-the-horizon radar systems in the Spratly Islands have raised fears that Beijing is looking to flex its muscles in the South China Sea.
Gregory Poling, director of the Asia Maritime Transparency Initiative at the Center for Strategic and International Studies (CSIS), contextualized the incident amid broader developments in the South China Sea in recent weeks.
"What I can say now is that this is exactly the kind of thing we should expect to see more of as China's new facilities at Mischief and its other artificial islands allow it to extend a greater, more sustained presence across the Spratlys," Poling told The Diplomat.
China and the Philippines have faced off over Jackson Shoal in the past. In 2011, Filipino fishermen were warned away from the area by a Chinese People's Liberation Army Jianghu-V-class missile frigate, which also fired warning shots at the fishermen, according to reports.
China has over the years shifted from using naval assets to employing coast guard and maritime law enforcement vessels instead to assert its claims in the South China Sea, prompting some analysts to call these assets its "second navy."
Tensions between the Philippines and China have been high in the South China Sea for years, but particularly since 2012, when the two states had a highly visible stand-off over China's takeover of Scarborough Shoal.
In early-2013, Manila initiated an arbitration case against China over the nature of its maritime claims in the South China Sea. In October 2015, the Permanent Court of Arbitration ruled that it had jurisdiction to hear the case and will likely offer a decision on the merits of the Philippines' arguments in May 2016.