No, South Korea's New President Is Not 'Anti-American'
South Korea's new president may seek more independence within the alliance, but he's not anti-American.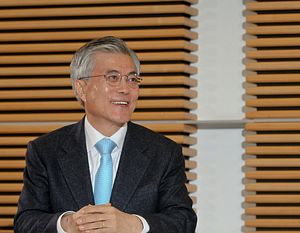 On Tuesday, South Korean's elected Moon Jae-in of the center-left Minjoo (Democratic) Party their new president. Moon will take the seat vacated by conservative Park Geun-hye, who was impeached amid an influence-peddling scandal late last year, leaving the presidency of the country in the hands of Park's prime minister, Hwang Kyo-ahn. Moon will be sworn into office on Wednesday.
Almost every article covering Moon in the mainstream western press immediately leads off with his sharp differences from his predecessor on North Korea policy. The New York Times noted that Moon "favors dialogue with North Korea." The Washington Post notes that Moon "wants to foster warmer ties with North Korea." The Wall Street Journal even described Moon as an "advocate for closer ties with North" in its headline covering the election result.
Reading this coverage, one may have missed that South Koreans, when they cast their votes on Tuesday, were mainly concerned with more mundane matters that occupy the minds of voters in most democracies: welfare, jobs, education, and good government ranked high on the list of priorities concerning voters.
To be sure, Moon does genuinely bring a different policy temperament on the North Korea issue. A protégé of former President Roh Moo-hyn, who in turn succeeded Kim Dae-jung, the progenitor of the Sunshine Policy of inter-Korean engagement, Moon is likely to look at the North Korean problem through a different lens. But, as the Washington Post's Josh Rogin suggested on Twitter, Moon cannot fairly be described as "anti-American."
Just days before the election, in an interview with the Post's Anna Fifield, Moon said "the alliance between the two nations is the most important foundation for [South Korea's] diplomacy and national security." And, if there were lingering concerns that Moon's coming-of-age during more difficult times in the U.S.-South Korea relationship, such as the Gwangju Uprisings, would color his view of the history of this alliance, which has had its fair share of ups and downs, he added that "South Korea was able to build its national security thanks to the U.S."
"I believe South Korea taking the initiative [on the North Korea issue] would eventually strengthen our bilateral alliance with the U.S." Critically, Moon has signaled that he is not looking to "go rogue," leaving the Trump administration and its own version of "Strategic Patience" (dubbed "maximum and pressure and engagement") in the dust: "I do not mean that South Korea will approach or unilaterally open talks with North Korea without fully consulting the U.S. beforehand."
What I find fascinating with Moon's election — which, to be fair, didn't catch many analysts off-guard given the collapse of South Korea's conservatives following the Park scandal — is the return of potential alliance policy coordination problems. The United States and South Korea, as little more than an accident of each of their democracies, have failed to simultaneously place governments in office that see perfectly eye-to-eye on North Korea policy.
Toby Dalton of the Carnegie Endowment for International Peace has graphically represented this drift between administrations. Broadly speaking, since the mid-1990s, when the Agreed Framework was concluded, the United States and South Korea have been divided in approach on engaging North Korea versus containing it.
With Trump and Moon, we'll broadly see something like the situation in the early-2000s, which was a turbulent time in the U.S.-South Korea-North Korea triangle indeed as Pyongyang withdrew from the Nuclear Nonproliferation Treaty after being caught in violation of the Agreed Framework. As the Bush administration declared North Korea part of the "Axis of Evil," South Korea's "Sunshine" approach was in full-swing. (The Kaesong Industrial Complex, the now-defunct inter-Korean special economic zone, was set up in 2002, just as the Agreed Framework formally disintegrated.)
What does this mean today? Well, we'll have to give Moon time to settle into office and observe how he chooses to proceed on a range of matters. One of the immediate tests will be how he chooses to react to the United States' deployment of the Terminal High Altitude Area Defense (THAAD) system. The missile defense system, which Moon had criticized strongly before declaring his candidacy for the presidency, was rushed in and deployed in the first days of May.
The system has also driven a wedge between China and South Korea, causing a precipitous decline in bilateral ties since a period of quick rapprochement in 2014 and 2015. If Moon reverts to his older position on THAAD, we may see a direct source of tension in the U.S.-South Korea relationship. Given the most recent data, however, this seems an unlikely course of action for the new president. (Moon told the Post he was remarkably on the "same page as President Trump" on North Korea, days after Trump suggested South Korea bear the cost for THAAD.)
Moon never went as far as Roh, who'd vowed to become the "first South Korean leader not to kowtow to the Americans" as a candidate. Bear in mind too that given the growth of the international sanctions regime around North Korea since the early-2000s and the clearer optics around Pyongyang's "rogue" status, Moon can't simply flick a switch to bring back Sunshine-era inter-Korean engagement. For anything close to Sunshine-esque engagement, Moon would have to carefully navigate South Korean domestic law necessitating accountability on human rights for aid to North Korea or and avoid violating international sanctions.
Instead, he seems poised to enter into frank discussions with the United States on North Korea policy, perhaps slightly pulling the United States away from containment back toward engagement. Indeed, the Trump administration may have to revisit the drawing board partly on its North Korea policy review, which both initiated and concluded while Hwang Kyo-ahn served as a caretaker leader.
With South Koreans having given Moon Jae-in the democratic mandate on Tuesday, the onus now will be on Washington to address the seemingly intractable problem of North Korea's nuclear and ballistic missile programs in good faith with Seoul. Moon doesn't seem to be entering office with the intent of rocking the boat; the United States should return the favor and demonstrate that this administration is one that can be a valuable partner for South Korea.