US Clears Sale of Advanced Missiles to Japan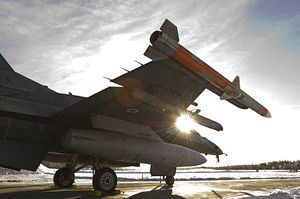 The U.S. State Department has approved a potential sale of AIM-120C-7 Advanced Medium-Range Air-to-Air Missiles (AMRAAMs) to Japan, according to a news release by the U.S. Defense Security Cooperation Agency (DSCA).
DSCA is the lead agency within the U.S. Department of Defense responsible for arms sales, training and maintaining military-to-military contacts with allied nations.
"The Government of Japan has requested a possible sale of fifty-six (56) AIM 120C-7 Advanced Medium Range Air-to-Air Missiles (AMRAAMs)," the statement reads. "Also included are containers, weapon support and support equipment, spare and repair parts, U.S. Government and contractor engineering, technical and logistical support services, and other related elements of logistical and program support."
Total acquisition cost is around $113 million.
"The proposed sale will provide Japan a critical air defense capability to assist in defending the Japanese homeland and U.S. personnel stationed there," according to DSCA. "Japan will have no difficulty absorbing these additional munitions into the Japan Air Self-Defense Force (JASDF)." The sale is still subject to congressional approval.
AMRAAM is an active radar-guided beyond-visual range air-to-air missile capable of all-weather day-and-night operations. Armed with a 50 pounds (22.7 kilogram) high-explosive blast fragmentation warhead, the missile has an operational range of 34-46 miles (55-75 kilometers). The missile is capable of speeds up to Mach 4.
The missile can be carried by the JASDFs F-15J, F-2 fighter jets and the future fifth-generation stealth multirole Joint Strike Fighter F-35A — the aircraft's conventional takeoff and landing variant.  Delivery of Japan's first F-35As has begun in 2017 through the U.S. Foreign Military Sales Program. As I explained previously:
 Japan's Ministry of Defense selected the F-35A in December 2011 following the F-X competitive bidding process. The JASDF are expected to induct a total of 42 new F-35As in the coming years. Like South Korea, Japan is also considering placing a follow-up order as the JASDF intends to procure 100 new fifth-generation air superiority fighter by the 2030s.
Japan is also mulling fitting the F-35 with a long-range strike capability:
JASDF is considering arming its F-35 fleet with long-range standoff missiles and guided bombs including the long-range, precision-guided Joint Strike Missile (JSM), the Joint Air to Surface Standoff Missile (JASSM), and the GBU-31JDAM (Joint Direct Attack Munition) air-to-ground guided bomb.
The JASDF is in urgent need of additional fighter jets. According to an analysis by the Japanese government, the JASDF needs around 140 additional fifth-generation fighter jets to protect Japanese airspace as older airplanes — the F-2, F-4, and F-15 — are slowly being phased out over the next years.