South Korea's Navy Leans Toward France's Barracuda-class Nuclear Attack Submarine
A report commissioned by the South Korean Navy finds the French SSN attractive.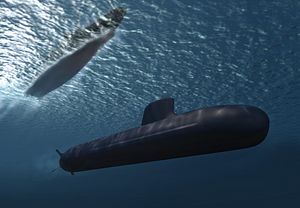 A think tank commissioned by the South Korean Navy to study possible options for a nuclear-powered attack submarine procurement has pointed to France's 5,300 ton Barracuda-class submarine as a model candidate.
Manufactured by French industrial group DCNS (Direction des Constructions Navales), the Barracuda-class is a modern class of nuclear attack submarine, notable for its extremely low noise signature, enhancing the submarine's survivability.
According to Defense News, a South Korean Navy spokesperson noted that they are reviewing the report, which was produced by the Korea Defense Network over five months. "After thorough review, we'll report it to the defense minister and the presidential office subsequently for final decision."
The capability would give South Korea a powerful deterrent against North Korea, allowing for extended submarine deployments limited only by the endurance of the crew.
North Korea's Korean People's Navy presents a formidable undersea threat; it has the largest active submarine fleet in the world, even though many of its vessels are virtually obsolete and easily detectable.
North Korea currently has one Gorae-class ballistic missile submarine (SSB) and is building a second submarine to serve in that capacity as well. The vessel is designed to launch the Pukguksong-1 nuclear-capable submarine-launched ballistic missile.
Given the ongoing process of inter-Korean rapprochement, with the third inter-Korean summit approaching on April 27, South Korea is not keen to discuss its plans to procure new submarines.
Interestingly, one of the factors driving South Korea specifically toward the Barracuda-class as an option is the submarine's use of low-enriched uranium as the fissile fuel for its on-board reactor.
Other nuclear submarine options could require the use of uranium enriched to higher levels—specifically, over 20 percent—would violate the U.S.-South Korea civil nuclear cooperation agreement.
South Korean President Moon Jae-in and U.S. President Donald Trump reportedly discussed the prospect of a nuclear attack submarine by the South Korean Navy during Trump's November 2017 trip to Seoul.
A diesel-electric variant of DCNS' Barracuda won Australia's SEA-1000 contract in 2016; Canberra will spend $50 billion procuring 12 Shortfin Barracuda submarines to replace its outgoing Collins-class submarines.
In that procurement decision, DCNS' offering beat out Japan's Soryu-class offering and Germany's Type 216. The potential convertibility of some of the later boats of the Shortfin Barracuda to nuclear propulsion submarines may have enticed Australia's decision. (Neither the Japanese or German options offer a nuclear propulsion variant.)
South Korea's interest in a nuclear attack submarine has dates back to the early 2000s, when the country undertook secret design work for an indigenous option. That project was set aside after its existence became public and it was identified by the International Atomic Energy Agency.